Where is the best ice cream in NYC? I went to 15 ice cream spots within 3 days and I love ice cream and never thought I'd be sick of it, but let's just say I'm going to be taking a break from ice cream for at least a week. At each location I tried multiple flavors and I didn't finish any ice cream fully to try to leave room for the next one, but the ice cream did not go to waste as I brought different friends with me on my ice cream crawls. There is no perfect way to rate each ice cream and everyone has different preferences so I thought I should give out a few awards to properly differentiate unique spots for what they do best!
1. Best Presentation: Taiyaki
The best presentation goes to Taiyaki which makes unicorn soft serve in a fish-shaped waffle cone. Do I need to say any more? The Japanese dessert was invented in 1909 in a Tokyo café (Naninwaya Souhonten) but only just arrived in the United States. Even though it's one of the MOST instagrammable ice creams in NYC it's surprisingly also delicious. While some spots can focus only on presentation and forget about flavor, Taiyaki cones are packed with flavor! From the warm fish-shaped cone filled with red bean paste to the yummy soft serve flavors like matcha, mango or black sesame topped with a rainbow stick of fresh mochi. They are also known for their extra fluffy souffle pancakes which sell out so get there when they open.
2. Best Vegan Ice Cream: Van Leeuwen
The best vegan ice cream that doesn't taste like vegan ice cream goes to Van Leeuwen. This is one of my favorites especially for any of their sundaes topped with nibs. They're actually one of the only places that offer the nutritious and crunchy cocoa nibs which come from raw cacao beans. They started in 2008 out of a buttery yellow truck, but now have locations all around NYC. All their ice cream is made from scratch in Greenpoint, Brooklyn and you can find pints in select grocery stores.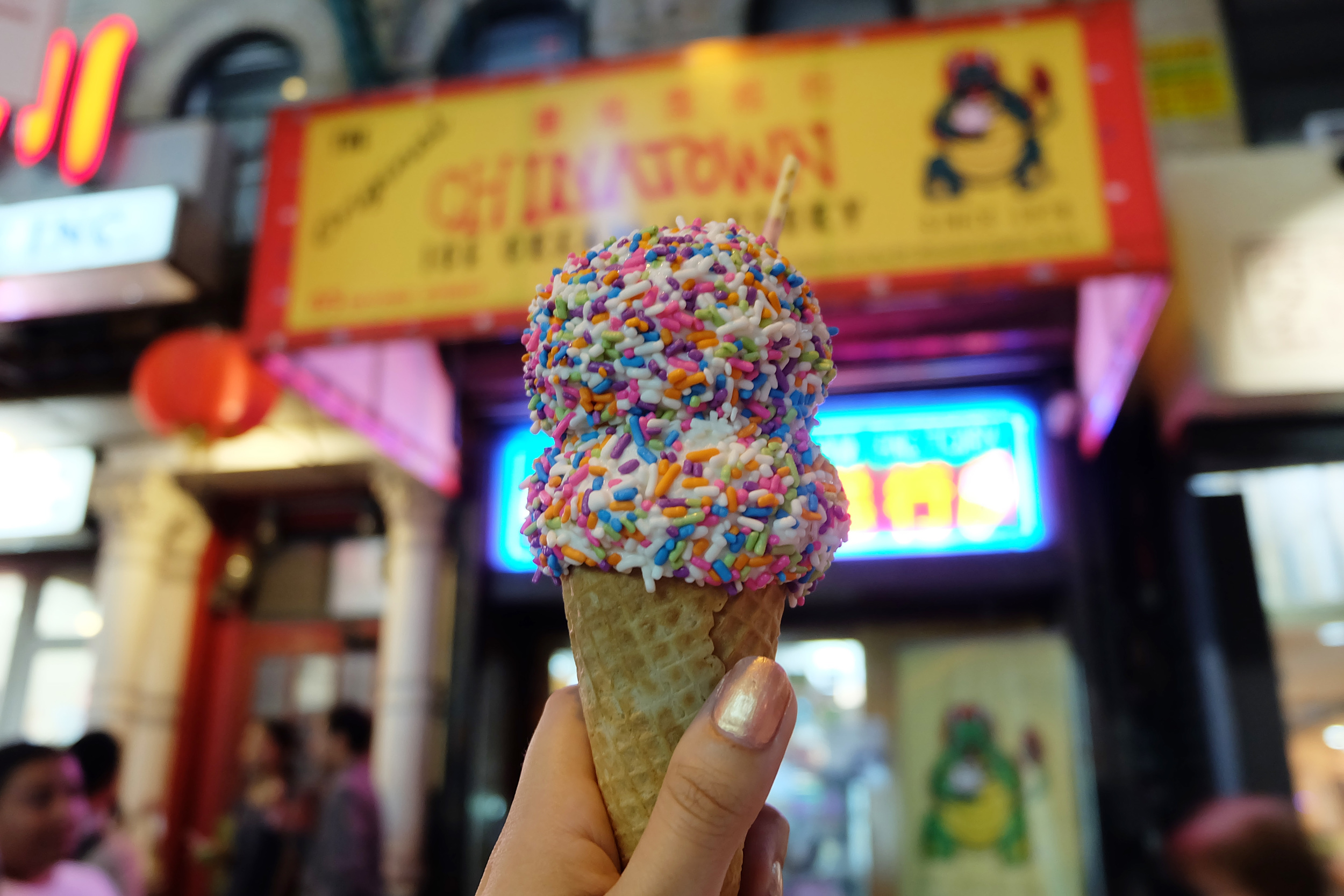 3. Best Flavors: Chinatown Ice Cream Factory
The best flavors are at Chinatown Ice Cream Factory. Chinatown Ice Cream Factory has been family-run since 1978. There are legends that ice cream was invented during the Tang Dynasty. Visit to enjoy American classics and Asian-inspired flavors like black sesame, lychee, wasabi or durian. The small shop can form a line, but it's worth the wait and don't forget to bring cash as they only accept cash here. I love the taste of this ice cream which is so vibrant and flavorful.
4. Best Newcomer: Sweet Gloria
The best newcomer is Sweet Gloria which is an Instagram heaven, even the shop window is decorated with flowers. This photogenic soft serve spot serves up flavors like lychee rose and matcha topped with rose petals and gold flakes. Their unique flavors are super tasty and refreshing without being too sweet.
5. Most Fun and Scientific Ice Cream: -321 Ice Cream
The most fun scientific ice cream/The best FOMO ice cream goes to -321 Ice Cream where each sundae is made to order with liquid nitrogen. They start with the type of ice cream base that is usually put inside a freezer but instead they freeze it at a temperature of -321 degrees Fahrenheit. This process creates smaller ice crystals resulting in a creamier ice cream. Their most popular flavors are Green Tea Kit Kat and Smores (my favorite) which includes a marshmallow roasted in front of you! You also must try the gluten free "Nitro Balls" that are frozen and cause "dragon's breath" to come out your nose.
6. Oddest Flavors: OddFellows
The oddest flavors that totally work like the famous Saffron Passionfruit are found at OddFellows. Their quirky rotating flavors of ice cream and sorbet were inspired by a co-founder's pregnant wife's cravings for savory ice cream. After explaining it to his friend, his friend brought over homemade pretzel ice cream and then OddFellows was born in Williamsburg in 2013. Their newest Dumbo location is the first ice cream shop with a happy hour on beer, wine and cider! I have a friend who is obsessed with this place and of course their Saffron Passionfruit flavored ice cream. I honestly didn't understand her obsession until I tasted it myself and this fresh vibrant flavor packed with pistachio and candied apricots is totally one-of-a-kind and worth visiting and calling ahead just to confirm they have this seasonal flavor.
7. Best Ooey Gooey Butter Cake: Ample Hills
The best ooey gooey butter cake is at Ample Hills. If you read my blog post from 2016 this used to be my favorite ice cream spot. I used to come here for a pretzel cone of the munchies flavor packed with salty bits of potato chips and popcorn and sweet M&M chunks but even better than this is their ooey gooey butter cake flavor which steals the show, its texture and sweet flavor is perfect for cake lovers.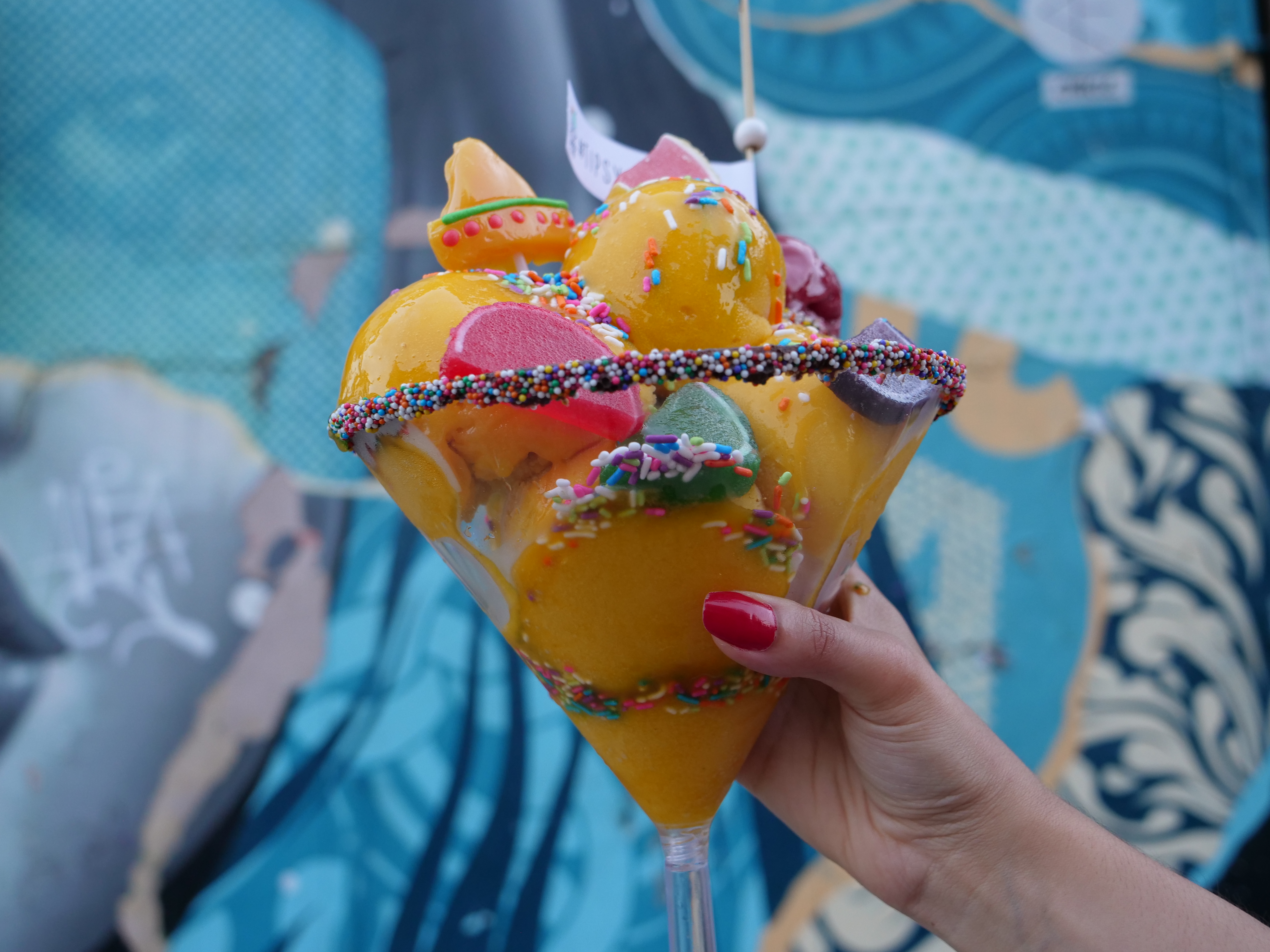 8. Best Boozy Ice Cream: Tipsy Scoop
The best boozy ice cream is at Tipsy Scoop. Following in their family's Italian ice cream making traditions, Tipsy Scoop puts a modern boozy twist on ice cream. This artisanal ice cream company sells 5% ABV concotions. They infuse ice cream flavors with liquors for fun flavors like Tequila Mexican "Hot" Chocolate, Cake Batter Vodka Martini and Vanilla Bean Bourbon. In the summer I love the Frose topped with boozy rose gummies and rose petals. The service here was amazing and I love that they have a location in Manhattan and Brooklyn (and even Las Vegas).
9. Best Show Minus10 Ice Cream
The best show and the most unique process goes to Minus10 Ice Cream, one of the original spots to roll their Thai ice cream right in front of you! It's easy to miss this spot downstairs in busy Chinatown, but worth the show that is the process of pouring this liquid ice cream to mix and freeze in front of you. I really love the flavorful taste of the s'mores galore ice cream, topped with a roasted marshmallow. Each spoonful of the ice cream is packed with campfire taste that I find totally addicting. I went back to this spot after I think 4 other ice cream places that day and still wanted to finish it even though I was so full.
10. Creative Halo Halo: Soft Swerve
The most creative Halo Halo is found at Soft Swerve. They even have some awesome NYC inspired special flavors named after areas like Broadway, Bayard Street, Brooklyn Bridge and Jersey City. I love their Ube soft serve and they even have a super creative Halo Halo Filipino special to rival Jollibee. It swirls ube with black sesame soft serve over red beans, coconut, jellies and is topped with captain crunch and mochi.
11. Most Affordable Scoop: Morgenstern's
The most affordable scoop is at Morgenstern's where one scoop only costs $3.75. Compare that with some soft serves that cost almost $10 and this place is a steal! I also must say I love their old-school style interior and blue ice cream parlor façade. Some flavors can be very simple, but the best flavors are the raspberry lychee, durian banana or the burnt sage with a chocolate shell. They also have a crème brulee packed with ice cream.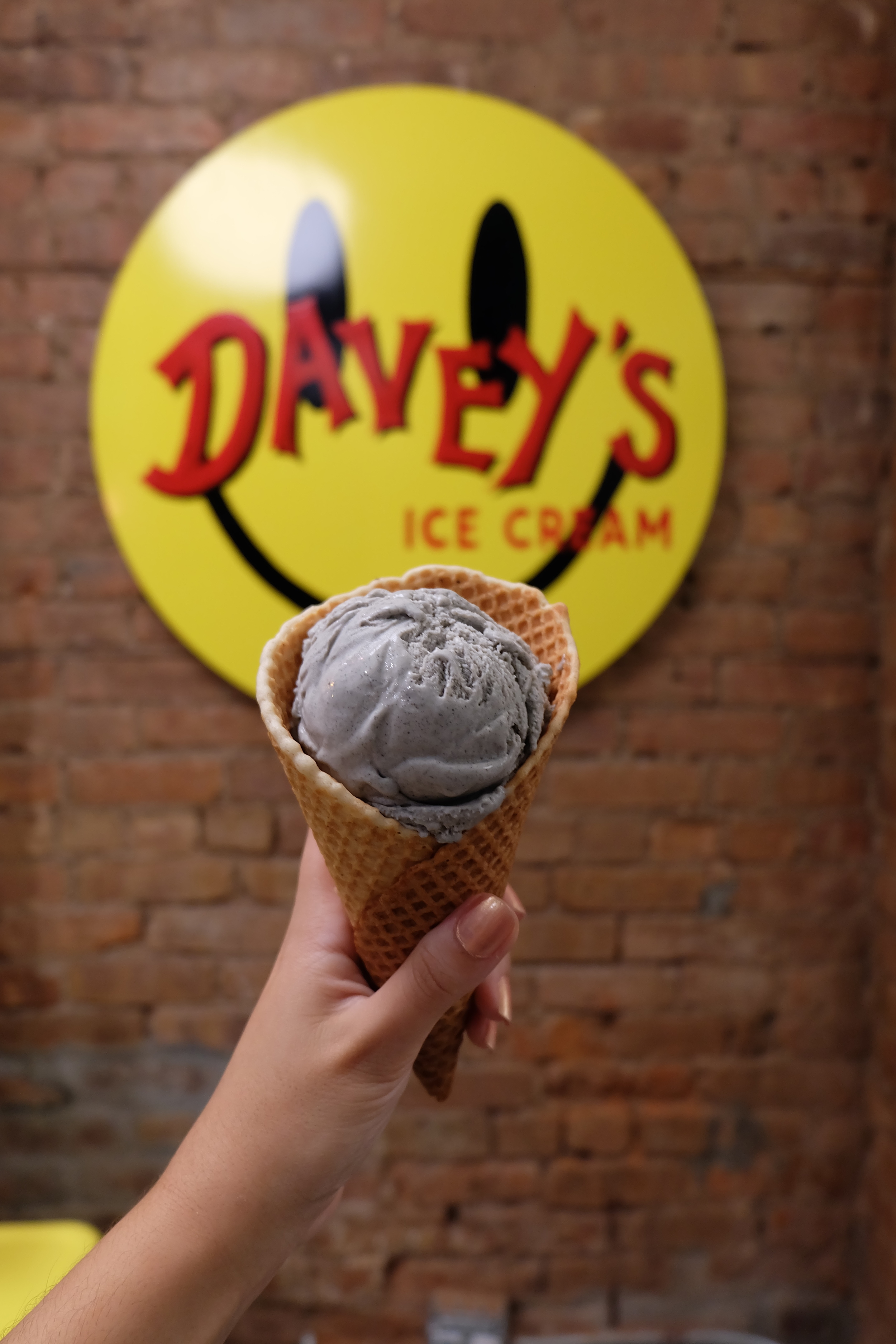 12. Best Hipster Scoop: Davey's
The best hipster scoop is at Davey's which is a vibe. I mean that in the best way! The first time I wandered into this magic mint storefront a few years ago, I asked the guy scooping my ice cream with the same ice cream logo tattoo if he likes ice cream, turns out he was Davey himself! Though a little camera shy, I loved my service experience there and how you can roll in and you might not even know that Davey would be there to scoop your ice cream! They source local dairy, fresh farmer's market ingredients and often collaborate with other local businesses for limited edition flavors. I love the beautifully bitter double dark chocolate and the black sesame scoops. They even serve bite-size frozen dog treats homemade with Greek yogurt, blueberries, banana, peanut butter and honey at their Greenpoint location.
13. Best Stretchy Ice Cream: Republic of Booza
The best stretchy ice cream is at Republic of Booza. You're probably wondering what is stretchy ice cream? It is the Original Ice Cream dessert stretched by hand that eventually evolved into the ice cream we know today. It was invented 500 years ago in the Eastern Mediterranean using two ancient ingredients of Sahlab, ground orchid root, and mastic, a resin, to achieve this consistency. I thought it would be just another trendy ice cream that looked good on Instagram but didn't taste good, until I couldn't stop eating it. It was that good!
14. Best Donut Ice Cream: Stax
The best donut ice cream sandwich is at Stax Ice Cream. They call it the Cremella, their signature hot pressed donut ice cream sandwich. Sample fun flavors like ube, snickerdoodle or cornflake bourbon served between a gooey glazed donut with the sugar melting off all over your hands, but I dare you not to love every messy minute of it!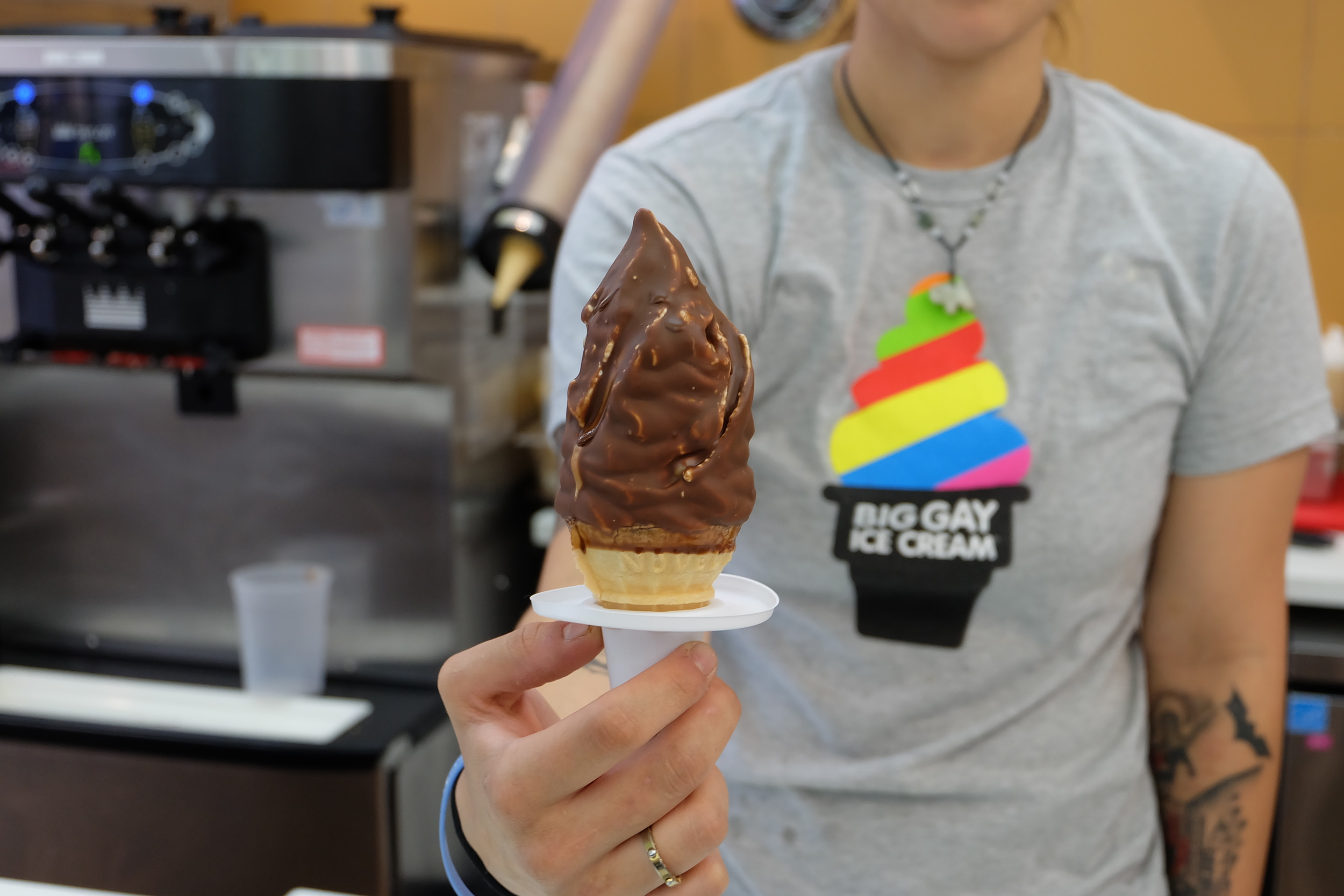 15. Best Extra Ice Cream: Big Gay Ice Cream
The best extra ice cream is at Big Gay Ice Cream. I can be extra myself so this is a compliment and when some of their concoctions require a cup to hold your ice cream cone because of all the toppings, you know you're in the right place. The classic flavor that Anthony Bourdain also made famous and my favorite item is the Salty Pimp. It is a vanilla soft serve covered in dulce de leche, dipped in chocolate. Another great option is the Mermaid topped with key lime curd.
16. Best Waffle Cones: Eggloo
The best waffle cones go to Eggloo which serves up Hong Kong waffle cones that look like little eggs and taste crispy on the outside and fluffy and sweet on the inside. Enjoy this unique waffle cone wrapped around a creamy scoop of ice cream like Matcha or Green tea. This is another Instagrammable spot worth trying at least once that carves their ice cream into a pretty rose-shaped scoop.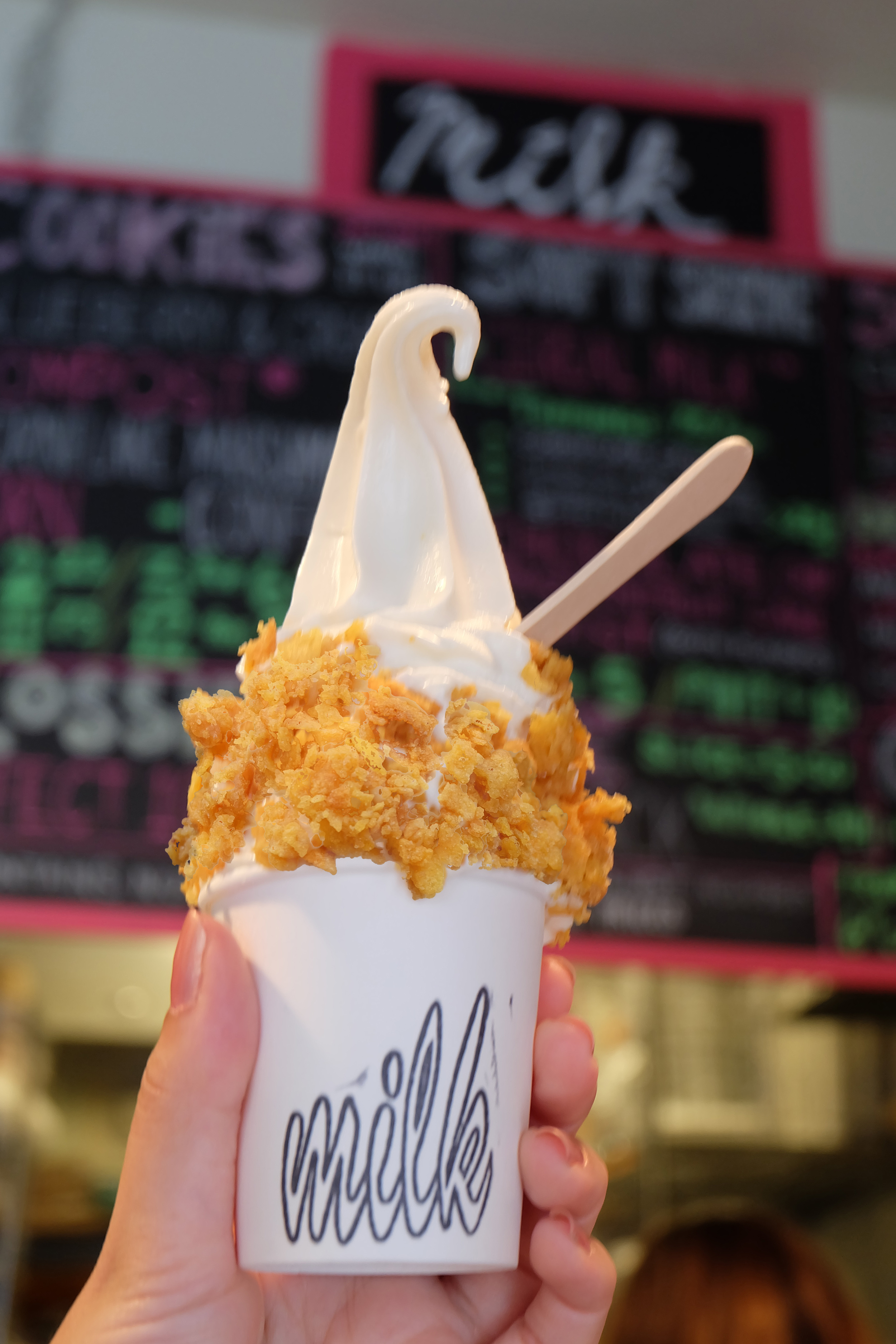 17. Best Cereal Milk Ice Cream: Milk Bar
The best cereal milk ice cream is at, you guessed it Milk Bar. This is an acquired taste, so if you do not like drinking the leftover milk after eating cereal, you will not like this. I love the creative crunch of the cereal topping, but the ice cream flavor itself can be salty and bitter. My favorite thing here is not the ice cream, but instead I highly recommend you order the Milk Bar Pie (which used to be called Crack Pie) and the Birthday Truffles. (That's for another video though all about desserts coming soon!)
Which ice cream spot is your favorite in NYC, comment below and please share this with friends!
Read next my local favorite NYC food spots and 101 things to know before visiting NYC.