The New York Botanical Garden Orchid Show in the Bronx is kicking off its 18th year with "Jeff Leatham's Kaleidoscope" theme. Wander through an installation of thousands of orchids on display from February 15 through April 19, 2020. Last year's Orchid Show was Singapore themed including mini Singapore Supertrees and garden arches. This year each gallery of the exhibition in the historic Enid A. Haupt Conservatory moves through different color experiences as if you were turning a kaleidoscope. Wander through color blocked areas of purple, red, orange, and hot pink designed by Jeff Leatham.
Best part of the NYBG Orchid Show 2020?
There are a number of Instagrammable locations throughout the exhibit, but the most popular attraction is definitely the 10-foot-tall mirrored sculpture of a Vanda orchid. The mirrored orchid sculpture was crafted in Paris by Michel Amman. The giant mirrored orchid also serves as a fountain below layers of pink and blue orchids. Jeff Leatham is well-known for his bear structures, but this is the first time he has created a mirrored orchid like this.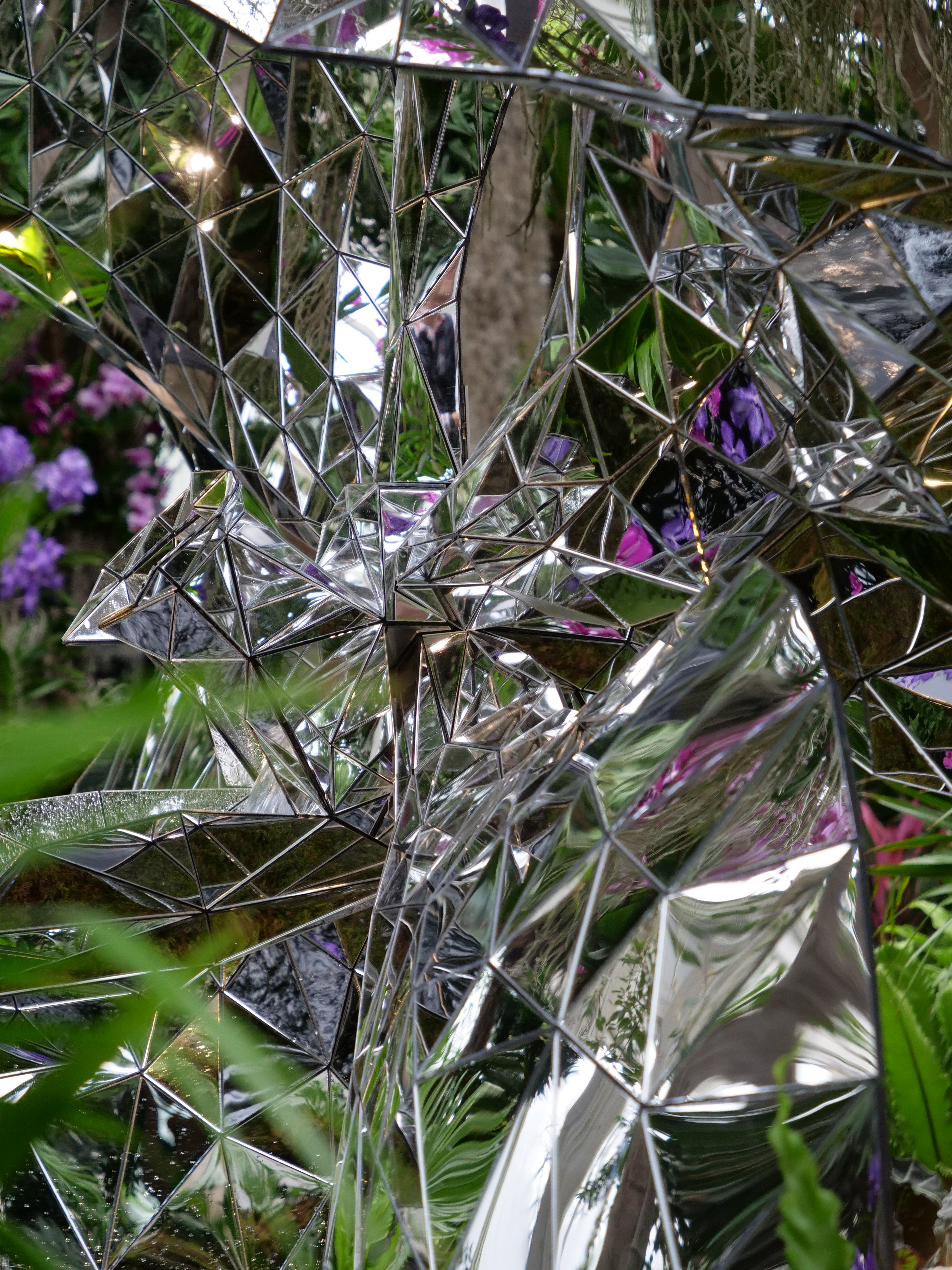 Why is the theme kaleidoscope?
"I want every gallery to be a different color experience for visitors as they move through them, like looking into a kaleidoscope." Jeff Leatham explained "I loved kaleidoscopes as a child. You start dreaming as you look through one. People have seen the interiors of the Conservatory already, but with this exhibition, I want them to look through them like never before."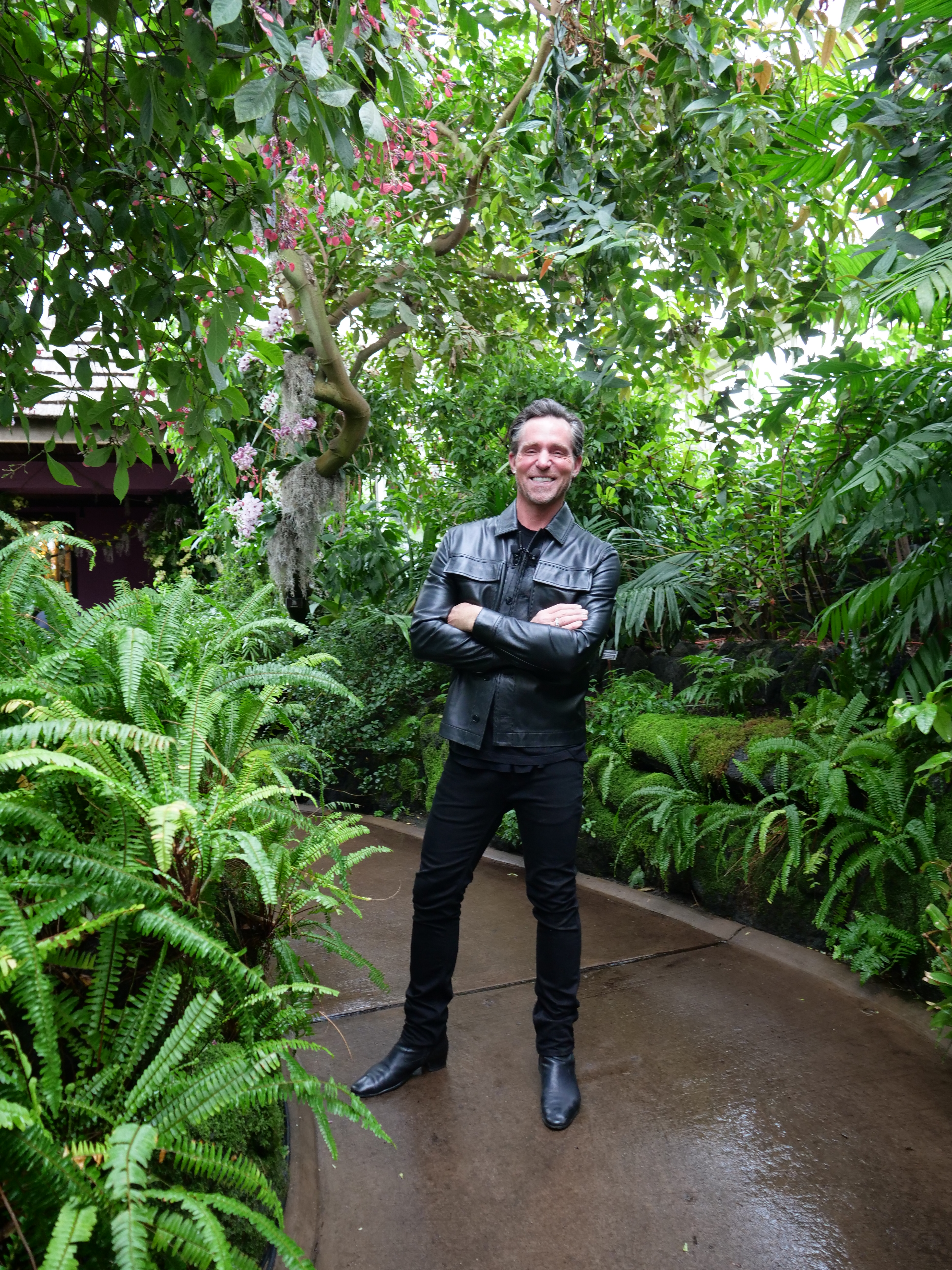 Where is it located?
The New York Botanical Garden is located at 2900 Southern Boulevard in the Bronx. It is a short walk to Arthur Avenue, the "real Little Italy" area. It is easily accessible by the Metro North Harlem line from Grand Central or via bus or subway.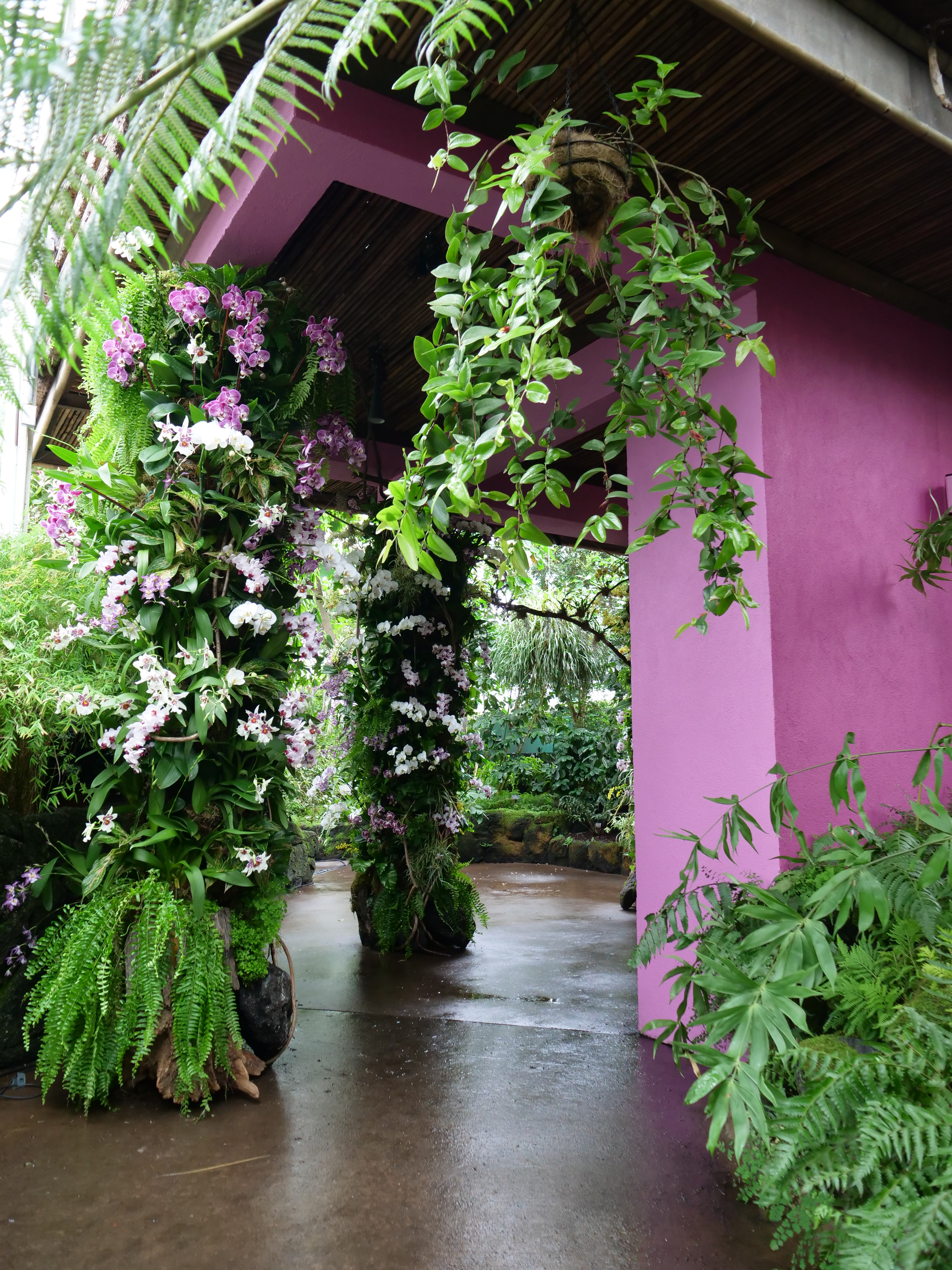 When is the NYBG Orchid Show open?
The Orchid Show opens February 15 and is open through March, closing April 19, 2020. The NYBG is open Tuesday through Sunday and Monday federal holidays from 10am to 6pm. See below additional events like Designer Talk and Orchid Evenings.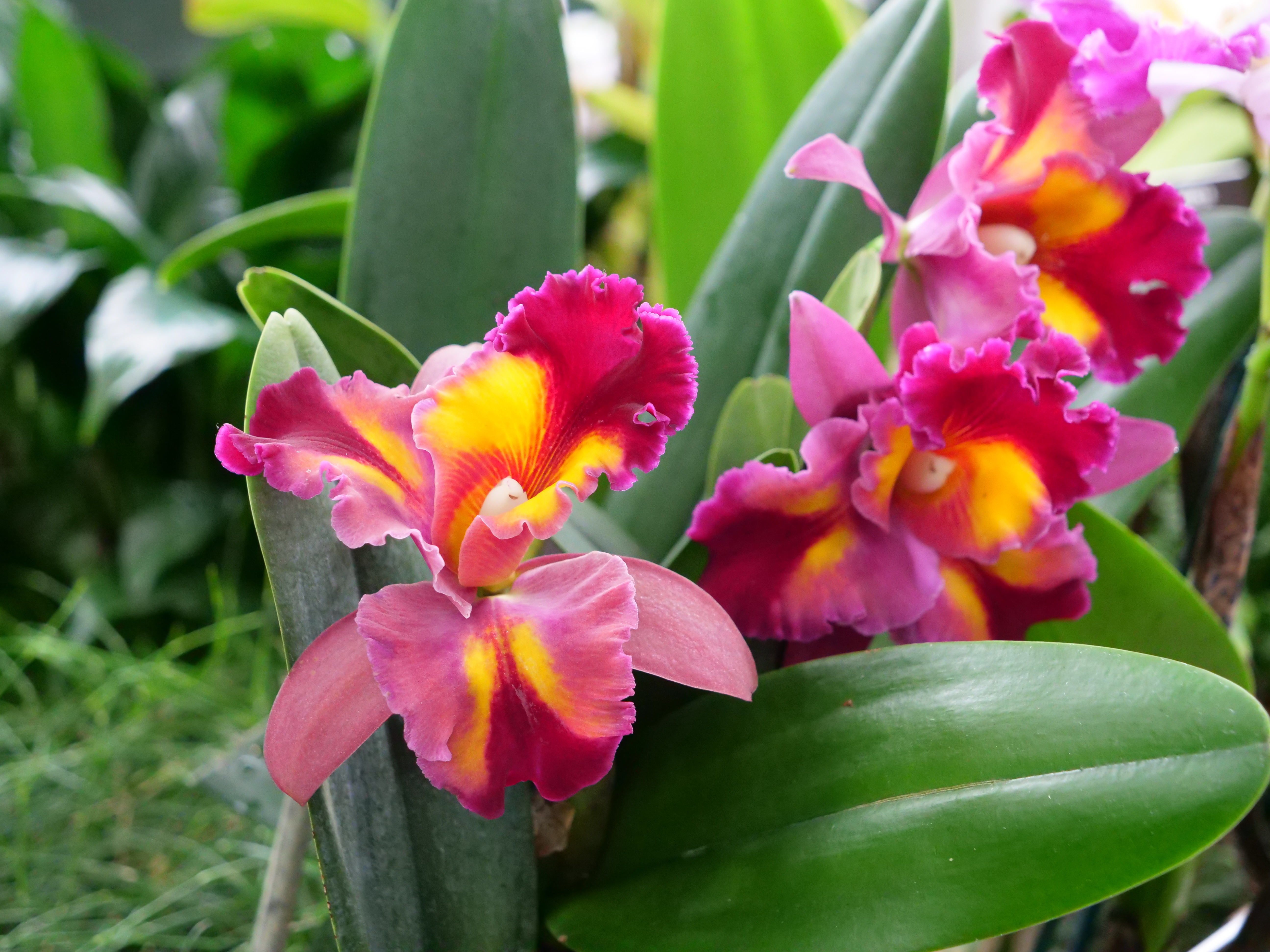 How much are tickets?
It is $23 general admission weekdays and $30 general admission on weekends and Monday holidays. There are discounts on weekdays or weekends for Seniors (65+), Students (with valid ID) and Children (2-12). Children under 2 and members are free. Memberships start at $90 for 1 adult and 2 guests or $120 for two adults and 2 guests. Families and friends can save more on a membership together by going in a large group. Learn more about NYBG ticket and membership levels here.
Who is Jeff Leatham?
Jeff Leatham is the award-winning floral designer to the stars. He started his career in 1995 and is now the artistic director of the Four Seasons Hotel George V, Paris with studios at other Four Seasons in Philadelphia and Los Angeles. He has created displays for Cher, Oprah Winfrey, the Kardashians, His Holiness the Dalai Lama and many others.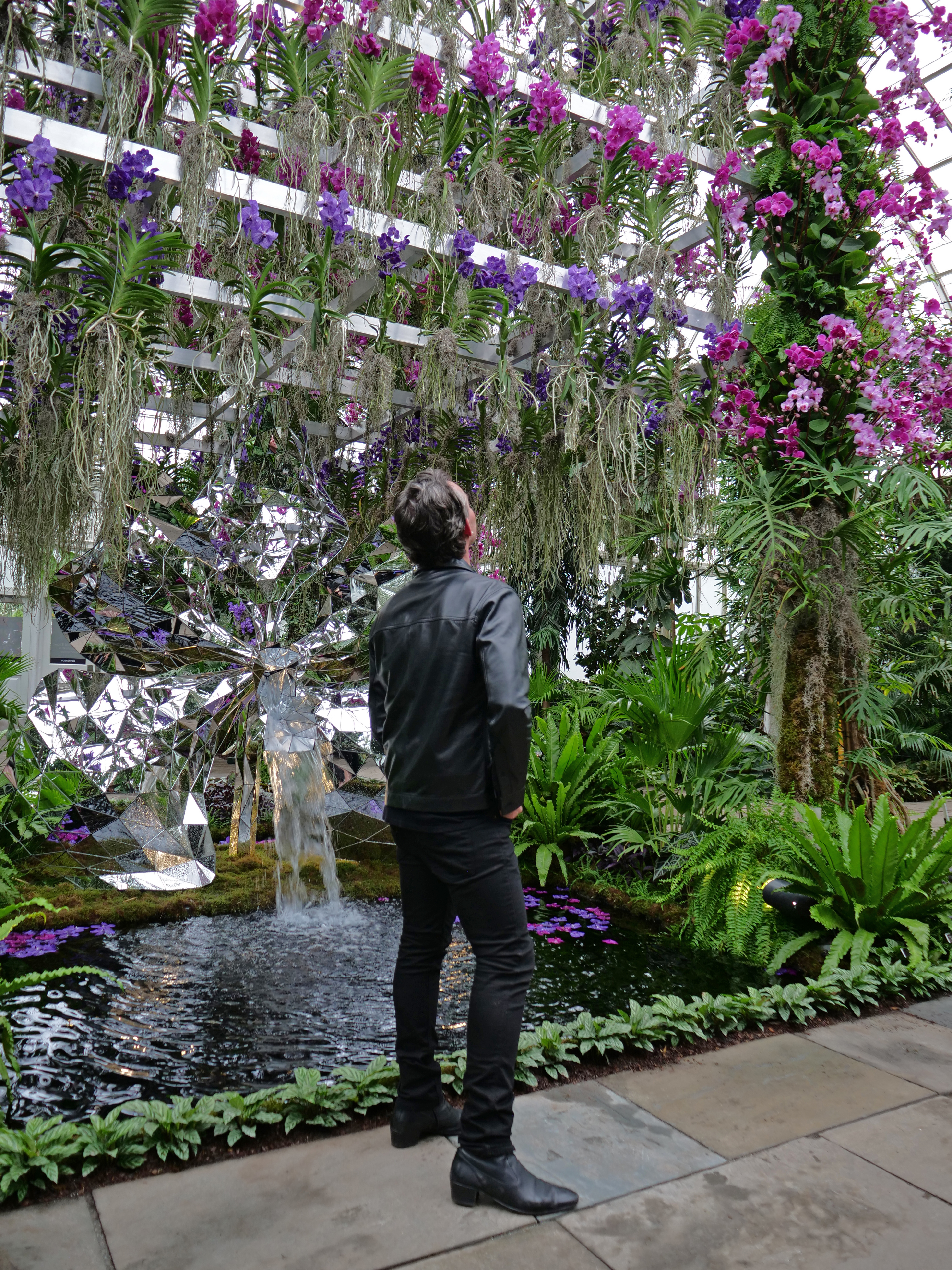 What is Jeff Leatham's connection with orchids?
The Vanda Sunanda orchid was named after Jeff Leatham by Ansu Orchids in Amsterdam and the "Velvet Janet" was named after Leatham's mother Janet who passed away last summer. This exhibit is special to Jeff as it was the last project his mother knew he was working on before her passing. Jeff talked fondly of memories of gardening with family and how the orchid means a lot to him. He even has an orchid tattoo on his right ankle. Jeff considers working with the New York Botanical Garden as one of the top two highlights of his career. The other top highlight being when he was knighted in 2014 with the Ordres des Artes et des Lettres, the highest honor for artists' contribution to French culture.
How was the space designed?
Jeff visited the space twice before the opening, continuing the design process over calls and emails. He worked with the NYBG horticulturists, including Senior Curator of Orchids Marc Hachadourian, who just wrote "Orchid Modern" on how to grow these finicky houseplants and his 120 top orchid picks for new and experienced orchid growers.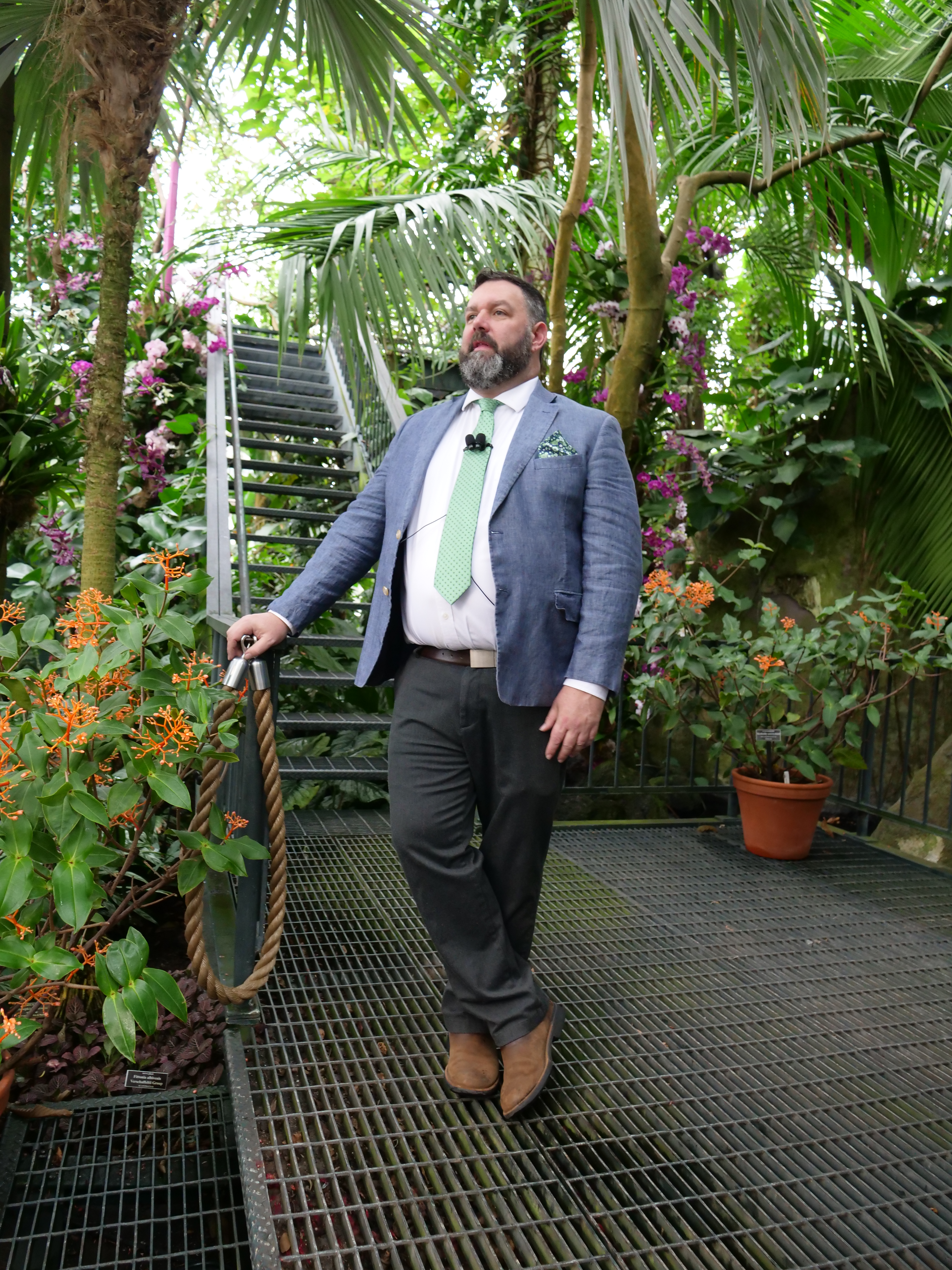 Together the team worked together to assemble orchids from its collections and some of the finest growers in the world. Enjoy orchids of almost every shape, size, and provenance, including rare and tiny orchids.
Is it really double the size of previous years?
This is the first time that an artist has had full reign over the entire Haupt Conservatory (except the Palms of the World Gallery under the palm dome). The 117-year-old Palm dome is under construction through end of May 2020. Leatham's designs will appear throughout 30,000 square feet of this year's exhibit, which is about double the amount of space for previous years' designers.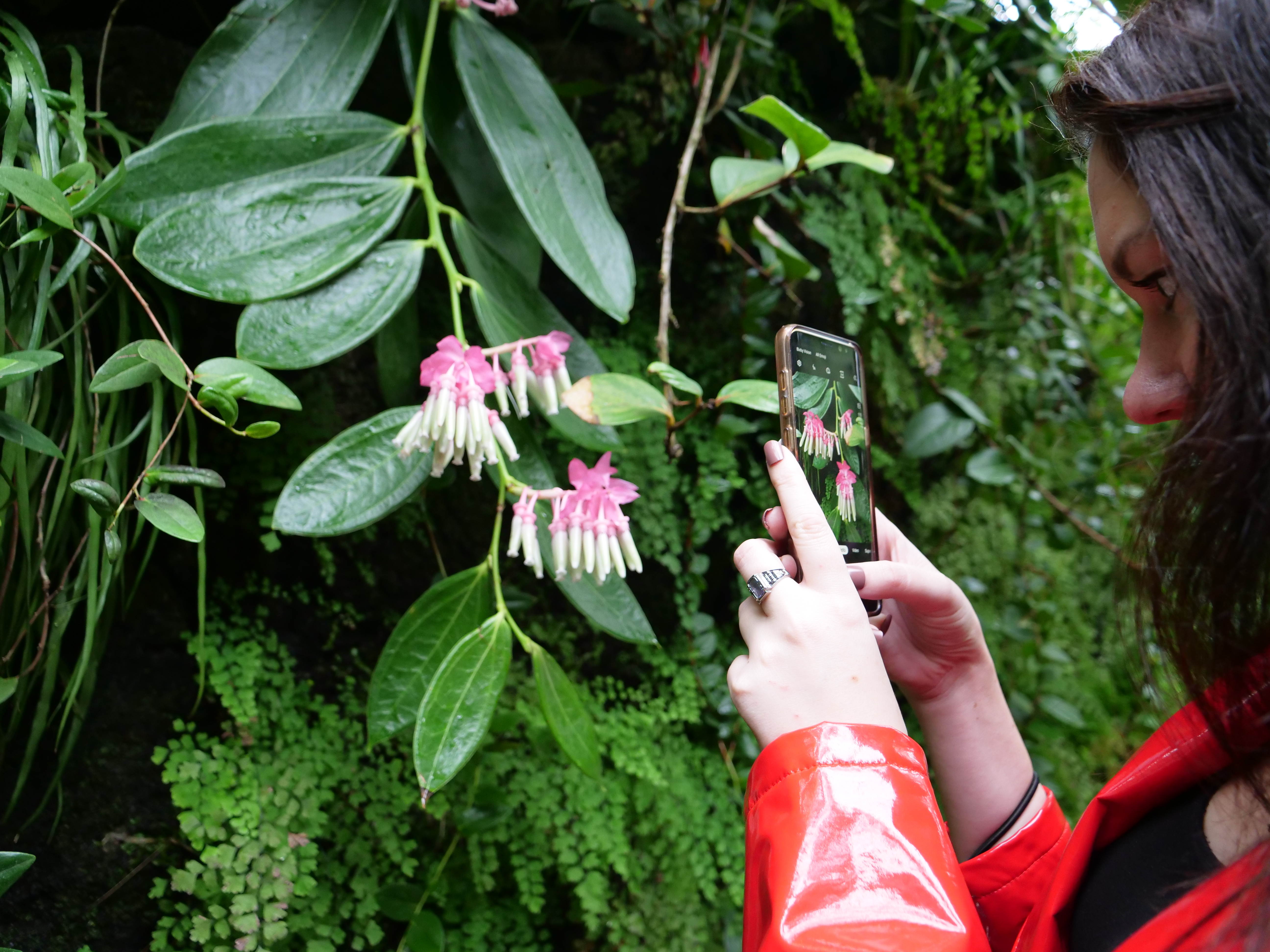 Are there flower arches like last year?
Yes there are arches over the "sunrise/sunset tunnel" and pool of water area. Instead of over a walkway like last year they frame a dark pool of water. The color scheme of these arches is meant to transport someone through a golden hour experience depending on the direction you approach it from. The arches progress from yellow to orange to red. Each area also has a sensory experience with certain orchids that have distinct smells.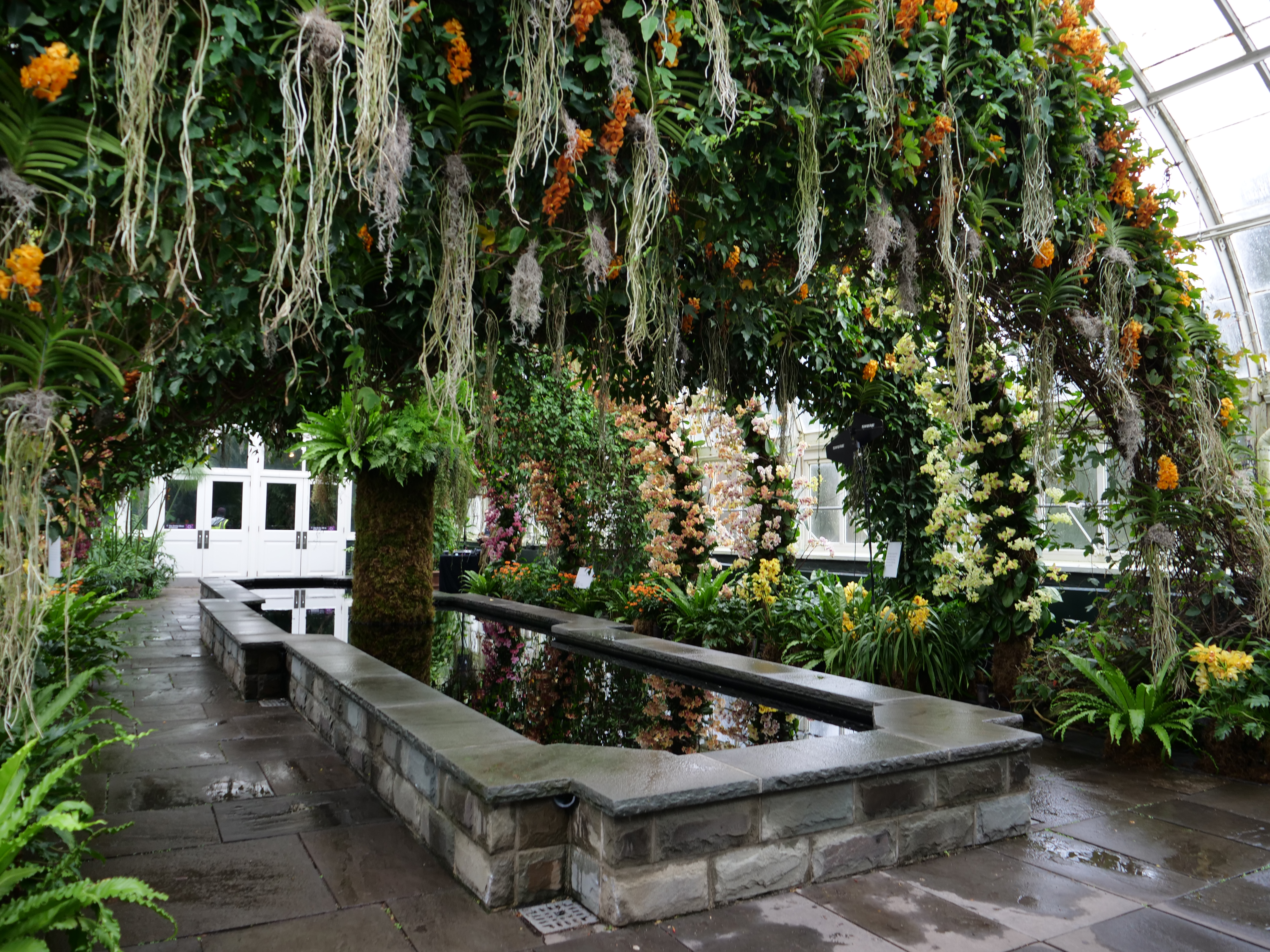 Is there a rainbow tunnel?
Yes through a previously drab gray tunnel, LED lights now illuminate it in a constantly changing tunnel of rainbow lights. This is definitely a photographers top highlight of the show and just a fun space to walk through.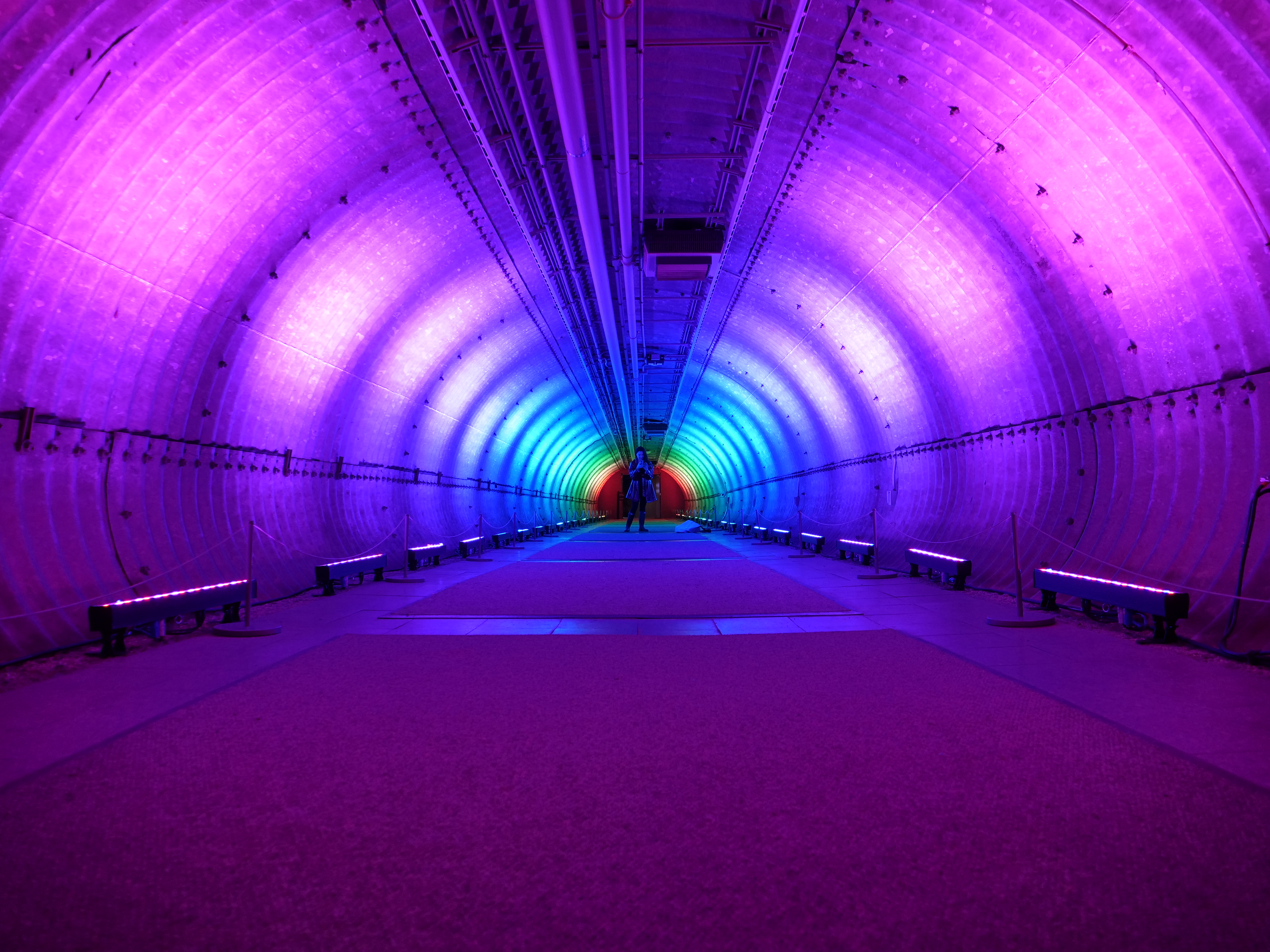 What is the history of the orchid?
Orchids are the largest and most evolved flowering plant family, with 30,000 wild species growing around the world in all climates. In addition to the wild species, there are now more than 150,000 man-made hybrids. They are found on every continent except for Antarctica. There is even an orchid native to New York, called the Lady Slipper.
Orchids were so sought after in Victorian Great Britain that there was a name for the Orchid obsession, Orchidelirium. In the early 1800s, William John Swainson accidentally packed weeds from Brazil that later bloomed to orchids.
The wealthy wanted to own these delicate flowers so orchid hunters traveled to South America and the South Pacific to find them. Many orchid hunters were never seen again. Some rare orchids cost over $1,000 per plant, about $24,000 today. One story included a man eaten by a tiger in the Philippines! In addition to the threats of the exotic lands' wildlife and diseases there was great competition from other orchid hunters. Some of whom would farm the plants and then burn the ground to prevent others from farming there, ruining the natural habitats.

When are the Orchid Evenings?
Attend Orchid Evenings at night with music, cash bars and light bites. It is open to adults 21 and over. Princess Lockeroo, one of today's leading Vogue and Waacking-style dancer choreographers, teams up with renowned musician Harold O'Neal for a fierce and fabulous performance. The local Bronx Night Market celebrates the city's diverse culture with small bites. Advance ticket purchases are recommended to guarantee admission. Orchid evenings are 7-10pm (entry every half hour) on March 14, 20, 21, 27, and 28 and April 3, 4, 10, 11, 17, and 18. The tickets cost $39 for non-members or $29 for members.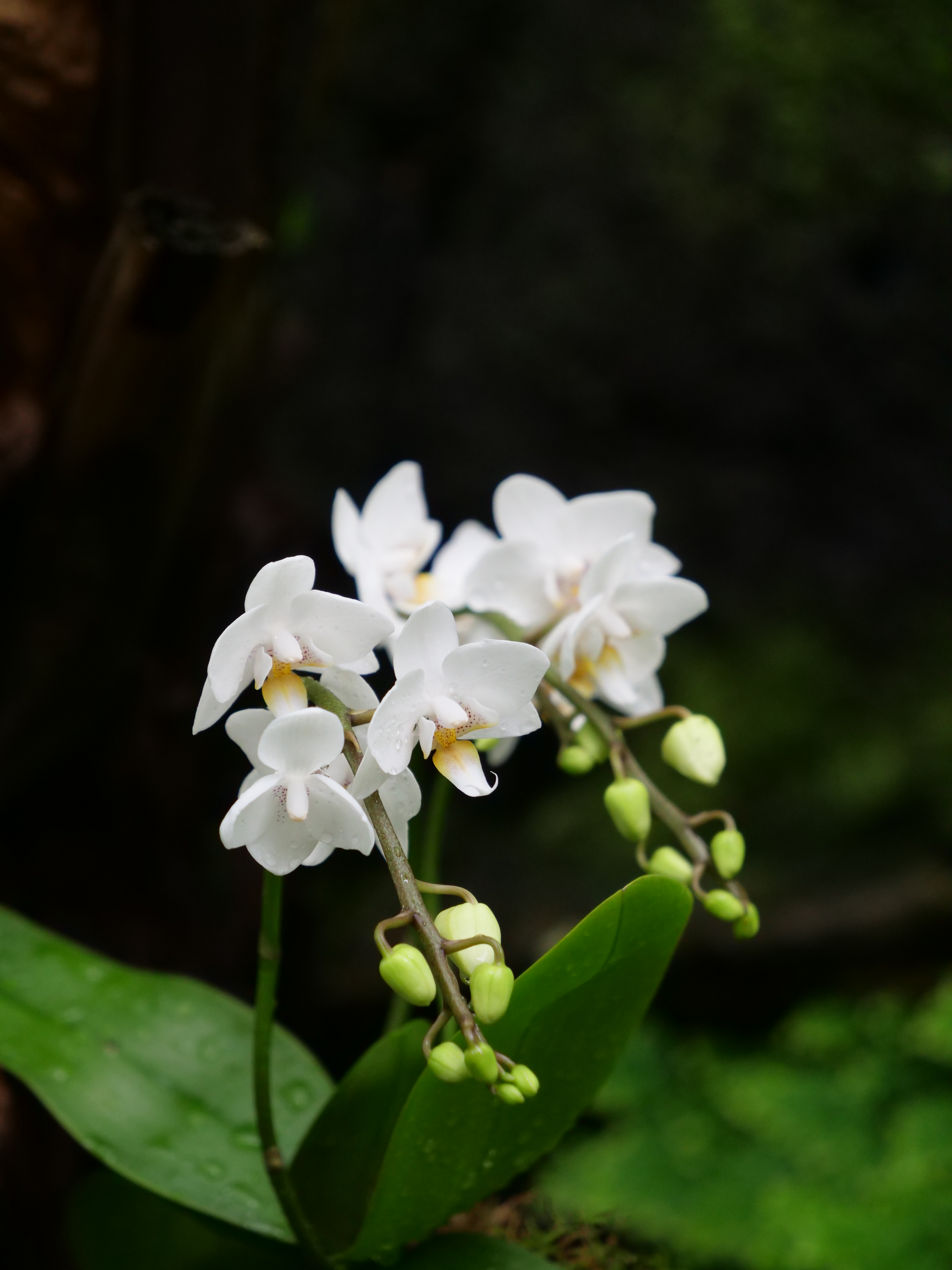 What are the orchid show classes and experiences?
On Thursday February 20, at 11am, you can listen to Jeff Leatham discuss floral design in a Q&A session and booksigning. Register here for Floral Design Talk with Jeff Leatham.
Additional programming includes Orchid Basics Q&A on Saturdays and Sundays, 1-4pm and Orchid Care Demonstrations on Sundays at 1 and 2pm in the Haupt Conservatory GreenSchool. Enjoy special Photographer's hours Friday March 6, 2020 from 8:30am to 10am. This special photographer's hour event is the only time you are allowed to bring a tripod in the exhibition.
Read more about the last year's Orchid Show Singapore theme and see the video or check out the current Tiffany's floral display or other things to do in March in NYC.
PIN IT: