I might be the only NYC local to actually like the new Times Square ferris wheel. I am not proud as I expected to hate this ferris wheel in the middle of the chaos of midtown Manhattan, but hear me out. Times Square in New York City is known for its outrageous attractions, bright lights, and expensive price tags. This new temporary ferris wheel checks all those boxes and it's only here for a limited time from August 25 to September 12, 2021. It was worth it for me to get unique photos and video of Times Square as I had not seen it before from a ferris wheel.
Where is the Times Square Wheel located?
Times Square Wheel is located on Broadway in Duffy Square. It is behind the red steps near the TKTS booth and near the Coca-Cola billboards. You can also search in your GPS or map app for either the Krispy Kreme or the Olive Garden and you'll find it steps away.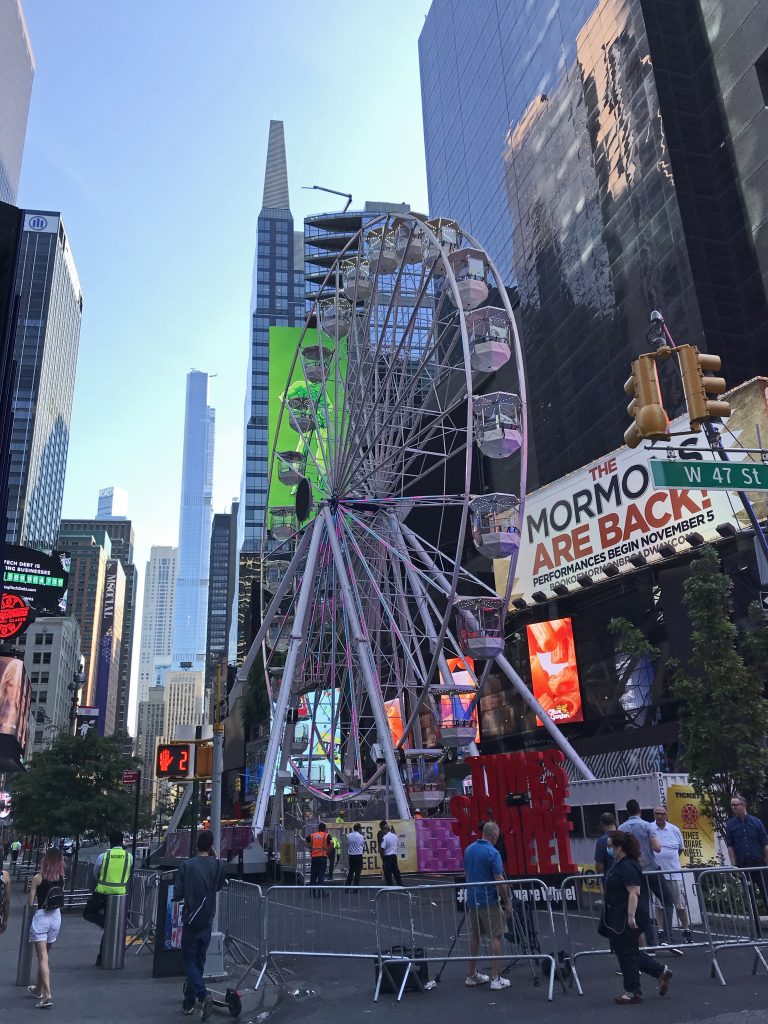 What do the locals think?
Local New Yorkers, myself included, are always skeptical. When I first heard there would be a ferris wheel constructed in Times Square, I thought it was a funny joke because where would you even put one in the chaos that is the "crossroads of the world"? If you want to complain about the price of $20 for general admission then why are you in NYC, especially in Times Square? If you want to argue that you can get a better view from a rooftop bar or restaurant, don't forget that some cocktails can be the same price. This is not your local carnival, there are no other rides, just the ride of getting ripped off as usual in the center of midtown, nothing new here. Many lament that the only Ferris wheel in Times Square could be the now closed Toys-R-Us wheel.
Other locals remind us of the years' long rumors of the Staten Island ferris wheel. The original Staten Island wheel was designed to be over 600 feet tall before ditched the plans in 2018 when costs skyrocketed from $250 million to over a billion dollars. The new wheel will likely be smaller than originally intended at 420 feet, much closer to the height of the London Eye, but it might take over three years to build. Meanwhile seemingly overnight a much smaller ferris wheel at 110-feet tall appeared in Times Square very quickly.
Though no local requested this or would ever want the chaotic midtown area to get busier, we got it anyways. I expected to go take photos of it for Instagram and then continue avoiding this area as usual, but after seeing it I was intrigued. Visiting it the morning of the opening peaked my curiousity and so I spontaneously bought a general admission ticket for $20, technically $22 with a fee. It opens daily at noon until September 12. I bought the first available ticket for 4pm, surprised that same day tickets were available. New Yorkers don't like things that don't sell out on the first day, so I already thought, great I probably just wasted $20.
How much are tickets?
Tickets range from $15 to $35 per person you can purchase tickets online or in person.
$15 per person for children 2–10
$20 per person for general admission
$35 per person for VIP / Skip the line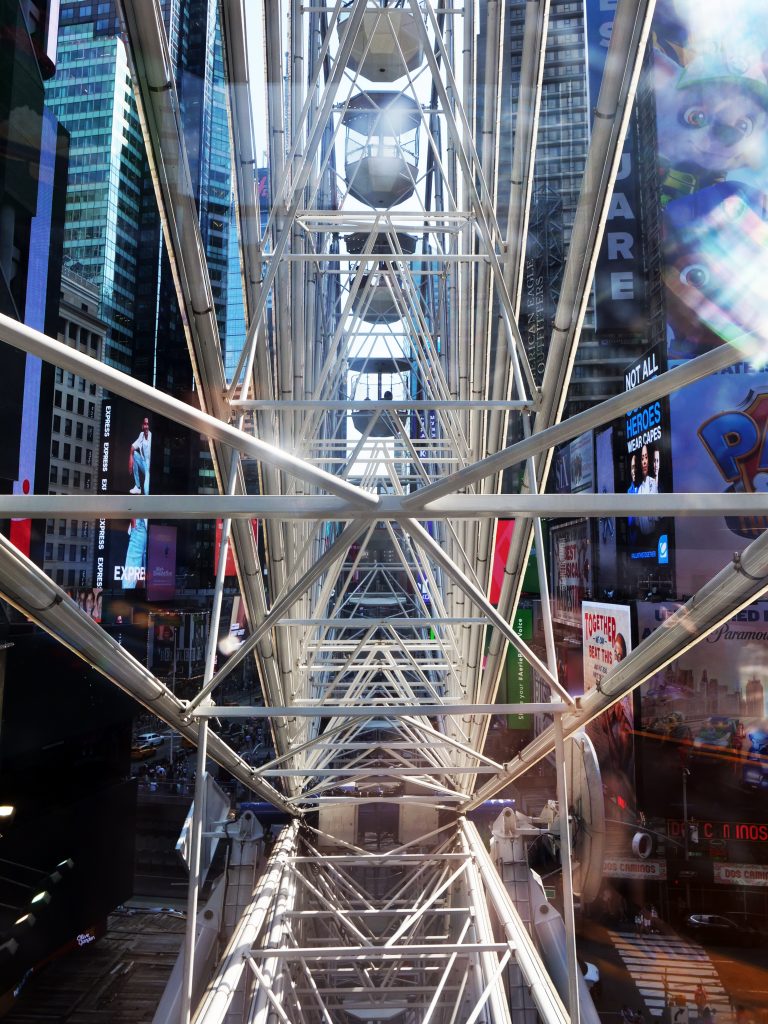 What was the line like?
It was very hot at 90 degrees with no shade, but I was lucky the line moved quickly only taking about ten minutes. The line was almost non-existent for a NYC attraction the first day a few hours after it opened because I think most people thought it was a joke or a waste of money. I was doubtful myself but I'm always down to try something, pay for a ticket, and share my honest review. I arrived for my 4:00 – 4:30 pm time slot a few minutes before 4pm.
The first person working there that I saw checked my ticket on my phone and told me to keep walking straight ahead. The second person I saw working there scanned my ticket. They were very friendly and nice especially as it took a few tries for the scanner to process my ticket, which is usually because my phone brightness is always very low. Proof of vaccination was not required as it is technically outdoors and most people were wearing masks. Unfortunately it is not ADA accessible as there are stairs to enter.
I was surprised that the ticket booth was still selling tickets to go now on the opening day, that it didn't sell out sooner. When I got in the line to board, there were maybe 10-15 people ahead of me, mostly families with young kids and a few couples. I appeared to be one of the few solo riders.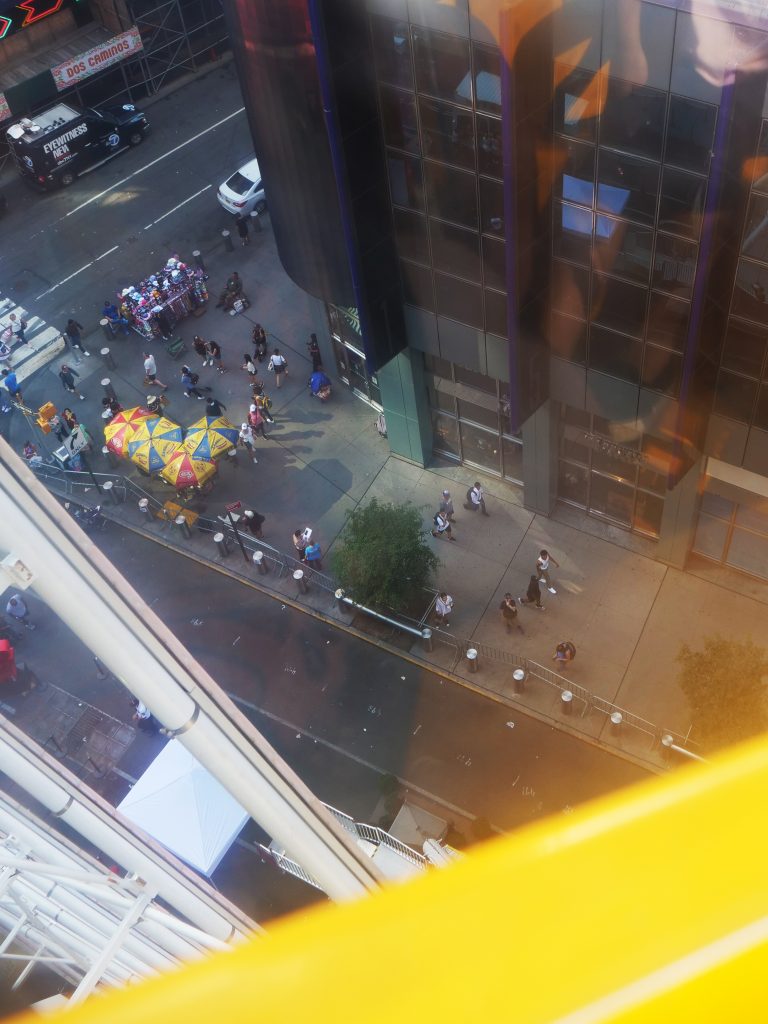 What is it like to go solo?
My least favorite part of this attraction was probably going solo, only because there was a slightly weird solo rider behind us who insisted on her own space. In NYC and on my travels, I have gone to some of the most romantic places and attractions solo in order to share my thoughts with you. Though I would have loved to go with someone, my last-minute decision to buy a ticket same day was not enough notice for others so that meant I was going solo.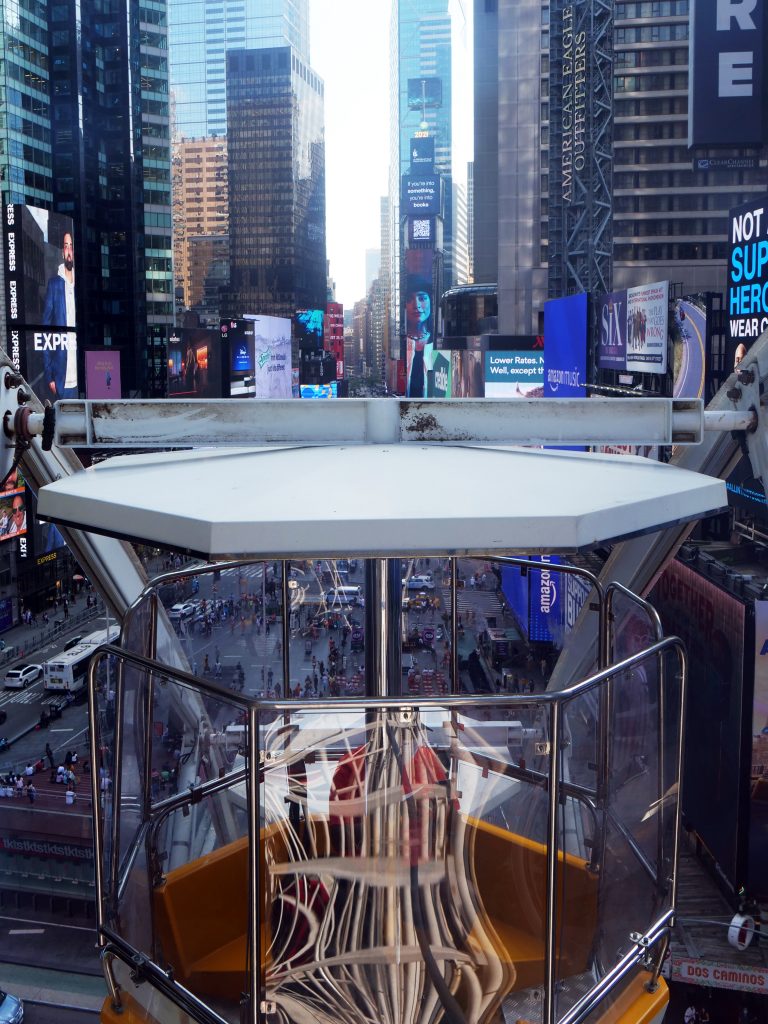 The worker and the lady in line made me feel quite awkward about going solo. In front of us two separate solo riders exited their own private ferris wheel cars or gondolas. Despite this the person working there told us we all needed to combine groups. They asked for another solo rider which happened to be an older woman about 10 people back. She did not want to be grouped with me, which I understand as I was clearly talking to my phone and "influencers" get a bad reputation. I didn't appreciate how she approached it, but I agreed with her requests to go solo as I did not want to get stuck with her 110 feet above Times Square. She was not wearing a mask complaining about how we needed to be 6 feet apart, while she was sandwiched in a line less than a foot away from others.
I felt so immensely lucky that the mother behind me with a small girl said "she can come with us". I asked to confirm that's ok and she agreed again very politely. I was so grateful I would share the ride with someone who was much kinder and friendly than the other person. This mom called the other woman rude as the other woman was not even wearing a mask. This mom also told me that she was able to get a free ticket for herself showing her vaccine card.
If you do go solo, be warned it can be awkward figuring out whether to go with this random couple or that family. My advice is to look around you in line and let people go in front of you if you don't want to possibly get stuck with them for 12 minutes.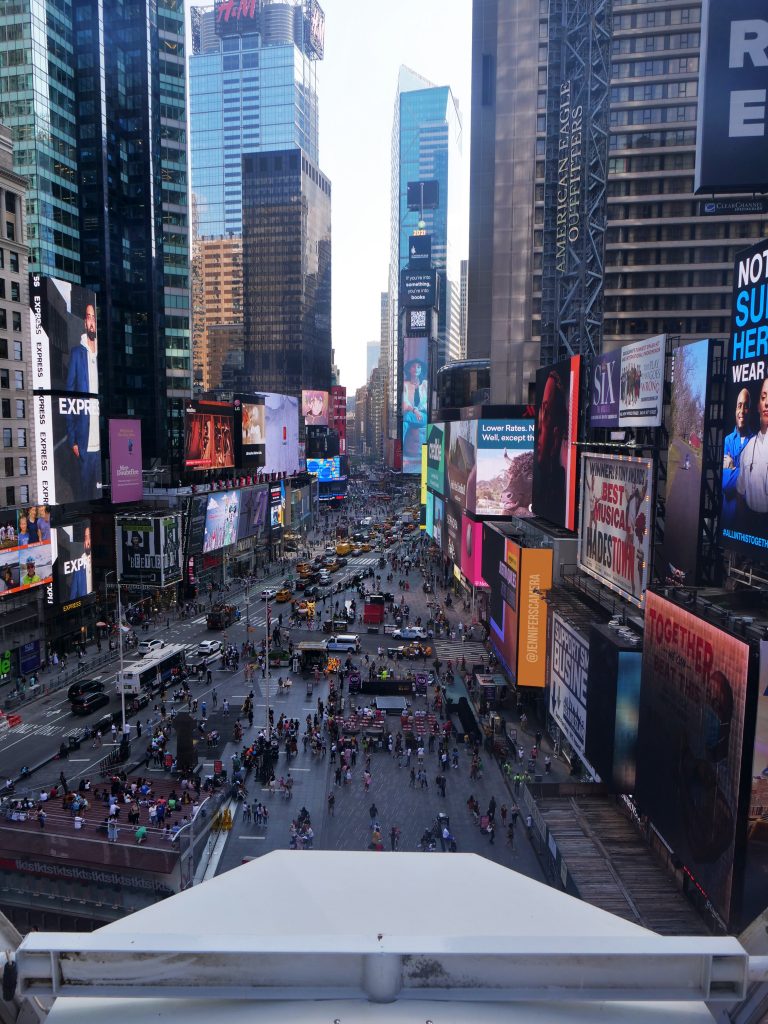 Where to sit for the best views on Times Square Wheel?
I was lucky I happened to sit on the side with the best most iconic Times Square views. I would recommend sitting closer to W 47th Street closer to the red steps, as the other side on W 48th Street closer to Krispy Kreme was not as busy or colorful with billboards.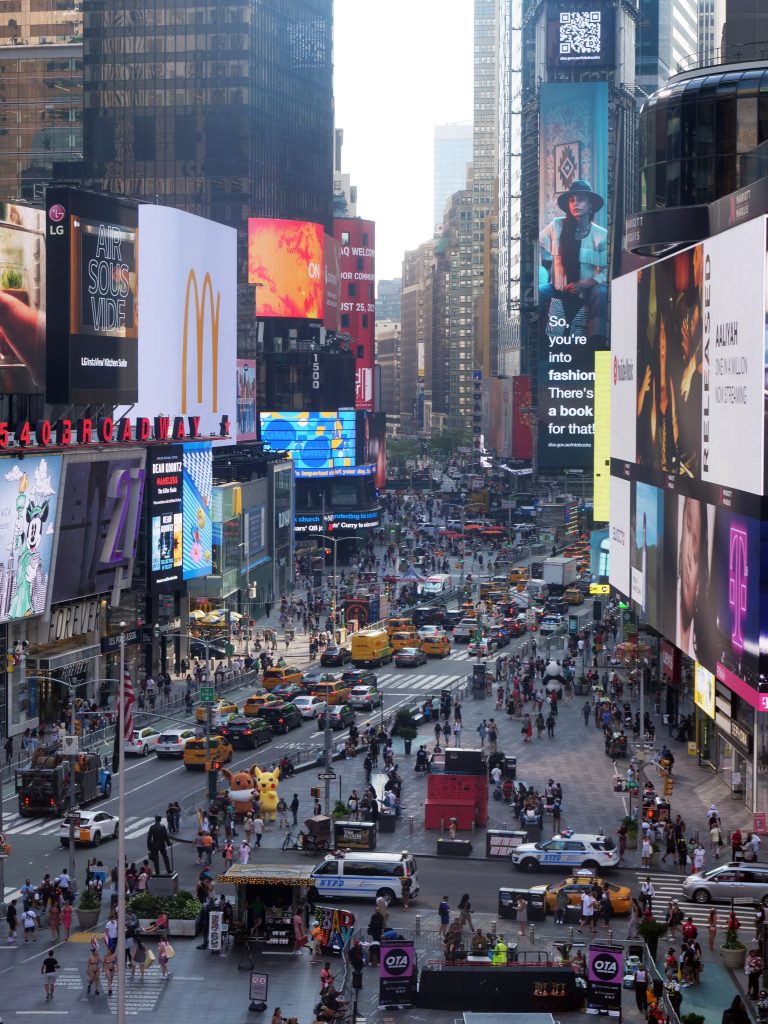 What was the ferris wheel ride like?
The 12-minute ride went very quickly as I shared most of it on my live video and then enjoyed the last few minutes documenting it on my camera. The actual ride was so fast, but the views made it worth it. I have been to a number of bad rooftops that have "360-degree Manhattan views" but they are surrounded by other buildings or the view of the Empire State Building is too close or too far for ideal viewing. The views on the Times Square Wheel were limited to Times Square, but it is such a unique perspective down Broadway.
One of my favorite moments was seeing the iconic hot dog stands from above and the cartoon figures and taxis all as small dots beneath the constantly changing billboards. As a photographer, I love the thrill of finding new angles of places I've visited more times than I can count. I loved the anticipation as we rounded the top and saw the 2021 New Year's Eve ball above One Times Square, which is mostly empty but the billboards generate over $23 million per year. Read more Times Square Fun Facts.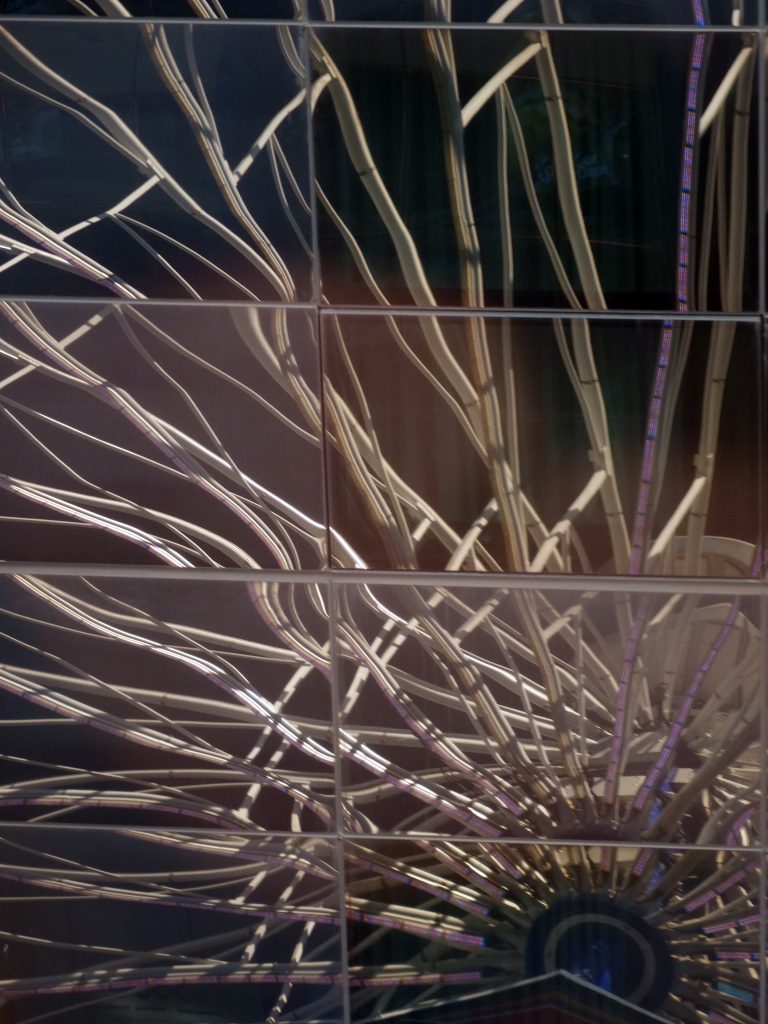 Was it worth it?
Yes, as a photographer I found it worth to get new angles of Times Square and I loved the reflections of the ferris wheel in the buildings around us. This would be perfect for a family or friends or date. I went during the day, but going around sunset or at night could also be amazing. It was not worth it to me to pay more to skip the line, since there was barely a line when I went, though this will likely change and get more crowded. What do you think? Would you take a ride on the ferris wheel in Times Square?
Pin it: