NYC is known for its diverse cuisines and delicious food like bagels and pizza, but where do the locals eat? One of the first topics of conversation for visitors and locals is "where is the best place to eat right now"? So, I am sharing my favorite places to eat breakfast, lunch, dinner, and dessert.
1. Sunday in Brooklyn:
You go for the Instagrammable pancakes but stay for the other amazing dishes like the breakfast sandwich complete with potato chips and the creative cocktails. Their menu and seasonal drinks are always so on point that I've gone multiple weekends in a row. After working in restaurants, this experienced trio of Brooklynites would take Sundays for granted exploring their neighborhood for good drinks and food. They started this neighborhood spot near Domino Park that offers breakfast, brunch and dinner in this three-story bright space that is so welcoming in any season. I love to sit outside in warmer months or warm up with a cozy cocktail when it's cooler. One of my favorite cocktails is the sweet and creatively displayed Havana Honey Bear drink. It is served in an adorable bear-shaped honey bottle elegantly chilled on ice. Visitors come for the incredibly fluffy pancakes on white marble tabletops. The pancakes are made with malt powder and buttermilk in small pans with lots of batter that forces it to bake upwards instead of spreading across a larger pan. Then there's the syrup. It's a hazelnut maple praline syrup that doesn't immediately soak up into the pancake but spreads very nicely.
2. Rainbow Bagel at The Bagel Store:
The Bagel Store is the original home of the Rainbow Bagel, located in Williamsburg, Brooklyn. I absolutely love this colorful twist on the classic New York breakfast that looks almost tie-dyed. They come in all kinds of colorful designs and seasonal specials for sports games or holidays. You must get here early in the morning as lines begin to form quickly. I love sugar but even I cannot handle the confetti cream cheese. It is an expensive bagel but worth it if you're looking for a fun Instagram shot and to taste these slightly sweeter bagels.
3. BEC:
Bagels are often the first NYC breakfast food that come to mind, but BEC spot serves up breakfast sandwiches on ciabatta rolls. My favorite sandwich to order is the Farmhouse with two eggs, pancetta, spinach, ricotta cheese, fig jam, and honey. It is conveniently located on 8th avenue between 17th and 18th street in Chelsea near Union Square.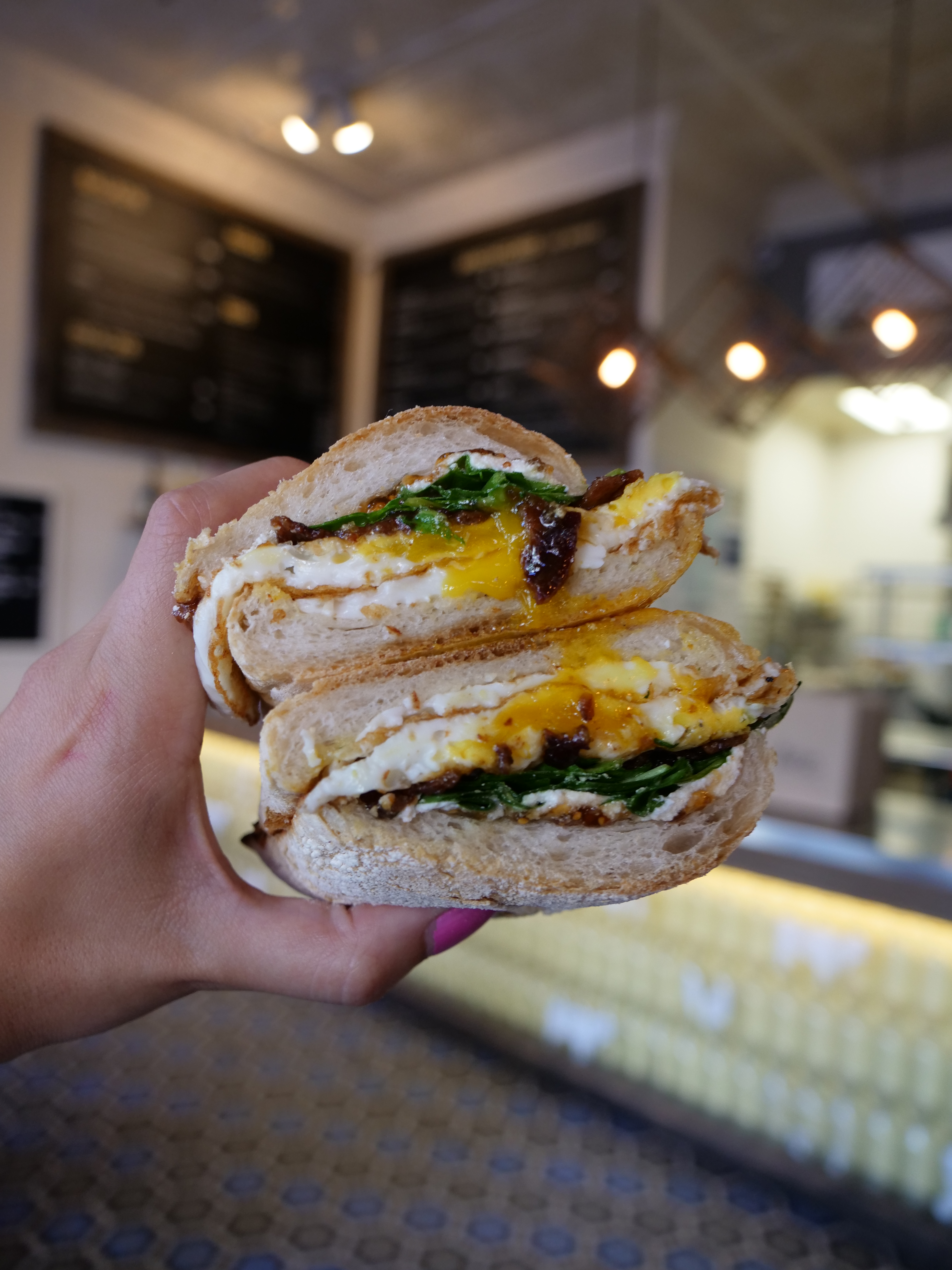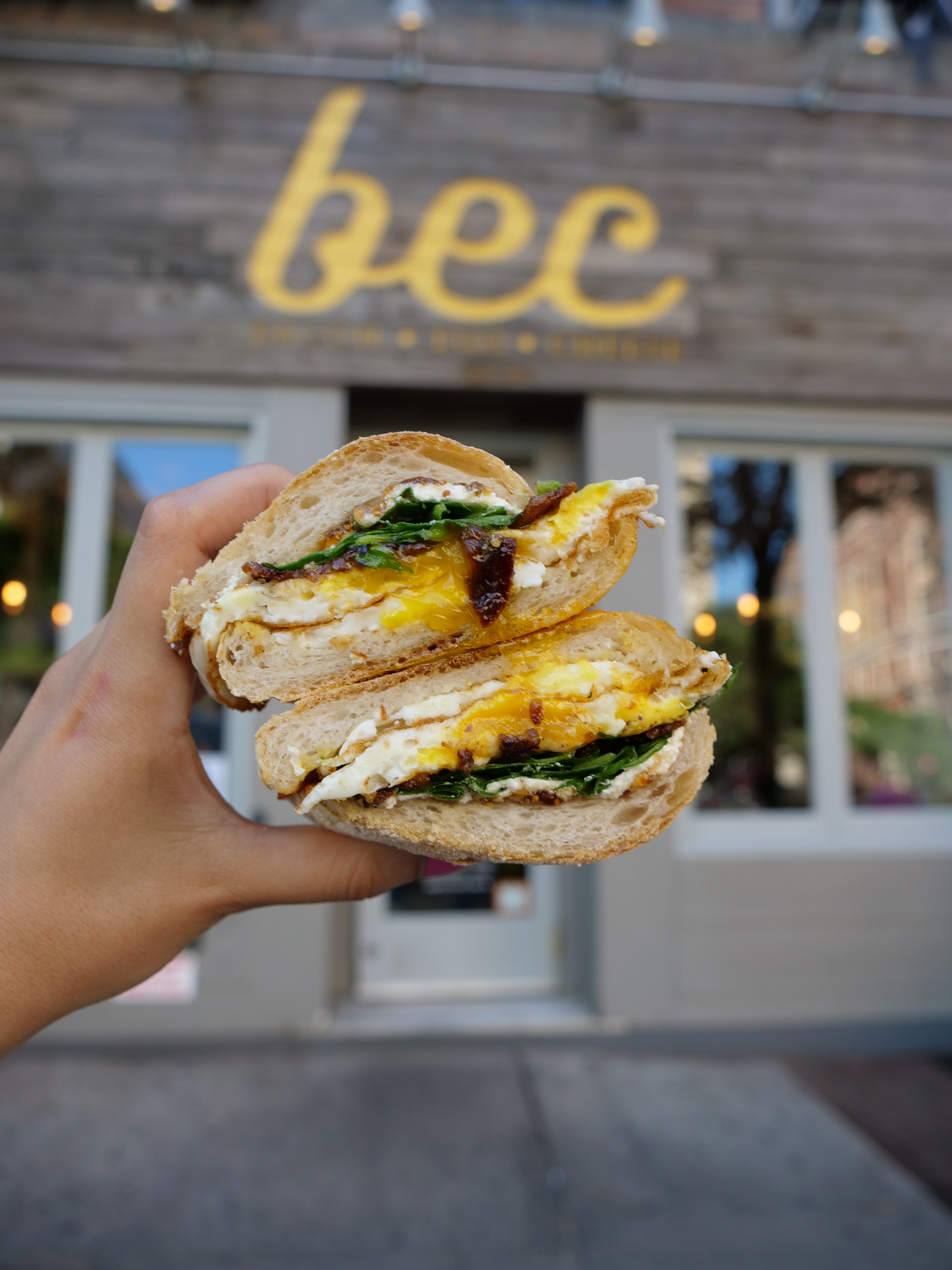 4. Joe's Steamed Rice Rolls:
I am absolutely obsessed with this place and go here almost weekly. Joe's Steam Rice Roll is a popular Flushing restaurant that just expanded to its second location in Manhattan's Chinatown. Head to Canal Street Market to try these budget-friendly gooey Chinese crepes. The menu item favorite is "Joe's Signature" roll with pork, beef, shrimp, egg and lettuce. I like to order the pork with egg, bean sprouts and sesame seeds.
5. Los Tacos No. 1:
My favorite place for yummy authentic Mexican tacos is Los Tacos No. 1. Many Mexican or Californian visitors are doubtful they will find "real" tacos in this big city, but this is the absolute closest it gets in NYC. Three Mexican and Southern Californian friends founded this restaurant to bring authentic tacos to the East Coast. It feels like a roadside stand with no seating, only counters to eat your food. The Times Square location is their second outpost. The first location was a slightly smaller counter in Chelsea Market. My favorite tacos are adobada (pork with pineapple) and carne asada (beef) tacos. There are also pollo (chicken) and nopal (cactus -vegetarian) tacos. When they ask if you want corn or flour tortillas, the answer is always corn. They flatten these tortillas right in front of you. The guacamole sauce comes on every single taco, without charging you extra! These tacos are very affordable for a New York City meal ranging from $3.25 to $3.75 per taco. There's even a secret menu with a taco shell made entirely out of cheese. To drink you can enjoy a Mexican soda, which is sweeter, or fresh jugos (juice) like the horchata, jamaica or tamarindo.
6. Bareburger:
Bareburger is one of my favorite local burger joints. I have tasted famous burgers around the world, but this spot is still so unique for how they make their burgers and their huge selection. Bareburger started in Astoria, Queens and is now a global chain, with awesome service that doesn't feel like a chain. They partner with local sustainable farmers to ensure clean-comfort food to help build a better food system. Their menu is almost half vegetarian including awesome plant-based burger options like the famous Impossible Burger that I could barely tell apart from a classic meat burger. If you are dairy free or gluten free, they go above and beyond to include fresh menu items you won't find most places! Meat-lovers will also revel at the tasty all-natural selection of burgers from beef to bison. It is a health and environmentally conscious burger chain, even their furniture is built with reclaimed and recycled materials making each space unique.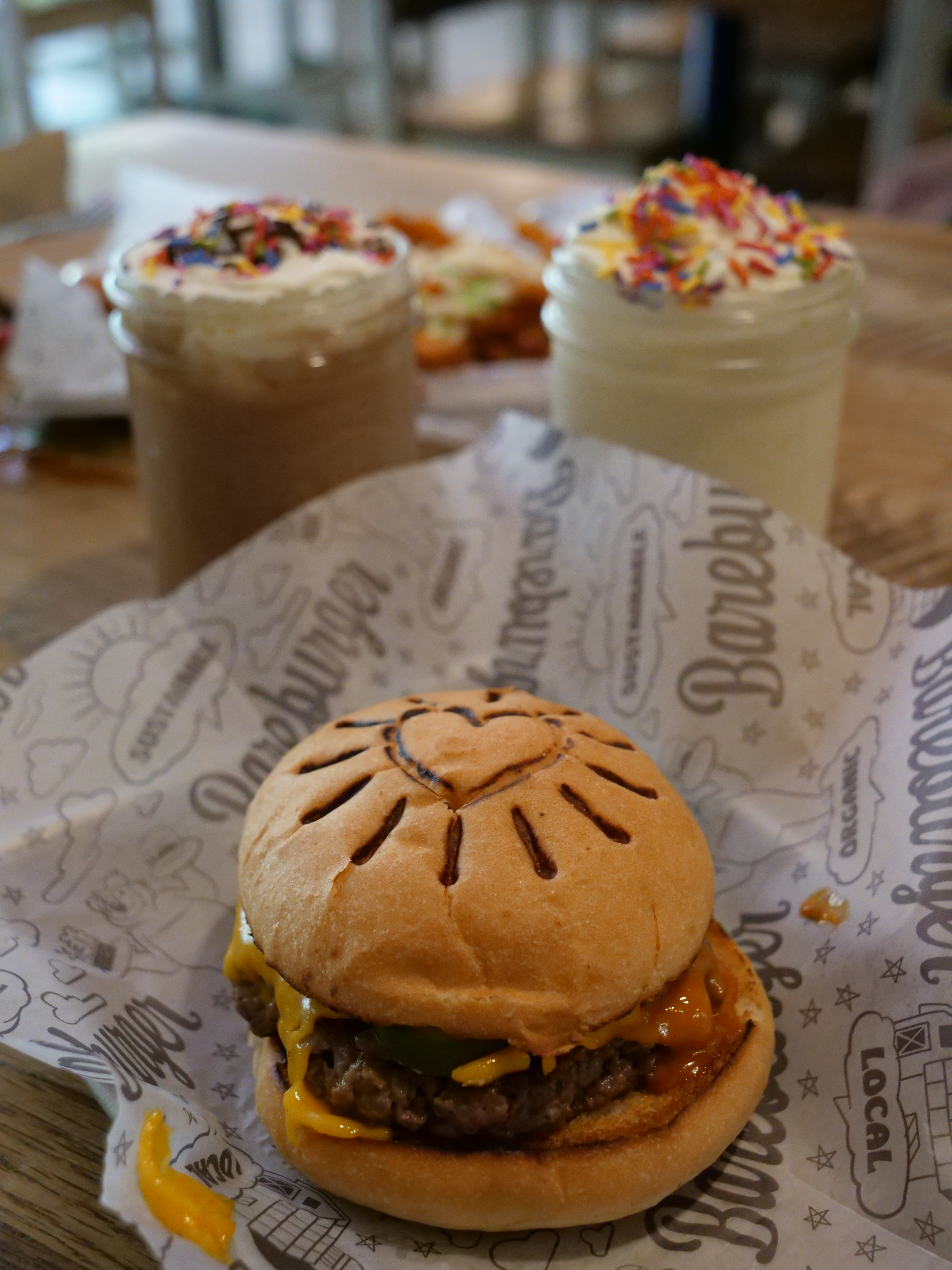 7. Best Pizza:
With a name like Best Pizza this place is not afraid to call it as it is. Frank Pinello, inspired by his Bensonhurst, Brooklyn roots, Sicilian heritage and NYC pizza traditions opened this joint in 2010 in Williamsburg. He learned cooking from his Sicilian grandmother and practiced making pizza at top places before he opened his own place. In addition to making the Best Pizza in my opinion in Brooklyn and perhaps the entire city, he hosts "The Pizza Show" on Vice. My favorite two slices are the Grandma a classic thick, square, Sicilian slice and the white slice is packed with flavor! The white pizza is topped with a ricotta and caramelized onions and finished off with a sesame seed crust.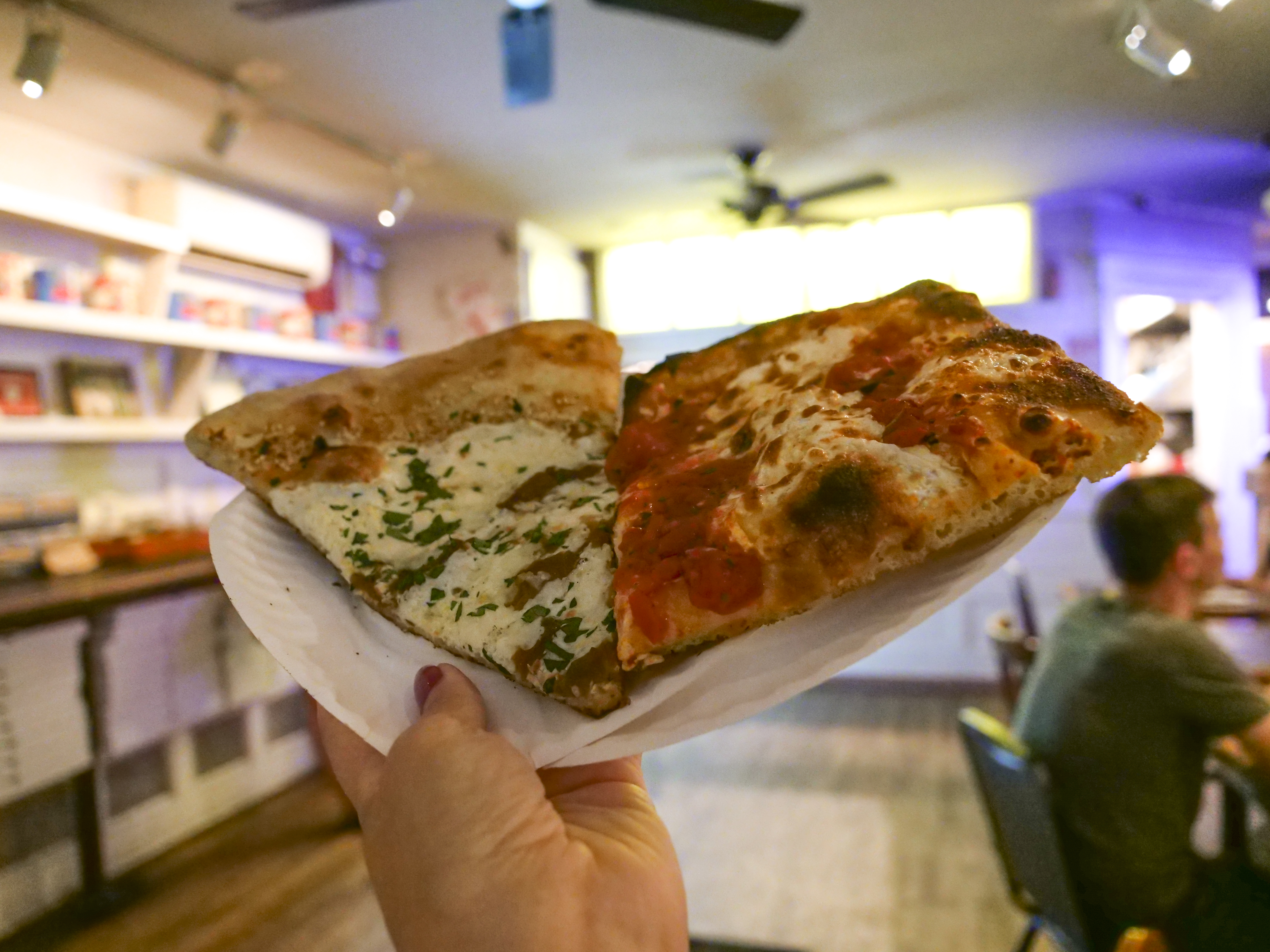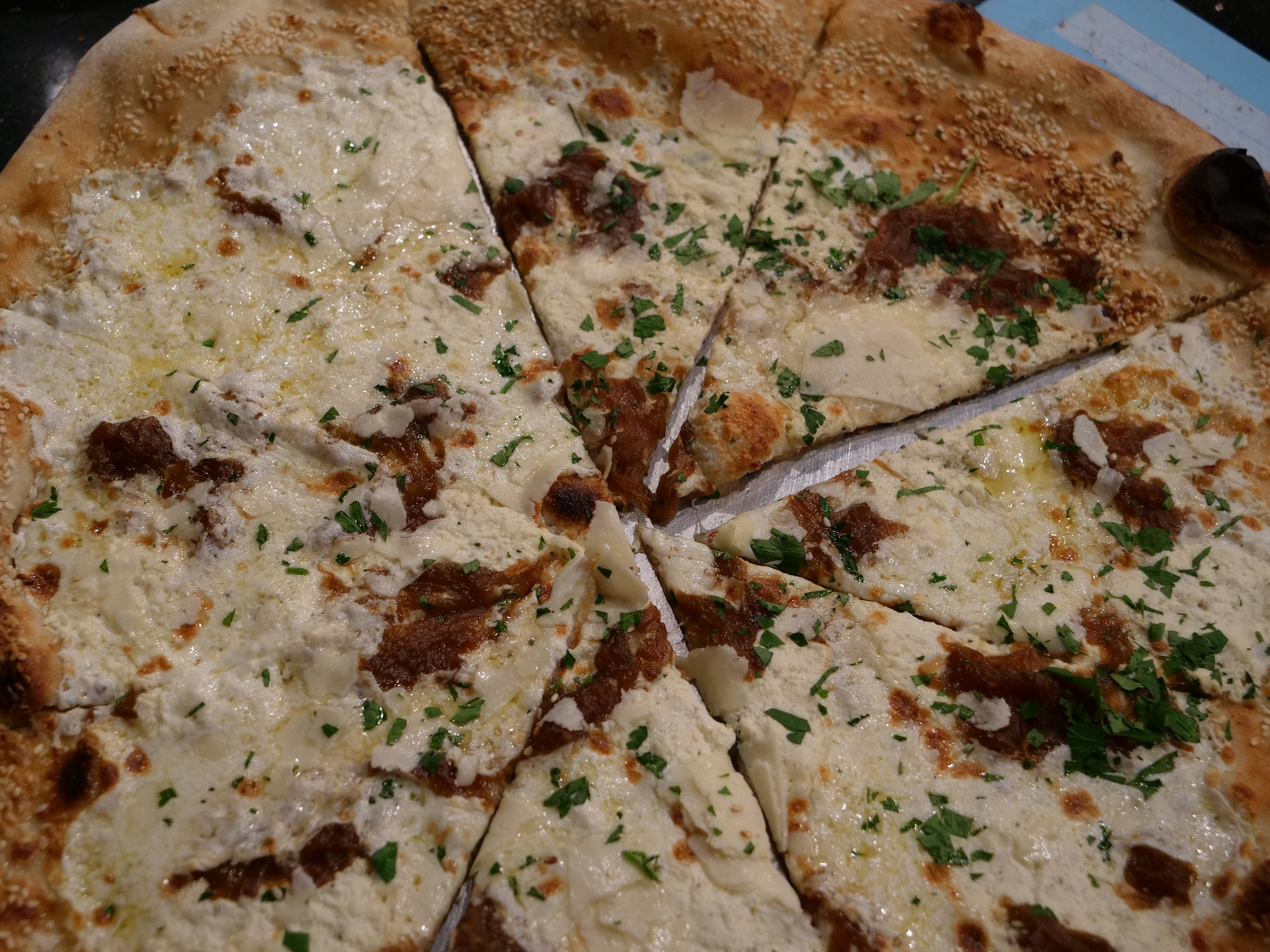 8. Cafeteria:
I've been to all the "best" mac and cheese spots in NYC and nothing compares to Cafeteria in Chelsea. You must order the Truffle oil mac and cheese or sample that and two others in the "mac attack" sampling. The best part is that this simple but classy joint is open 24 hours. It is perfect for brunch or comfort food after a late night when everything else is closed.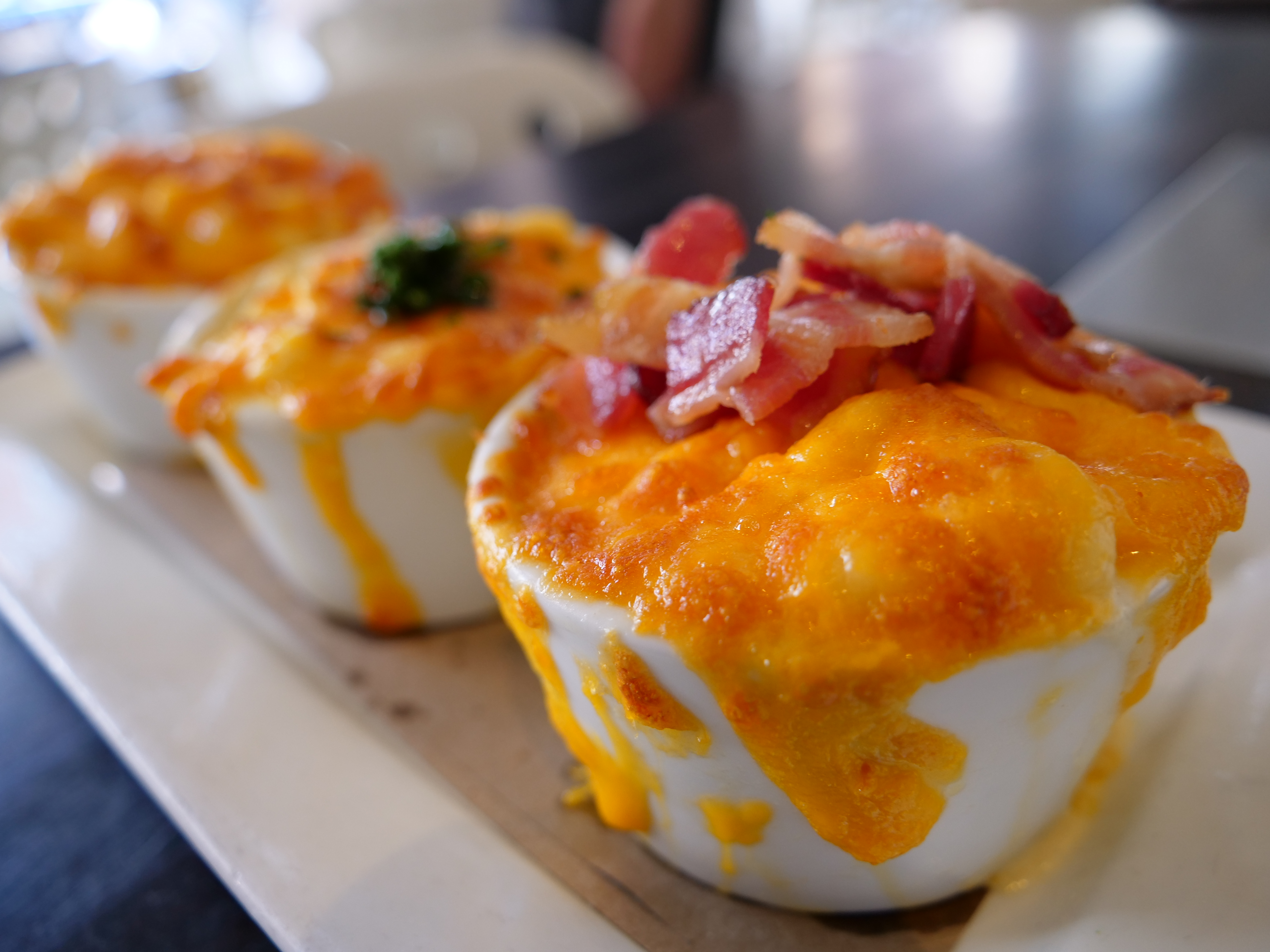 9. Van Leeuwen:
This is one of my all-time favorite ice cream places in NYC! Did you know it was started in 2008 out of a buttery yellow truck on the streets of NYC? The juxtaposition of the classic American ice cream truck and the traditional, fresh ice cream helped Van Leeuwen expand to storefronts and trucks all around NYC and LA. All ice cream is made from scratch in Greenpoint, Brooklyn! You can even find pints in select grocery stores. Their vegan ice creams are delightfully delicious and don't taste vegan, combining housemade cashew milk, organic coconut milk, organic extra virgin coconut oil, organic cane sugar, pure cocoa butter and organic carob bean. They are one of the only ice cream places that offers one of my favorite toppings are the nutritious and crunchy cocoa nibs which come from raw cacao beans.
10. Tipsy Scoop:
Following in their family's Italian ice cream making traditions, Tipsy Scoop puts a modern boozy twist on ice cream. This artisanal ice cream company sells 5% ABV concoctions. They infuse ice cream flavors with liquors for fun flavors like Tequila Mexican "Hot" Chocolate flavors, Cake Batter Vodka Martini and Vanilla Bean Bourbon. In the summer I love the Frose all day topped with boozy rose gummies and rose petals. If you're visiting with a large group then I dare you to try and finish their huge Cinco de Mayo Mango margarita Sundae! The service here was amazing and I love that they have a location in Manhattan and Brooklyn (and even Las Vegas).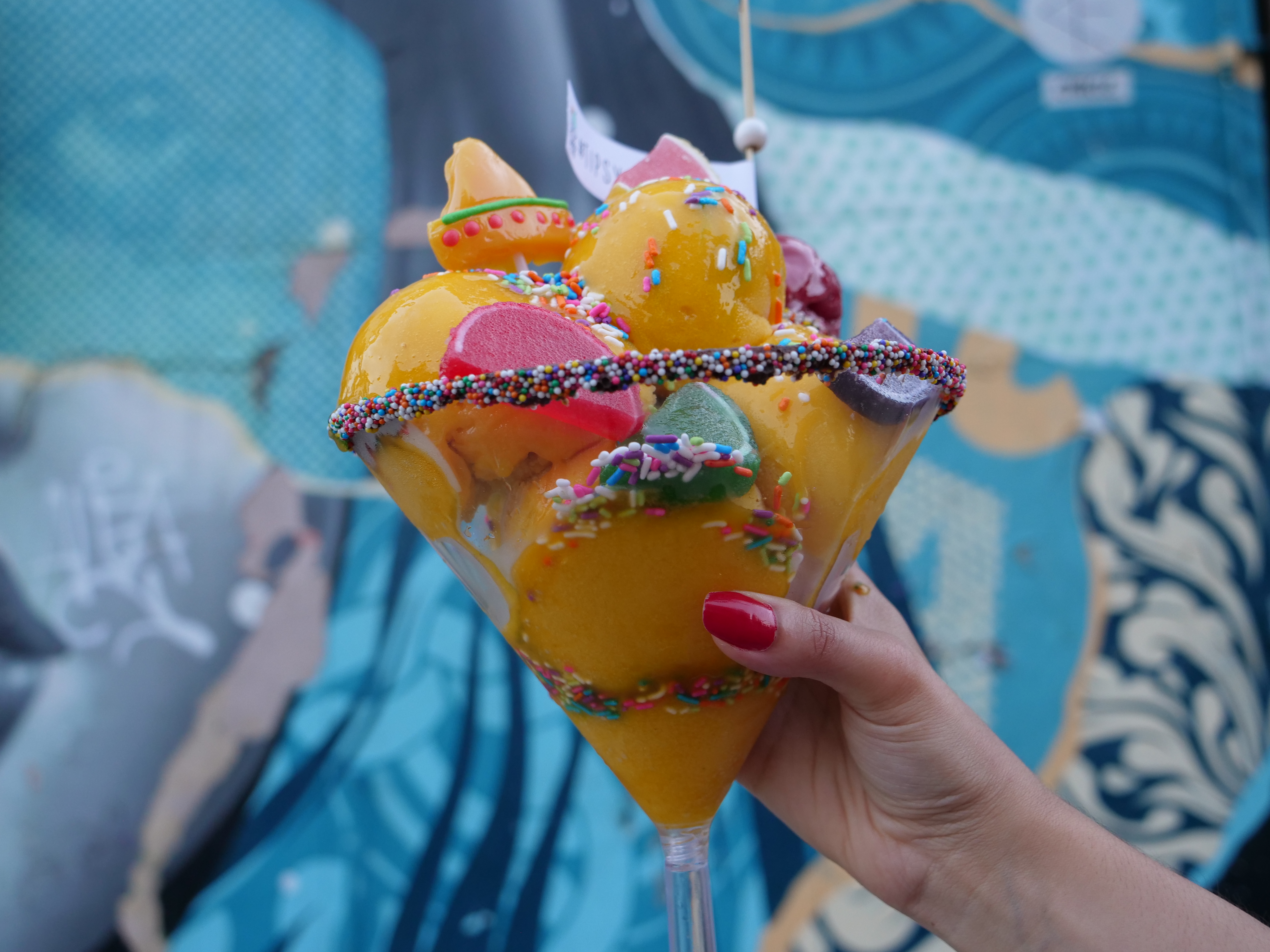 11. Chinatown Ice Cream Factory:
Chinatown Ice Cream Factory has been family-run since 1978. There are legends that ice cream was invented during the Tang Dynasty. Visit to enjoy American classics and Asian-inspired flavors like black sesame, lychee, wasabi or durian. The small shop can form a line, but it's worth the wait and don't forget to bring cash as they only accept cash here. I love the taste of this ice cream which is so vibrant and flavorful.
Comment below your favorite place from my list or other spots I need to try next, can't wait to hear your suggestions!
PIN IT: