If your NYC bucket list includes walking over the Brooklyn Bridge then you could probably use some photo inspiration and even a shot list! Keep reading for the ultimate photo collection of top Instagram photos to take across the Brooklyn Bridge. These are real photos with very minor edits that you can take in one sunrise photo shoot. Go at sunrise if you want the bridge almost empty, because later in the day the crowds will make some photos impossible. My friend helped me shoot these photos (and video) in about one hour on the bridge around 7am on a sunny day in June. I will also include some things to avoid like shadows to get an even better shot than these below. Only thing, 🙂 if you use this as inspiration, please tag me on Instagram @thetravelwomen or #TheTravelWomen, I would love to see and share your shots! Read here for more history and the guide of how to walk across the Brooklyn Bridge.
1. The classic shot you must get is straight down the walking path with one of the towers behind you, embracing the symmetry of the cables around you. I prefer taking this shot with Manhattan's skyline behind the subject.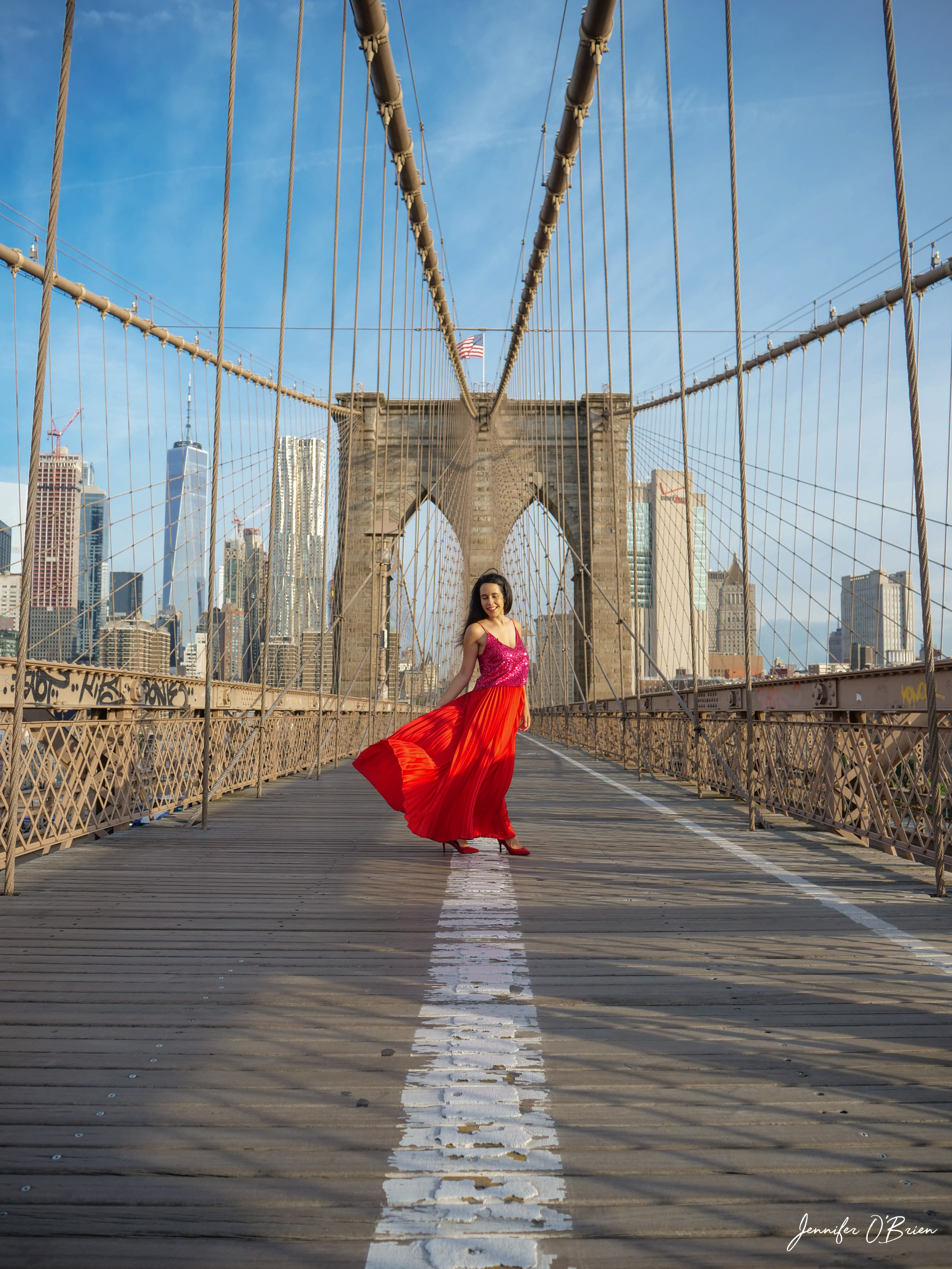 2. This symmetrical shot is so beautiful I took one facing forward and one facing backwards mid twirl.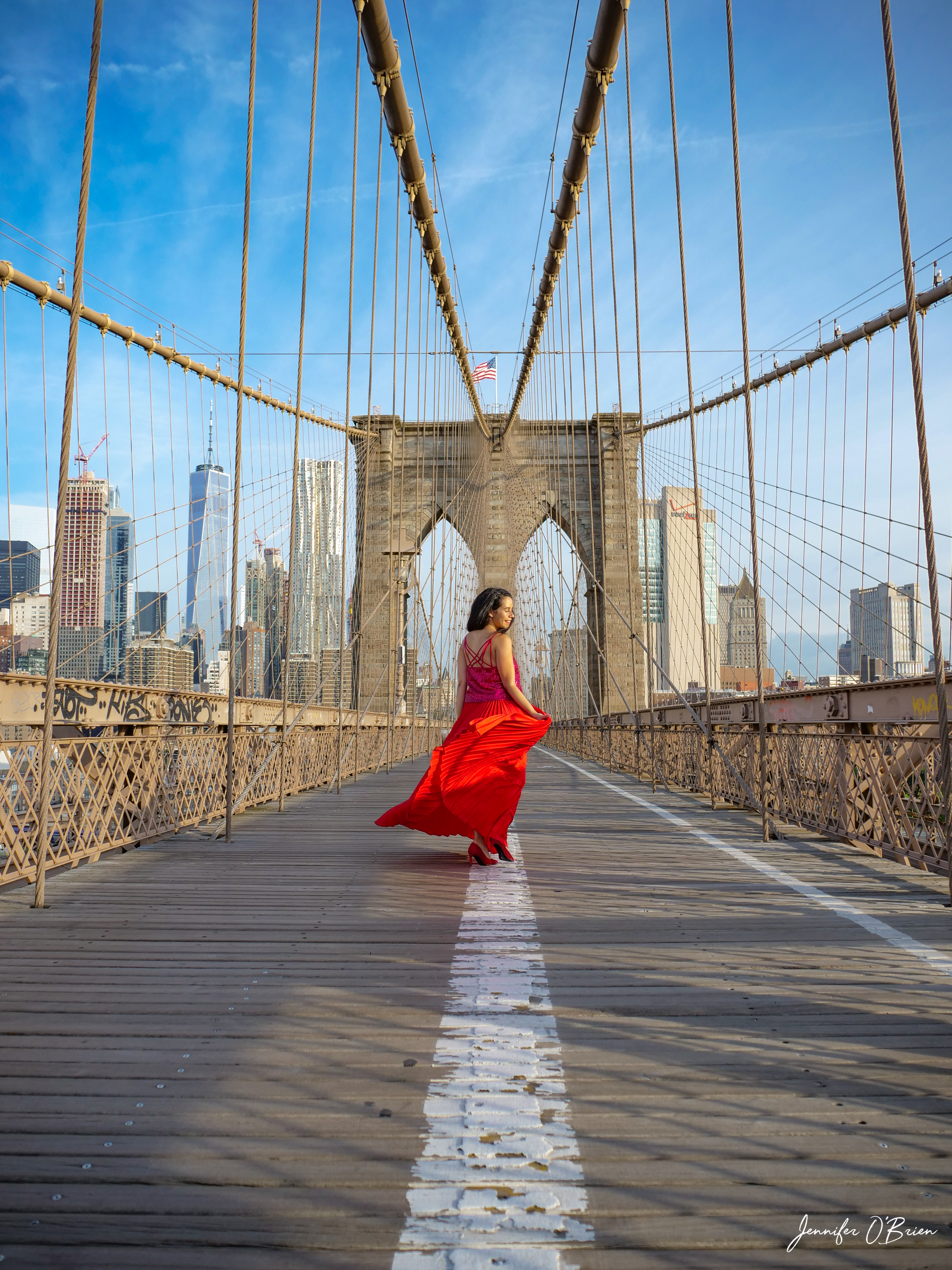 3. An angle many do not utilize is a side angle with some of the skyline behind you. Just be careful of your photographer's shadow and bikers if you quickly step onto the other side of the white line!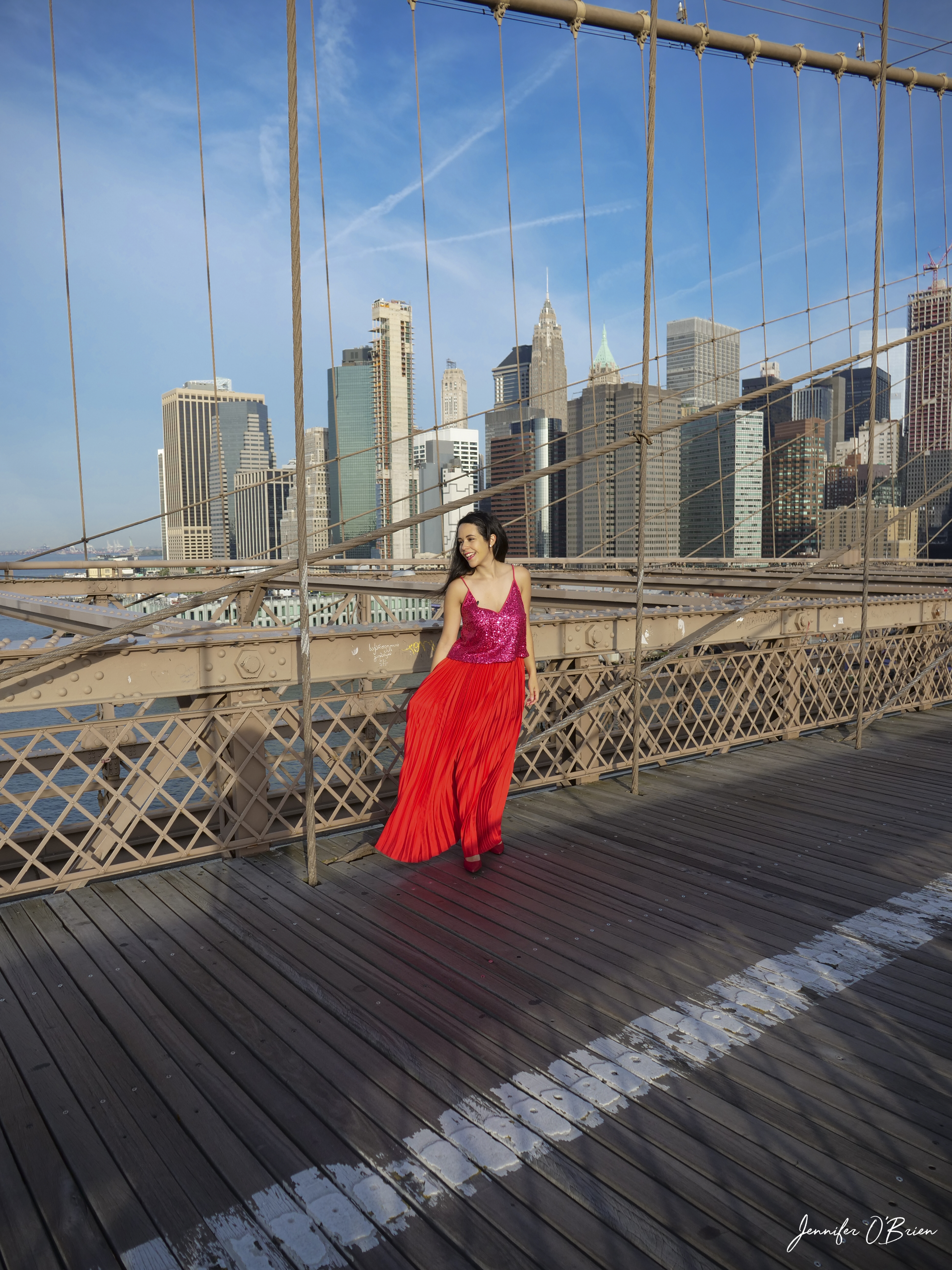 4. I love this shot zoomed in but note the lighting here a little bit after sunrise can cause some harsh shadows like the bridge and cables across my shoes and skirt.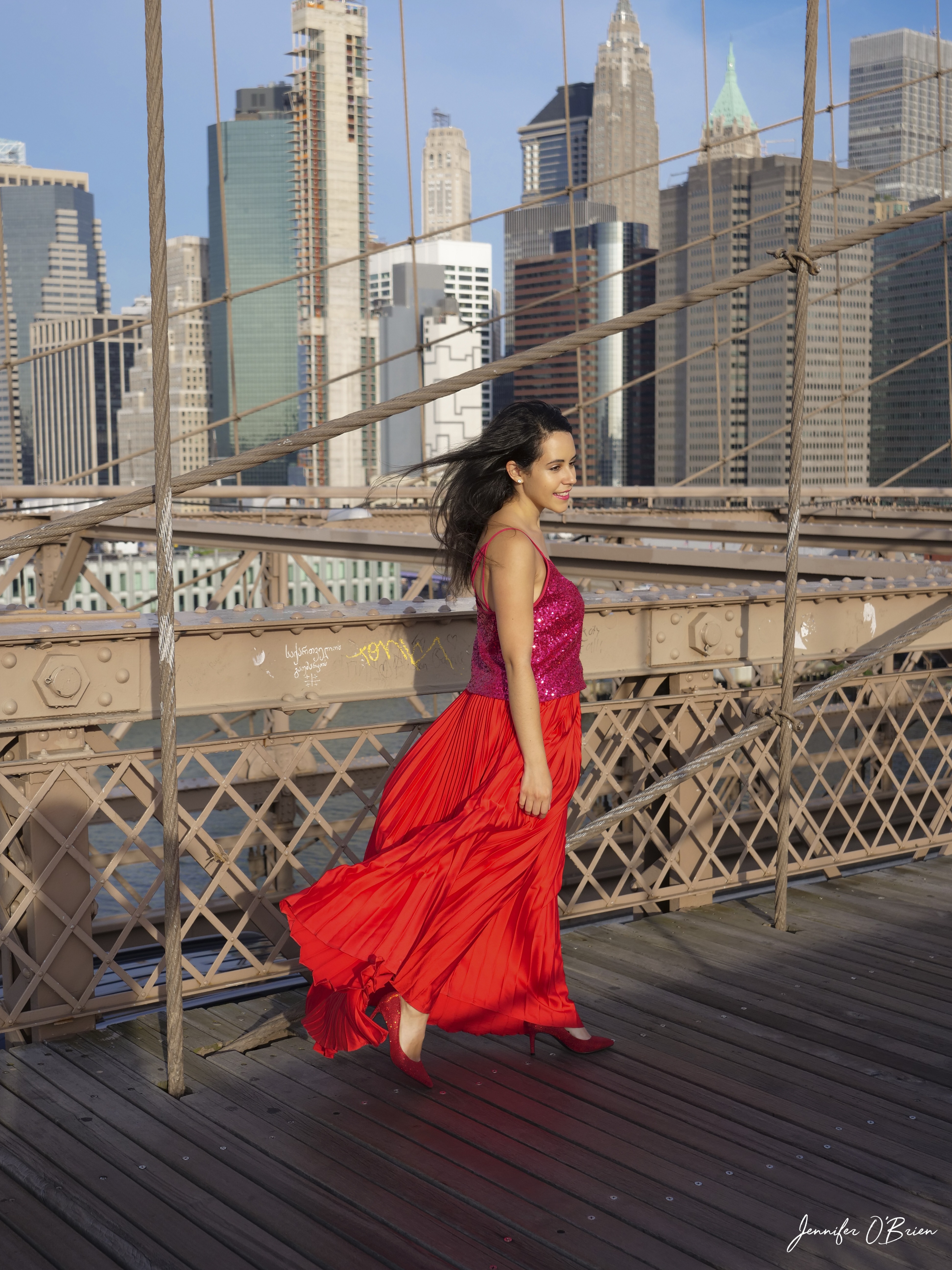 5. Portrait shots on the bridge might be my favorite! I left my mic on after filming, but love how the light hits my face as I look towards the light and the background is slightly blurred at an aperture of 2.8.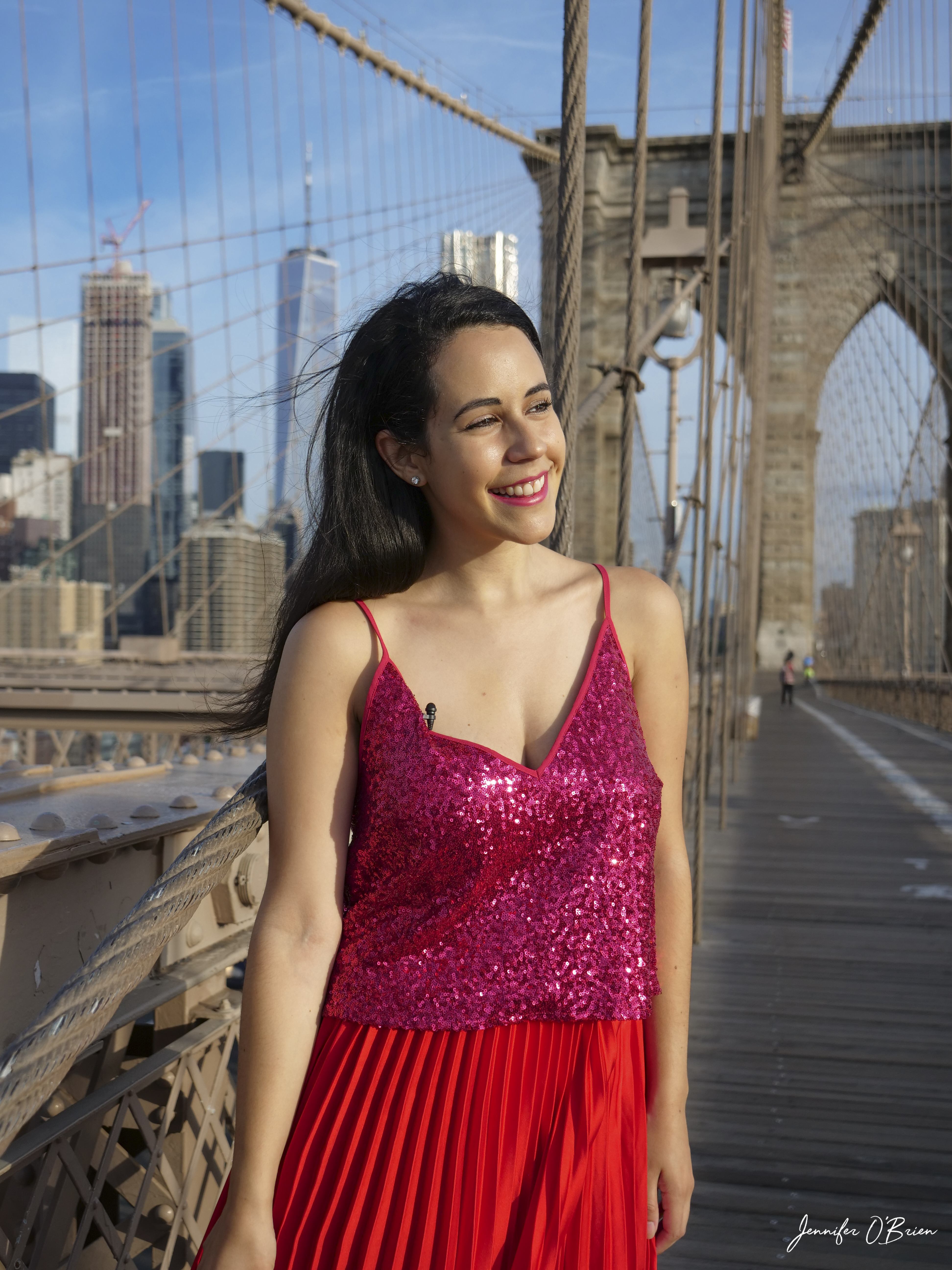 6. Play up the corners around each tower, especially the one closer to the Manhattan side with the One World Trade Center or Freedom Tower in the background.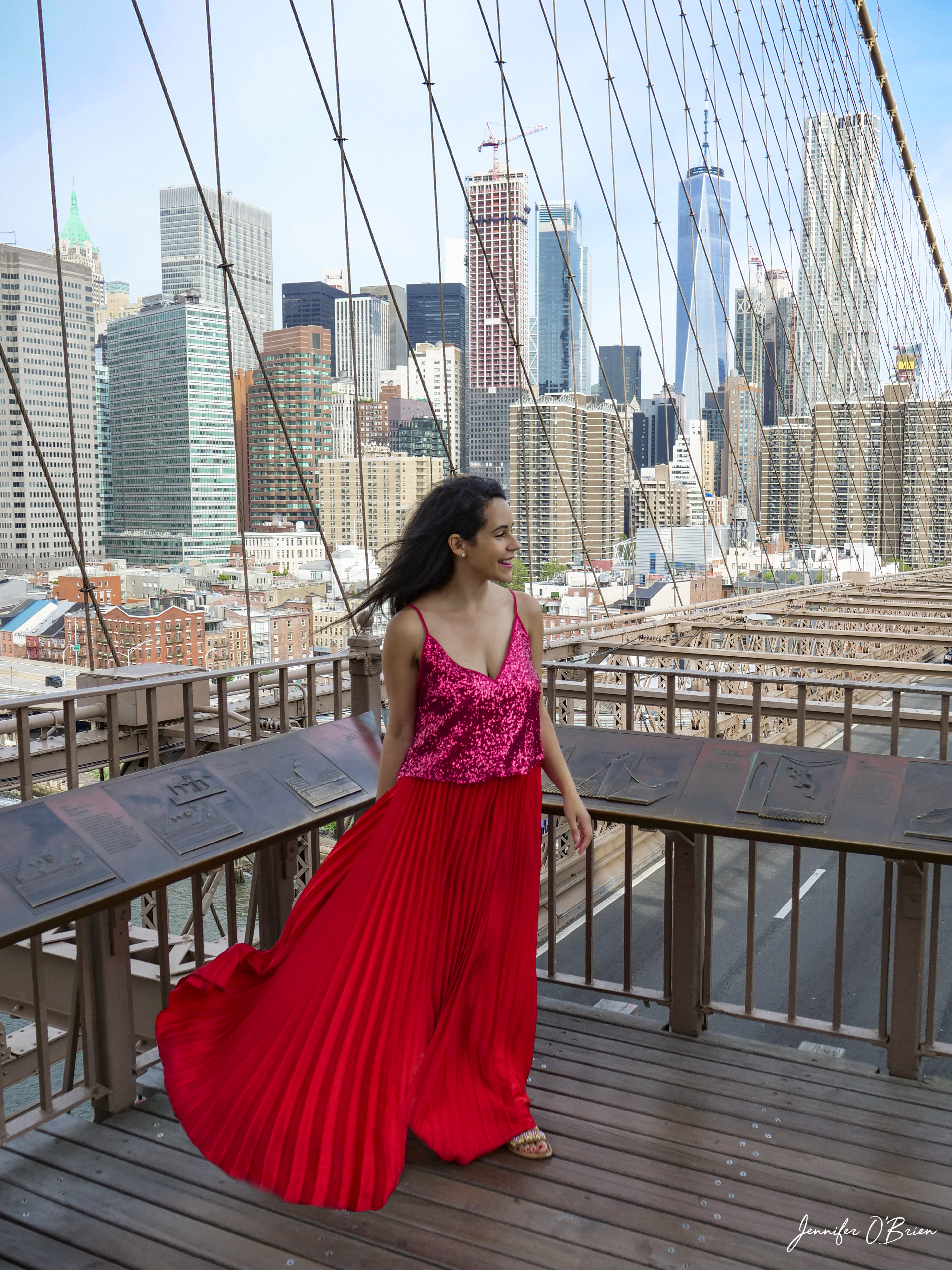 7. In these same corners around the towers stand in the middle and try to catch a few cabs whizzing by below you!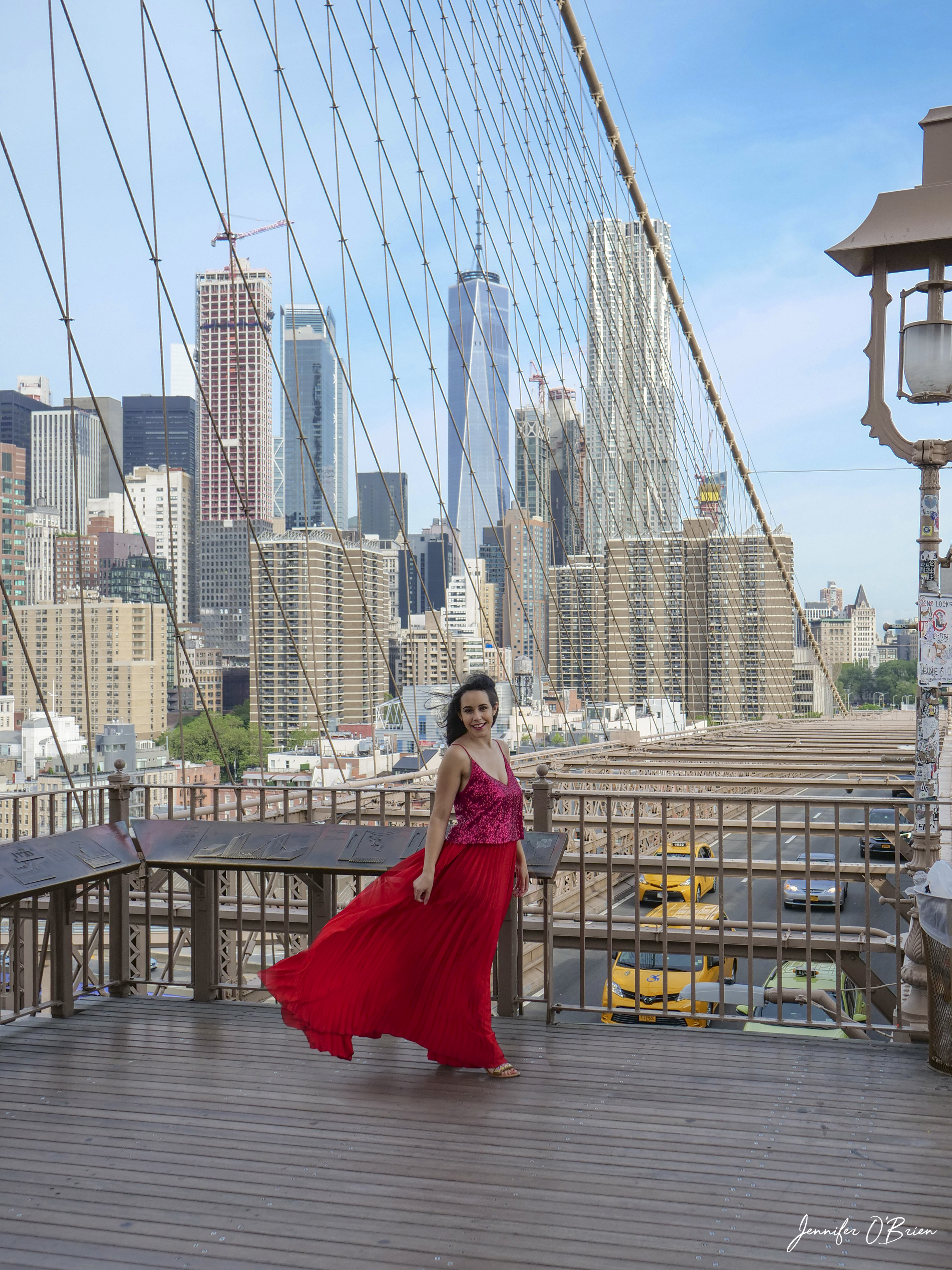 8. There is a metal corner or nook ready for photos too. Compare this side with less of a skyline behind it to this same corner from a different angle…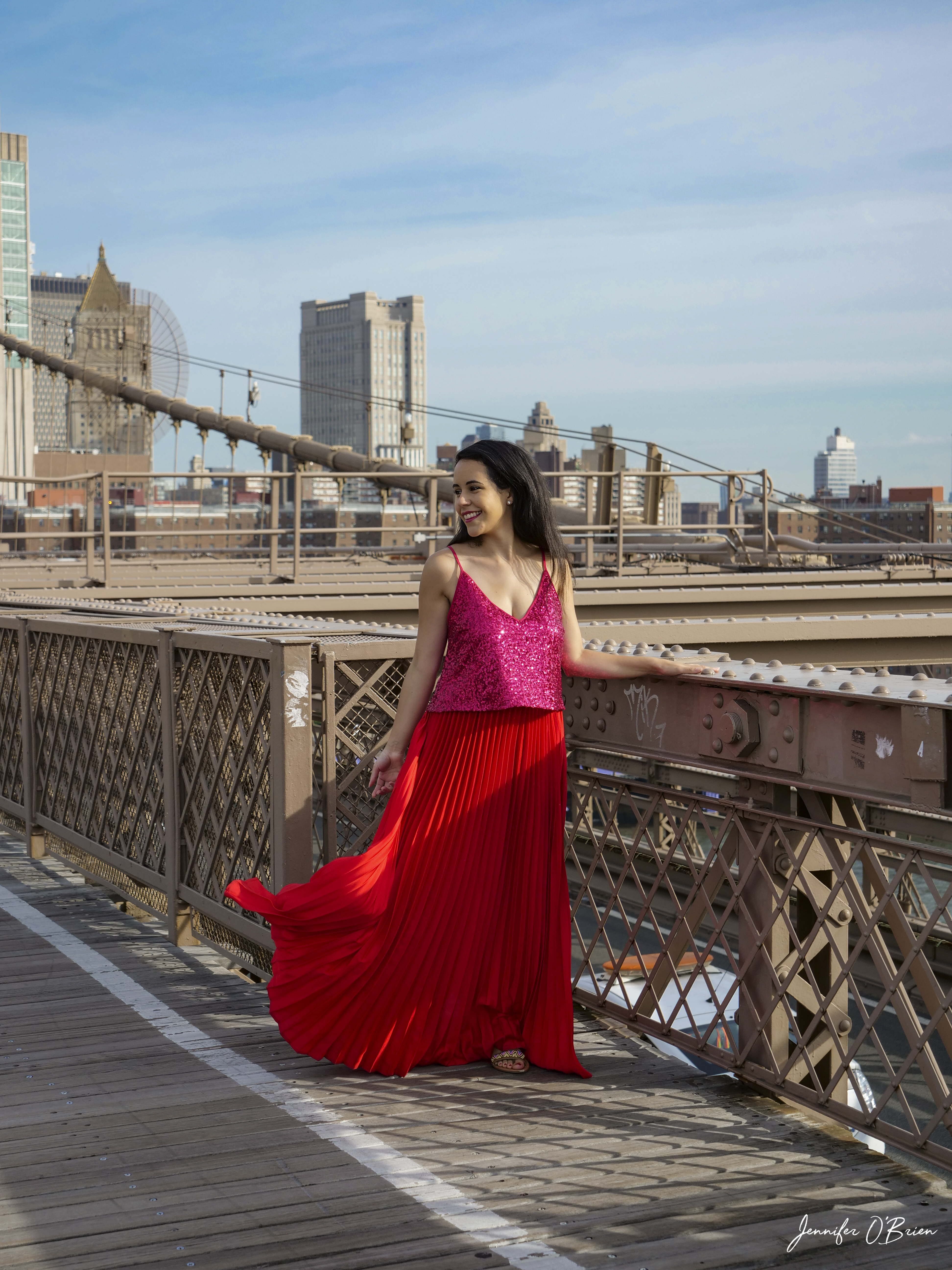 9. Here I am sitting in that same area, but this angle shows the skyline better, but not the bridge. So then we tried the left side…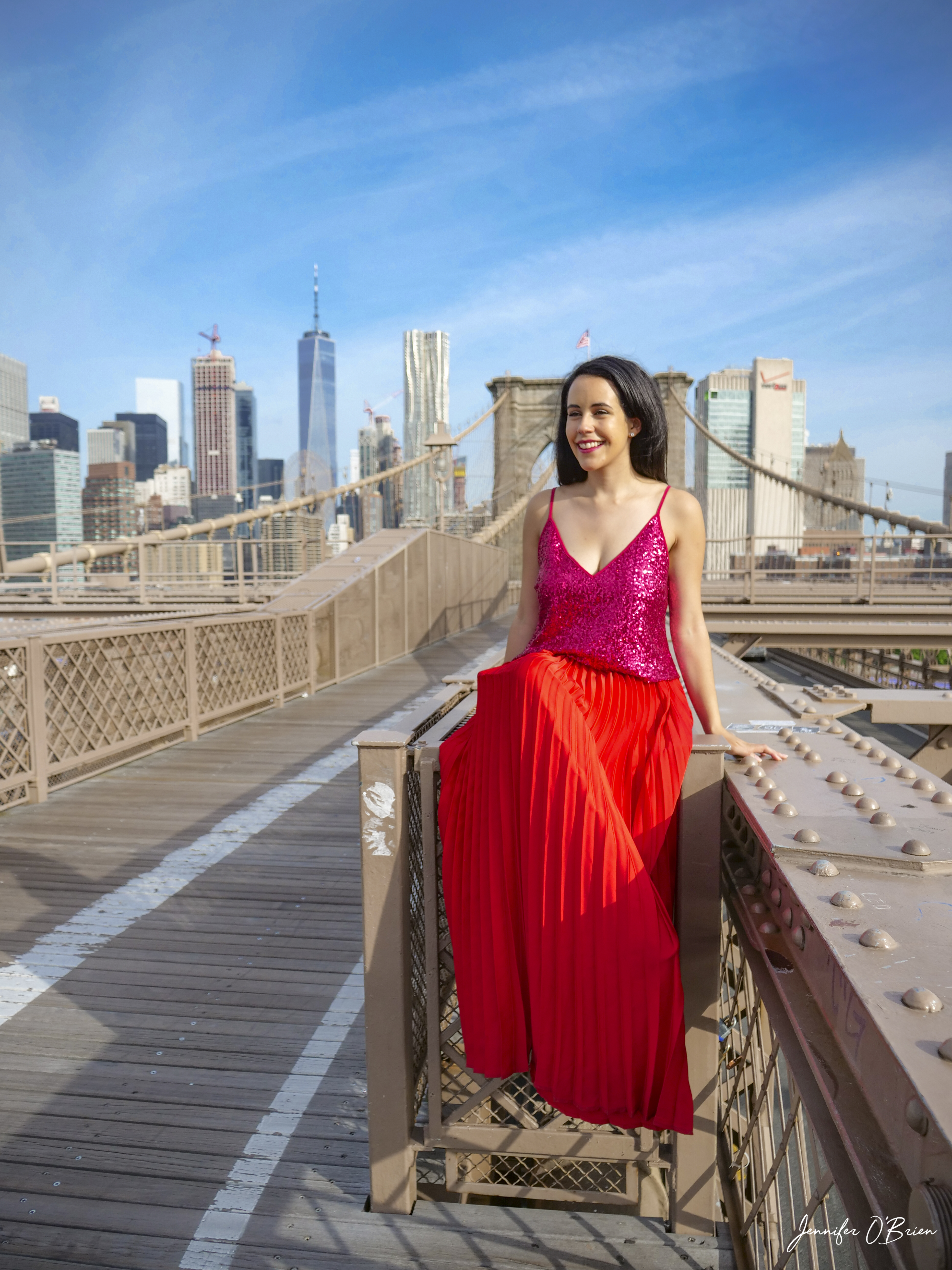 10. Compare the last angle with this angle, but if you look carefully you can see the Empire State Building!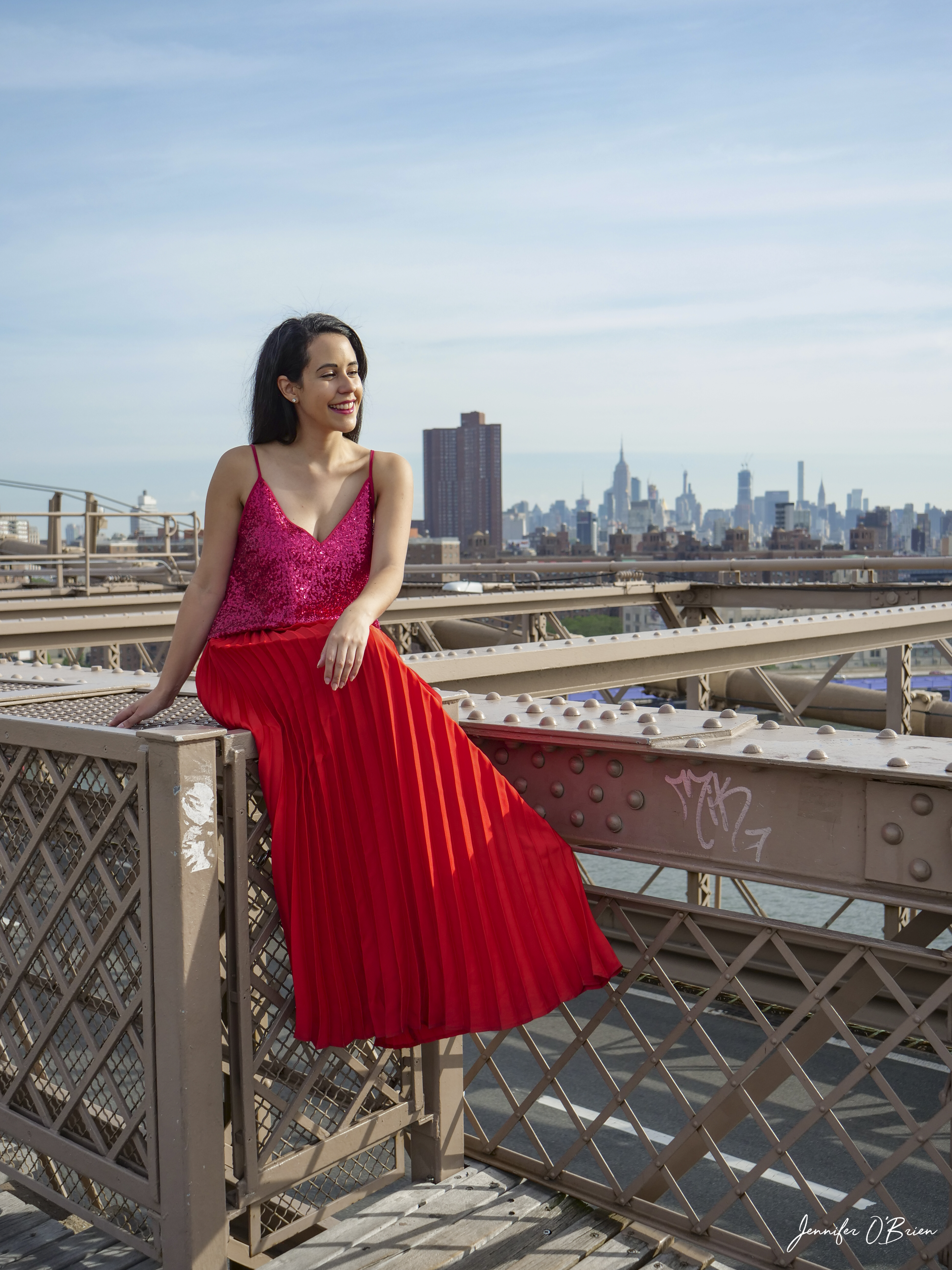 11. Boom, this is the side for sitting shots! When you're looking at the Manhattan side, sit on the left side to best frame the skyline and Freedom Tower behind you and the bridge on the right.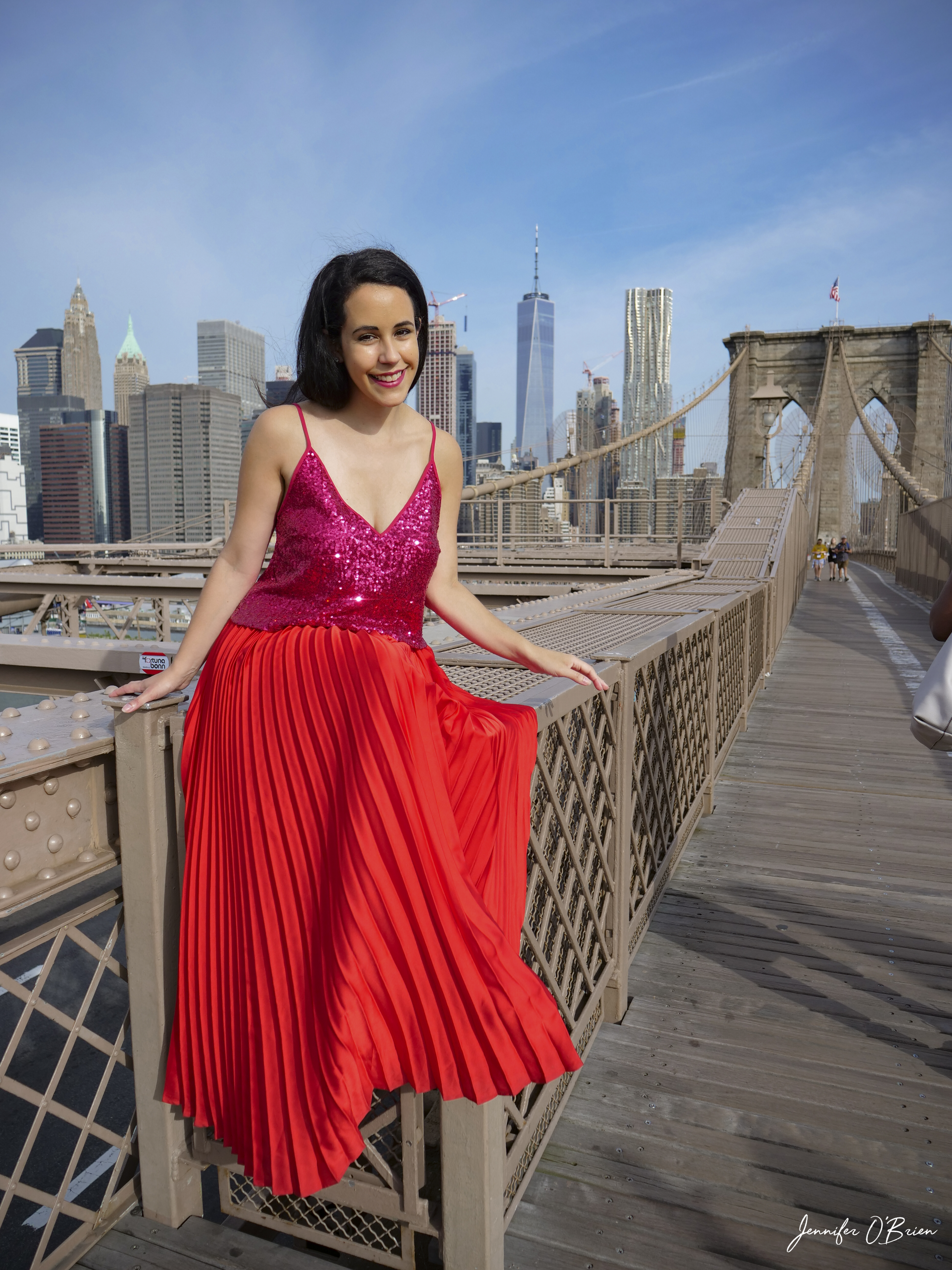 12. Or you can sit in a bench and miraculously a matching purse with red details appears.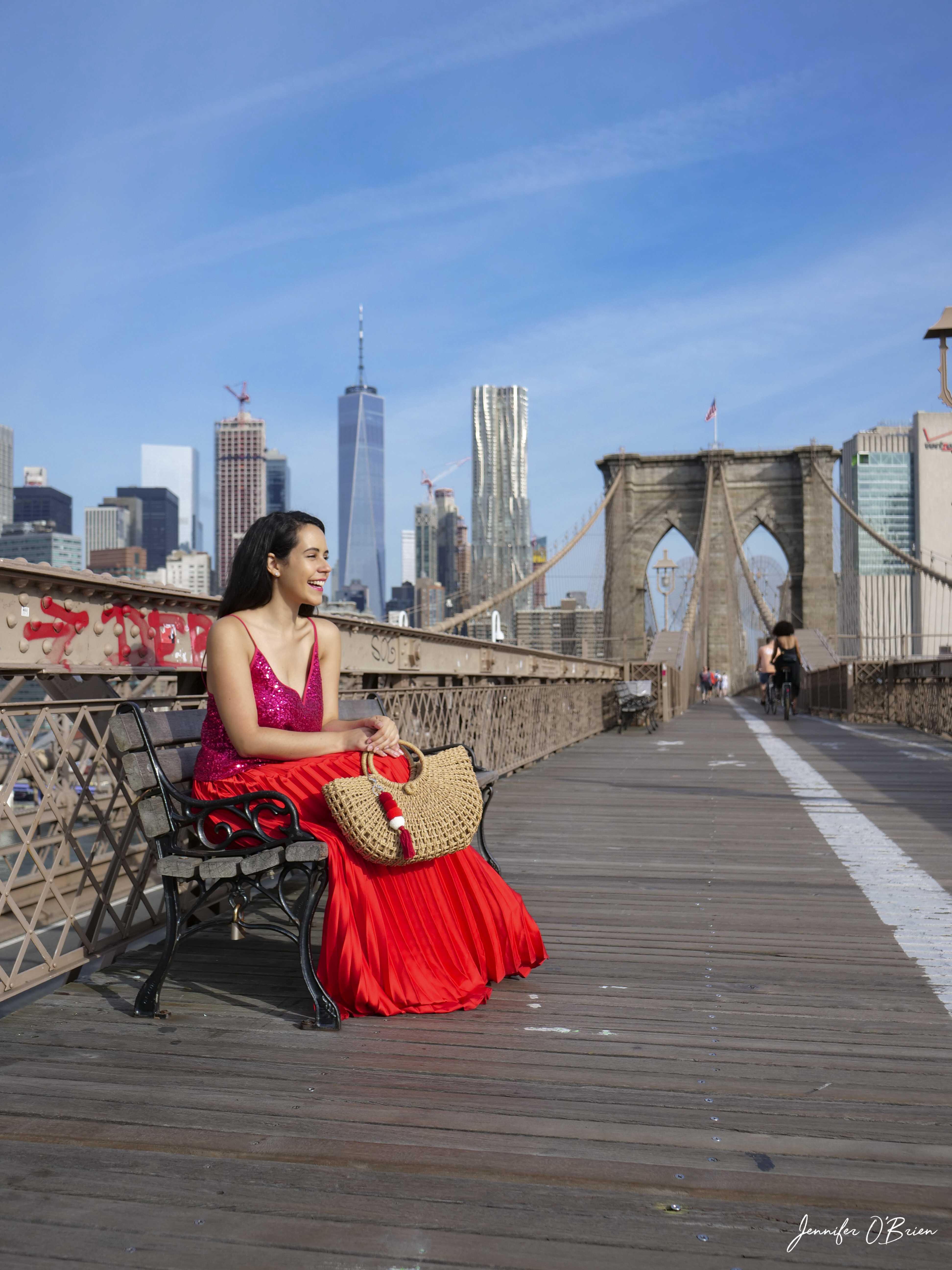 13. Photos on this bridge usually center around the bridge itself, but I actually love this unexpected shot towards Manhattan as you leave both bridge towers behind you, the symmetry is so stunning to frame a subject in the center.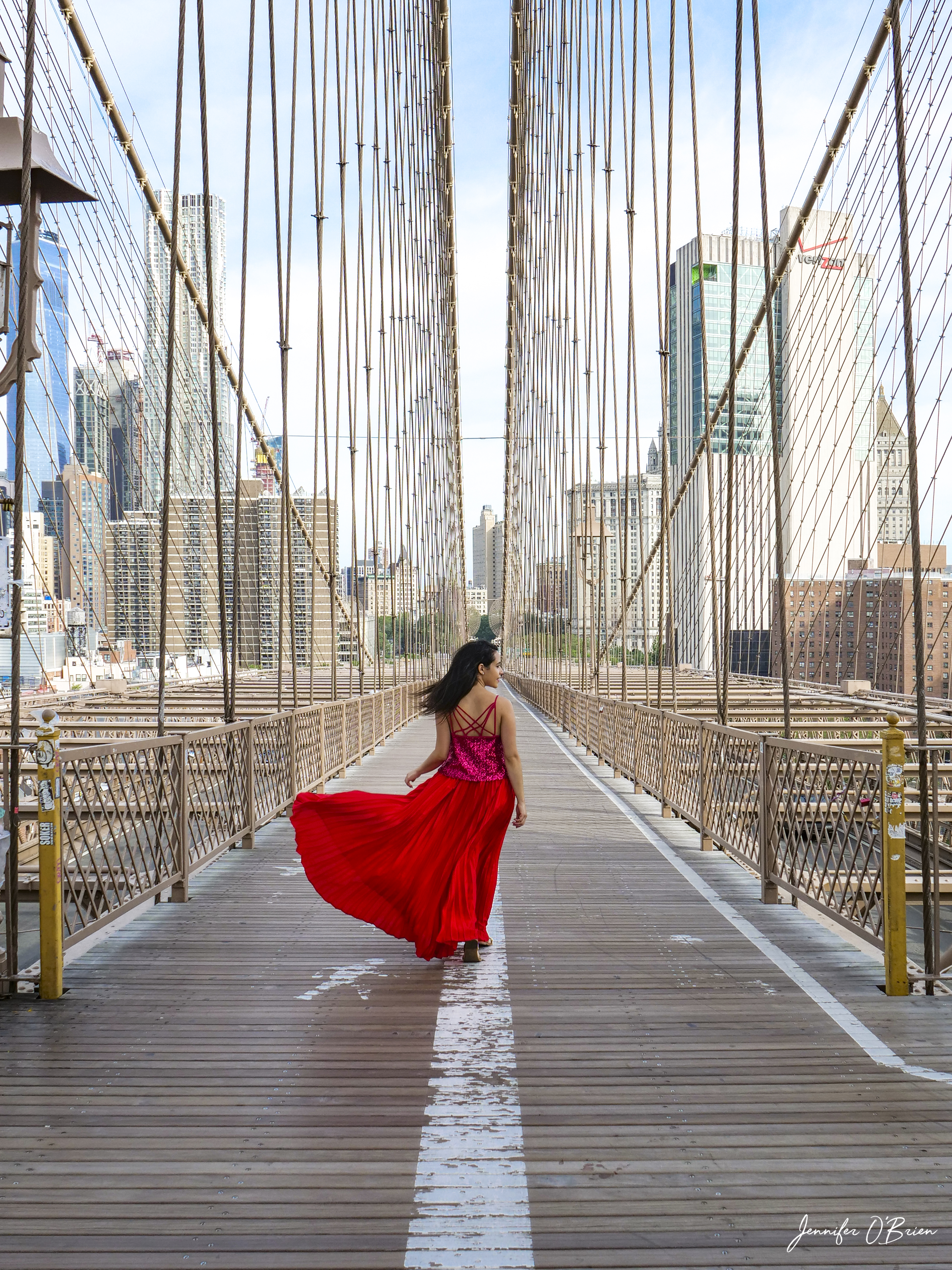 14. I am pretty sure I was ready to go when I said, "just one more photo" and my friend snapped this one. This is another unexpected angle but I love how it shows the perspective of how grand the tower next to me is and how small the tower behind me is. It doesn't hurt there's also a biker in red in the background!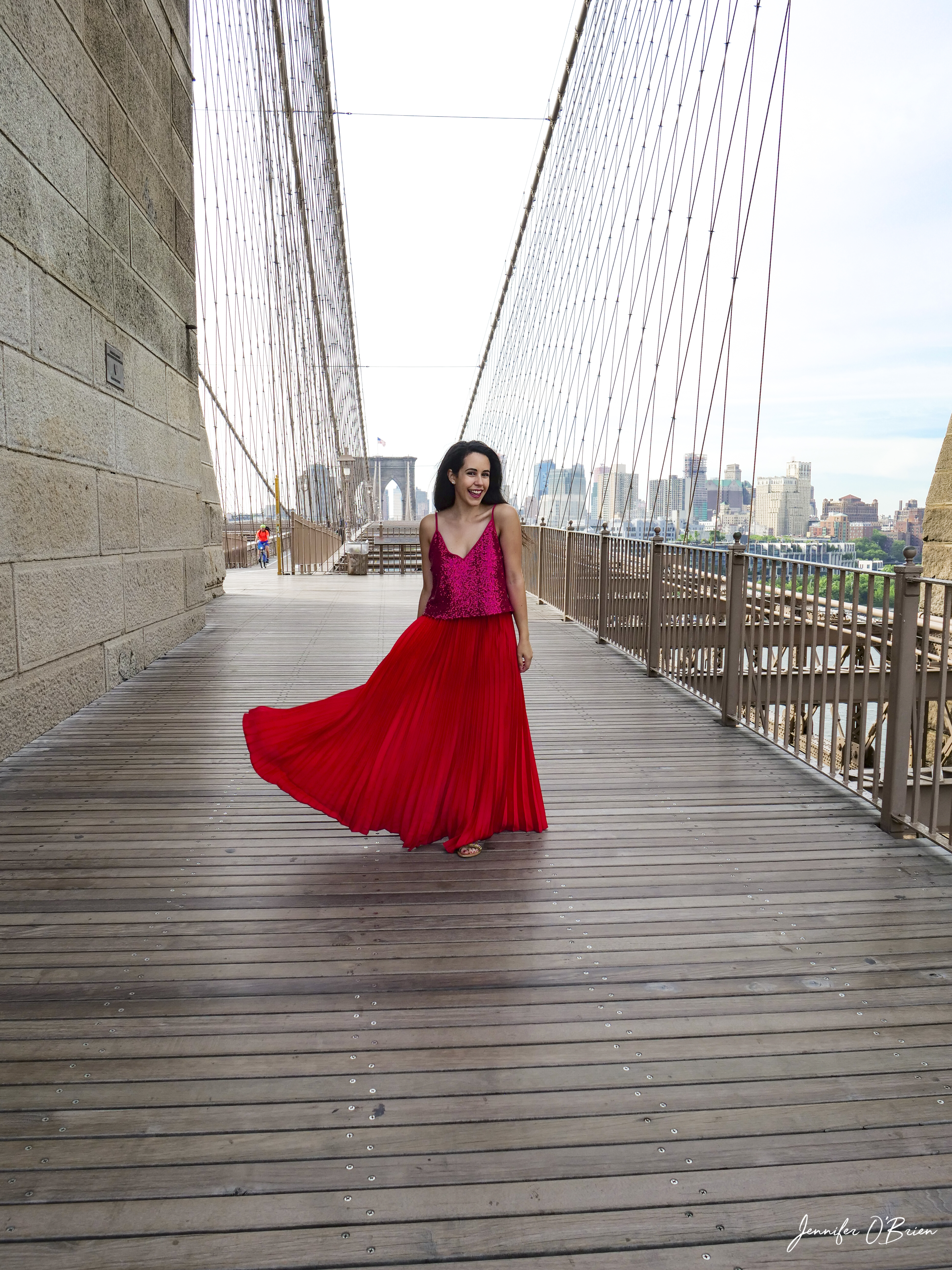 15. Too many photos police then stops by. These mini NYPD scooter things are on patrol and so I decided to embrace the photo opportunity.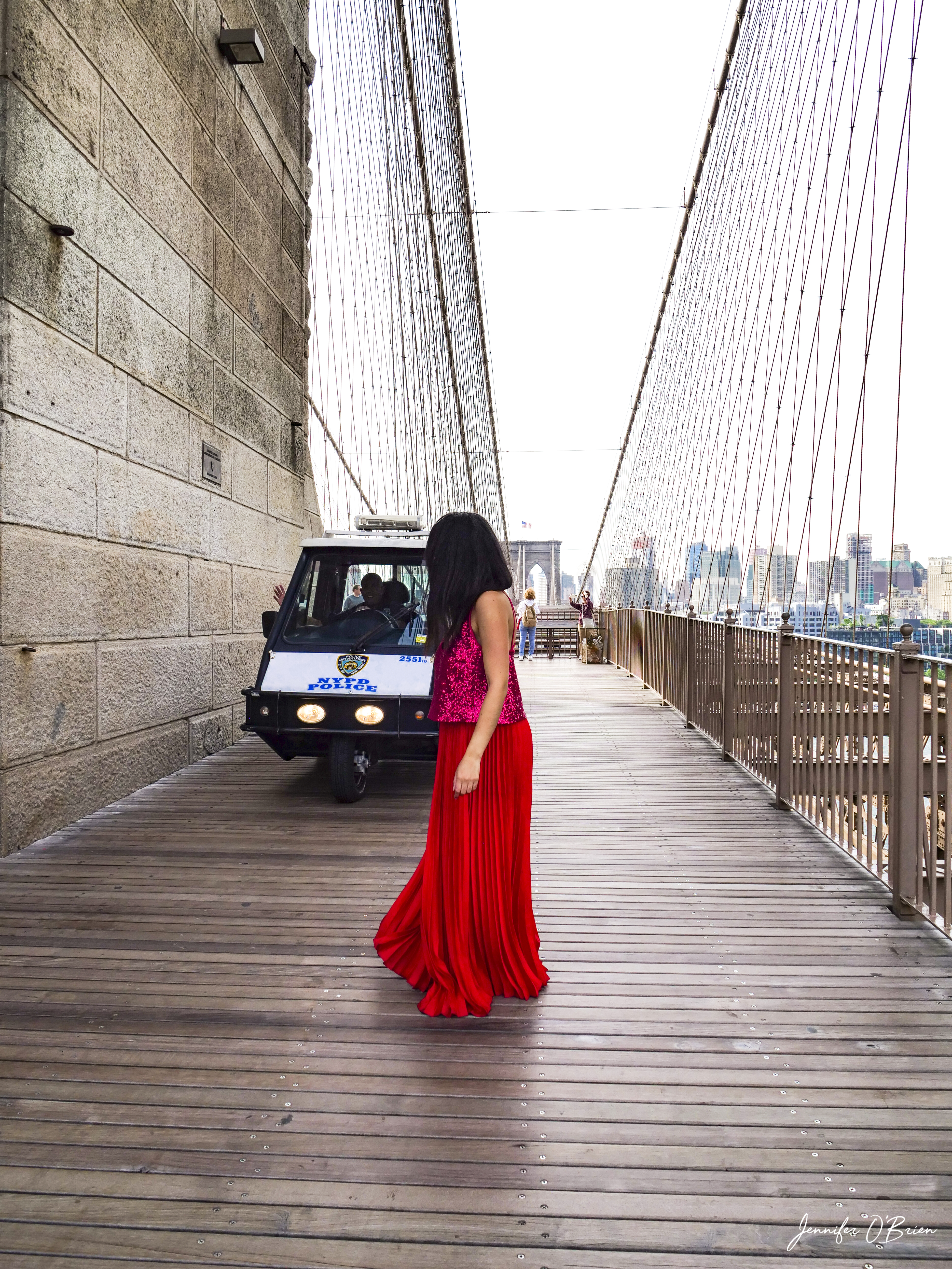 16. They seem to love taking photos… no seriously!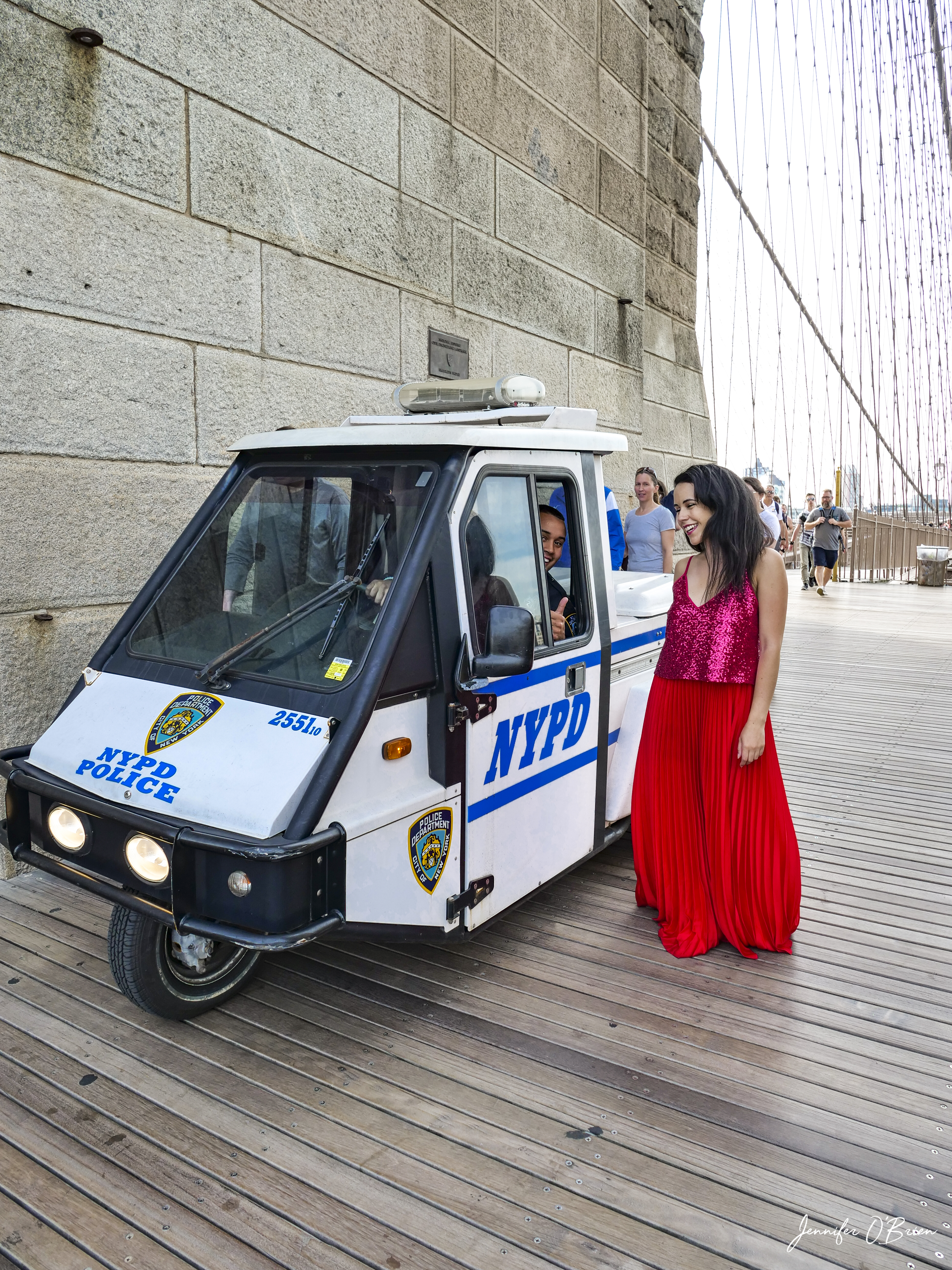 17. Had to end it with this super cheesy photo with the very friendly NYPD guy!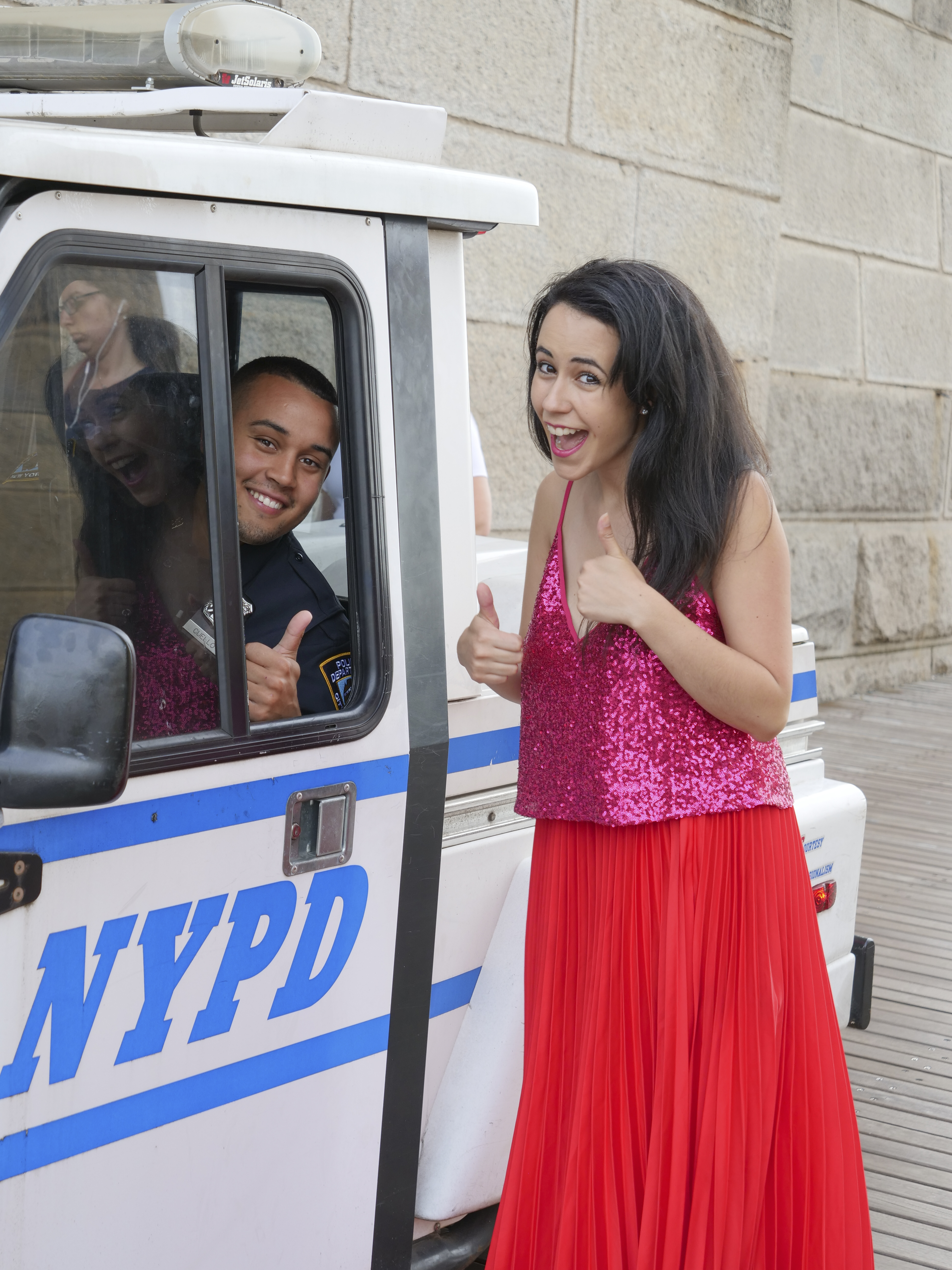 If you found this helpful, please let me know in the comments your favorite photo and share this post with friends!
PIN IT: