Famous for its laid-back lifestyle, sandy beaches and bright sunny weather, it's easy to see why the Algarve is a popular destination for tourists, expats and – increasingly – digital nomads. There's much more to Portugal's southernmost region than catching a tan, however. Having lived in Lagos, Silves and Portimão, I want to share my 11 favourite things to do in the Algarve.
1. Start the day with a coffee and pastel de nata
In Portugal, the day doesn't begin until you've had your first cup of coffee. Most Portuguese prefer to go to a café to enjoy theirs. Not only is the coffee better, it's a chance to chat with the neighbours – and most importantly, eat a pastel de nata.
The pastel de nata (or Portuguese custard tart) is quite simply one of Portugal's best culinary inventions. You'll find them in every café in the country, as well as in the supermarkets and even at the airport. Some cafés have better natas than others, and the only way to really know which one makes the best is to try them all! I personally like Café DaRosa in the old town of Silves.
2. Relax on Europe's best beaches
The Algarve is always winning awards for its beaches, and no trip to the Algarve is complete without spending some time on at least one of them. With 107 to choose from – 93 of which hold the coveted Blue Flag status – it can be hard to limit yourself to just one or two.
Dona Ana beach In Lagos, Falésia beach in Albufeira, and Praia Da Rocha beach near Portimão are all among Europe's 25 best beaches – according to Tripadvisor's 2018 Traveller's Choice Awards, anyway. They're definitely worth adding to your beach bucket list, and I'm also a huge fan of Praia da Marinha near Lagoa. If you fancy getting off the beaten path, head for Praia Salema and Praia do Burgau near the west coast.
3. Visit a "secret" waterfall near Faro
As well as beaches, the Algarve has a couple of waterfalls that are perfect for a refreshing dip. Although plenty of locals know about these waterfalls, not a lot of tourists do and this makes the experience even more special.
The best waterfall to visit is Pego do Inferno near Tavira in the Eastern Algarve. This was once maintained by the local council, but since that's no longer the case they've removed all of the signposts. Finding it is part of the adventure. Park at the nearby carpark, and use Google Maps to find your way – I ended up wading up a shallow stream to reach it.
4. Visit a spooky chapel made of bones in Faro
Maybe it's my inner punk talking, but one of my favourite offbeat places to visit is the Capela dos Ossos in Faro. Made from the skulls and bones of more than a thousand monks, the chapel is a rather macabre reminder of the fleeting nature of life. In fact, that's exactly what the inscription above the door reads: "Stop here and think of the fate that will befall you – 1816". It's pretty morbid, but incredibly thought-provoking too.
The Capela dos Ossos can be found at the back of the Igreja do Carmo church, which is lined with gilded altars and intricate religious carvings.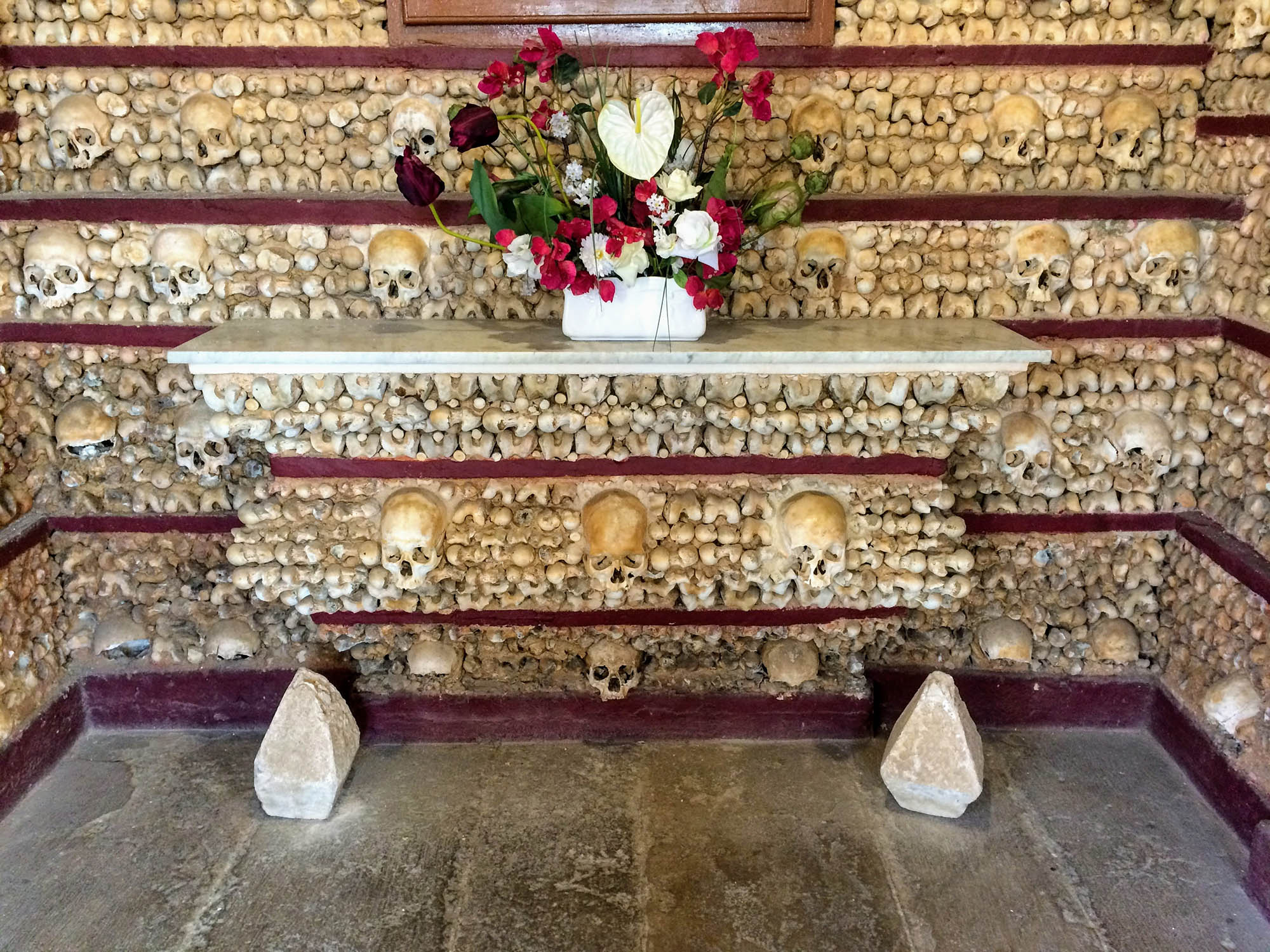 5. Eat the best piri piri chicken in Silves
Portugal has a rich culinary heritage, and the most typical dish in the Algarve is piri-piri chicken. This is a simple dish: chicken is marinated in a sauce made from chopped chillies, garlic, olive oil, and paprika and then grilled slowly over a charcoal fire.
This dish is believed to have originated in Guia, a small town near Albufeira, and you'll find plenty of piri-piri chicken restaurants there. Having tried nearly all of them, as well as plenty of others across the Algarve, I'm not convinced that Guia is the place to go.
The queues of locals bustling outside Churrasqueira Valdemar in Silves is testament to that. There's no menu: just sit down and the waiter will ask if you want salad, chicken and chips (french fries). Say yes, yes, yes and order up some beer or wine for good measure.
6. Visit Silves Castle
While you're in Silves for your piri-piri chicken, wander uphill to Silves Castle. Although Faro is now the capital of the Algarve, that wasn't always the case – when the region was under Moorish occupation, it was all about Silves.
Silves Castle, along with Silves town itself, is one of the best preserved examples of what the Algarve was like during that period. If you're lucky enough to visit the Algarve in August, check out Silves' Medieval Fair. It's a fun two-week festival of food, dancing, juggling, acrobatics, jousting, and Moorish-style souvenirs.
7. Learn to Surf in Sagres
If you've never tried surfing, give it a go in the Algarve. It is one of Europe's top surfing spots, and there are plenty of schools that offer lessons near Sagres on the west coast. You can book individual or group lessons by the hour, book into a multi-day course, or rent a surfboard for the day.
Sagres is really small, so I recommend basing yourself in Lagos. It still has the laid back surfer vibe as a lot of surf schools are based here. They'll transport you to and from the West Coast where you'll hop on your board, before heading back to Lagos to enjoy the buzzing bars and restaurants.
8. Take in the view from Serra de Monchique
Although most people think of beaches when they think of the Algarve, it's actually a very varied region with its own mountain range –the Serra de Monchique. Head to the top of Fóia, the Algarve's highest point. On a clear day you can enjoy sweeping views to Faro in the East and Cabo de São Vicente in the West. There are lots of beautiful walking trails nearby that take you past colourful wildflowers and forests of cork trees.
The nearby town of Monchique has a completely different feel to the nearby coastal towns. I recommend picking up a bottle of the local medronho –  firewater liqueur made from wild strawberries. It makes a fab cocktail when mixed with passionfruit juice.
9. Sip local wines at Quinta dos Vales
The Algarve wine scene is going through a bit of a renaissance. It's still a fairly unknown wine region, even within Portugal. In the past most of the wine grown here was fairly basic and sold in bulk to local restaurants, but all that's starting to change.
There are now several vineyards in the Algarve that are gaining an international reputation for producing high quality wines, and Quinta dos Vales is at the forefront. It's open to the public for tastings and tours, so it's a great place to learn more about local grapes.
As well as making delicious wine, the owner is also an artist. You'll see his colourful sculptures of animals and voluptuous women studded through the vines – perfect for those Instagram shots.
10. Treat yourself to a spa day at Bela Vista
When I visit the Algarve I like to treat myself to a spa day at the Bela Vista Hotel. It was the first hotel ever built in the Algarve, so its only fitting that the spa is tthe first L'Occitane Spa in Portugal. Located in the hotel's basement, it's pretty luxurious. It's decorated in a Moorish style and the relaxation room has huge beds to lounge on.
Even better, they often have deals and packages during the off-season. If you really want to treat yourself, pop upstairs to the hotel's Michelin-star restaurant. It offers a menu inspired by the ocean with its roots in traditional Portuguese flavours, with sweeping views across the Atlantic.
11. Go shopping at the market
If you're planning to cook while you're in the Algarve, I recommend doing your shopping the old fashioned way at the market. These still play a huge role in local life in Portugal, and the produce is usually better quality than what you'll find in the supermarket. It's also considerably cheaper (unlike most farmer's market) and, best of all, it's  an incredibly fun experience with traders offering samples of their wares.
There are markets in almost every town on the Algarve. My favourite is the one in Portimão. My eyes almost popped out of my head when I discovered the fish section, with some creatures I'd never seen before. If you're really on the lookout for high-quality seafood, I'd recommend checking out the fish market in Olhão as well.
Jemma Porter has been a digital nomad for six years (and counting). Although she's fallen in love with many places along the way, Portugal has truly stolen her heart. So much so that she co-runs the travel blog Portugalist with her partner, James. Follow her advice on travelling through Portugal on Twitter and Pinterest.
Read Next: 18 Places to go in 2018 and The Best Ski Resorts in France
PIN IT: