Chicago's most recognizable postcard image might be Cloud Atlas (a.k.a. "The Bean") in Millennium Park, but it is an almost impossible thing to photograph. You'll find crowds–or reflections of crowds–in every shot! Chicago's Skydeck, on the other hand, is a unique must-see attraction because it allows visitors a new perspective on the city and a one-of-a-kind photo opportunity! The Ledge, located 103 floors up, is comprised of four fully glass platforms that extend outside the Willis Tower, formerly the Sears Tower. Throughout the Skydeck, there are also many installations that share interesting tidbits about Chicago and its history, which makes for a perfect introduction to the Windy City. While we still recommend you visit Cloud Atlas, the Skydeck (specifically The Ledge!) was our favorite thing to do in Chicago! Here are a few reasons why: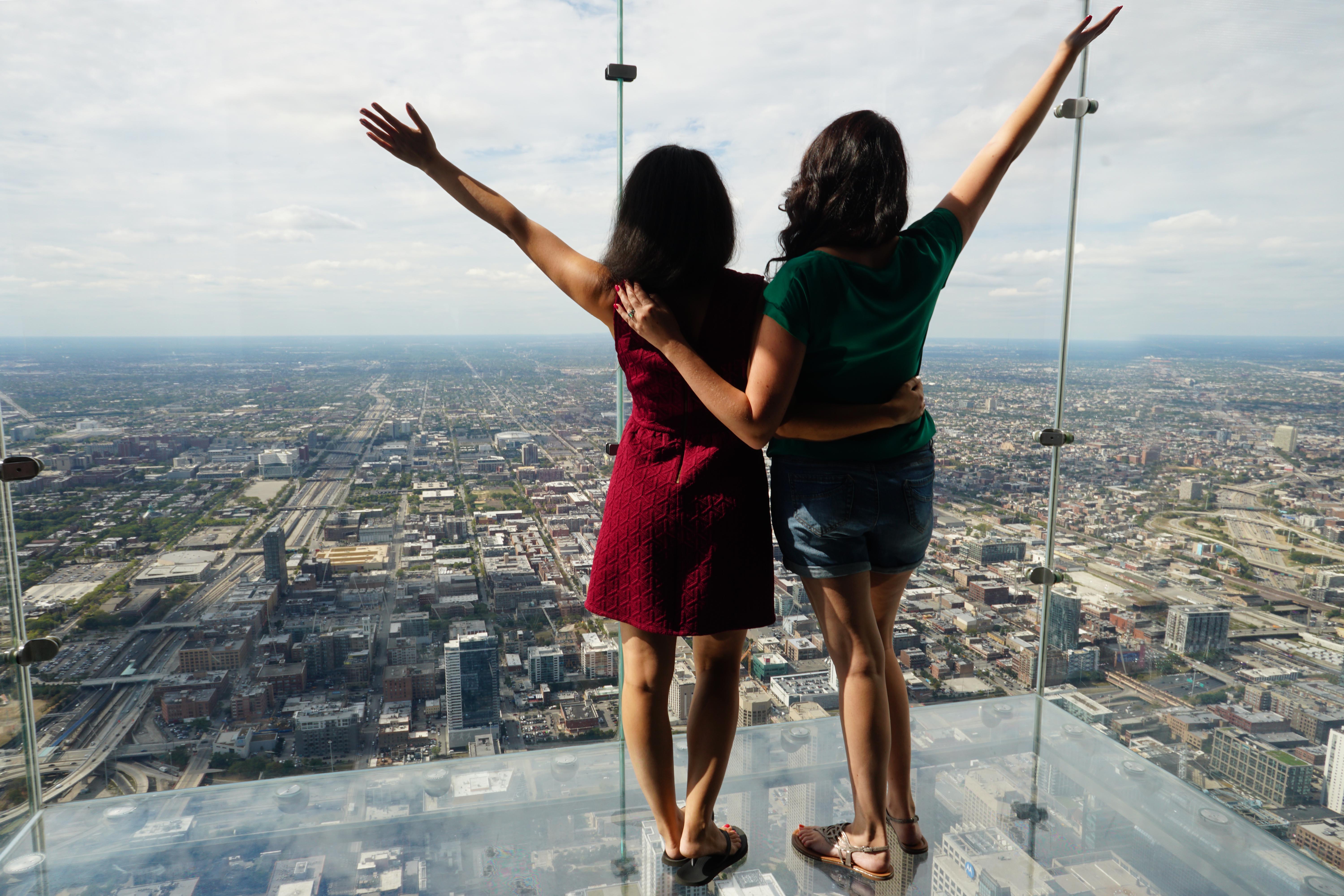 1. Views: The views are unparalleled…literally. As the tallest skyscraper in Chicago and the entire Western Hemisphere, there's no higher vantage point over the Windy City.
2. Elevator: On your way up, the elevator entertains and educates riders by comparing heights of other famous structures around the world. It also zooms up 1,353 feet in 60 seconds.
3. Bragging rights: Who else can say they walked *nearly* on air 103 stories up, and saw four different U.S. states?!
4. History: You can learn everything about Chicago's history and culture by reading the information on the walls, even down to the order of ingredients in the deep-dish pizza!
5. Bucket List: One of the wall installations includes a bucket list–take a photo of it for inspiration while exploring the rest of the city!
6. Lines: No one likes waiting in lines, but at The Ledge, it's a good thing! An organized line allows visitors to take turns taking photographs (and being photographed) without anyone else in the shot. Attendants are on hand to snap your photo and make sure everyone gets a fair turn. We had enough time to get about 10 great photos!
7. Photos: It's impossible to take a bad photo in this unique space!
8. Reflections and Silhouettes: The clear glass windows and lighting can provide unique opportunities for reflection and silhouette shots, like this one.
9. Perspective: Seeing through the ceiling, walls and especially the floor, give you an amazing perspective on the height of the tower, which is hard to get anywhere else.
10. Events: The Skydeck also has seasonal events you can attend on the 99th floor, such as yoga and mimosas!
11. Souvenirs: The gift shop might not be the most affordable place for souvenirs, but the selection of fun memorabilia was unmatched in any other store!
Have you been to Skydeck? Do you have any other favorite observation decks you would recommend? Comment below!