"Auberge Saint-Antoine is one the finest hotels in Quebec City" my Canadian cab driver said proudly on the 30-minute drive from the Quebec City airport. Auberge Saint-Antoine is a boutique hotel located in the picturesque lower town of old Quebec, an UNESCO World Heritage Site. The historic museum-hotel incorporates original European artifacts found during its construction with modern décor. Join staff-guided tours through the pieces that represent six distinct eras of history on display. Each room displays an artifact in the outside room number's light box. Rooms offer luxury amenities from heated floors to waterfall showers and everything you might not know you forgot to pack like floss! Enjoy the in house and award-winning dining experiences at Chez Muffy and the lighter fare at Bar Artefact. While traveling for business, this hotel was a home away from a busy conference day, exactly what I needed!
PIN IT:
Geography
Getting there: It is a 30-minute drive from the Quebec City YQB airport and a 10-minute drive or 10-minute uphill walk from the Boardwalk and Hotel Frontenac.
Location: Quebec City's old town has an upper level and lower level where the cruise ships dock in the peak summer months. Auberge Saint-Antoine is built on a major archaeological site in the Old Port on the lower level, which is the prettiest section of town, but you do need to climb a few flights of stairs or take the Funiculare to get to the upper level where you will find the boardwalk and Chateau Frontenac. The convenient distance from the more touristy upper town helped make the downhill walk to the hotel feel like a relaxing walk home!
Check In: Checking in was fast and simple. Some special packages include a welcome drink.
Room Details
The Room: Walk through the clean hallways that have more character than most hotel hallways with each room number in a lighted box with a unique historic artifact. I stayed in one of the suite rooms, room 224, which had a separate living room with sofa bed, large work desk and minibar.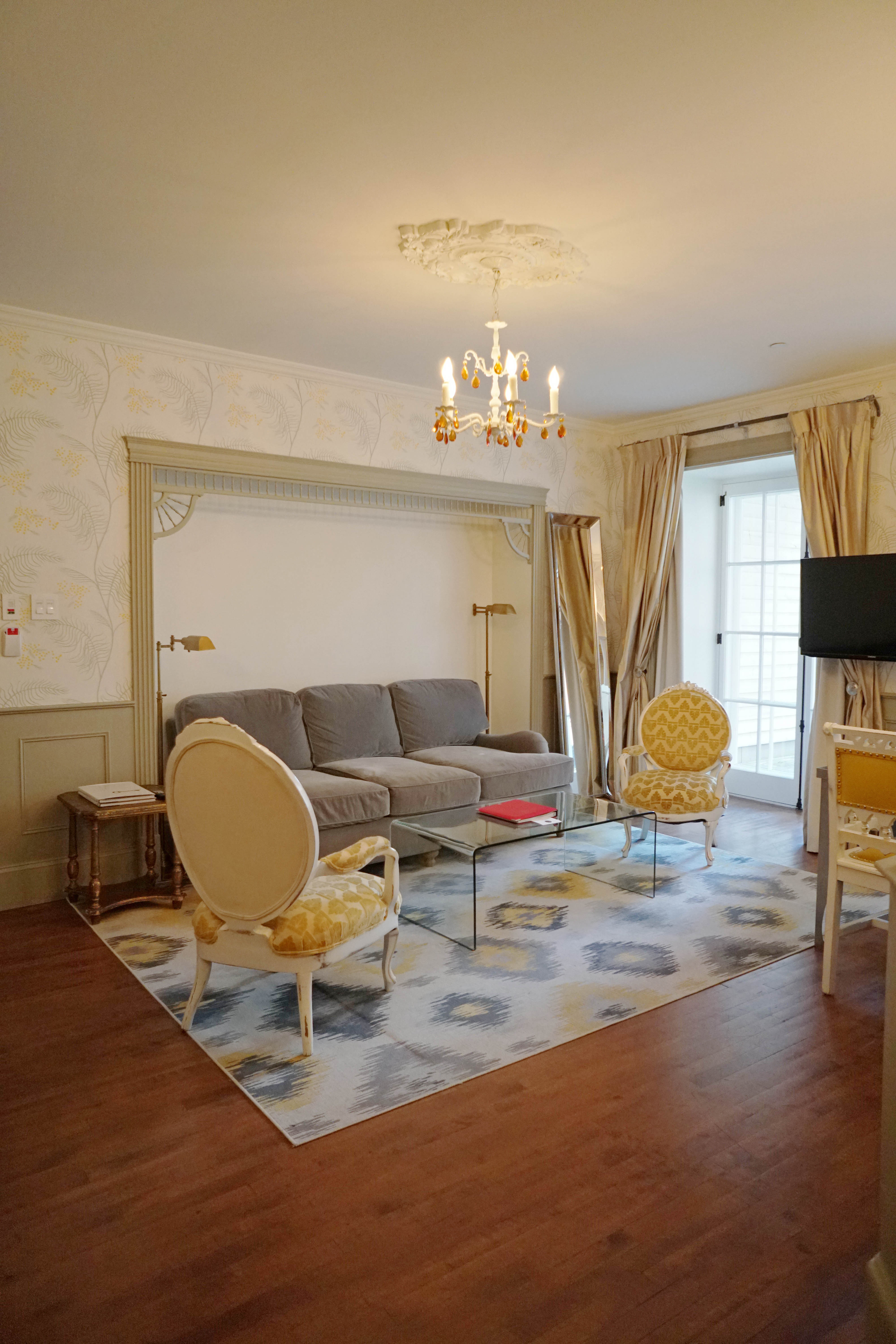 Large windows with a lot of light opened to an interior courtyard.
There was no closet in my bedroom, but there is closet space with good quality wooden hangers in the living room area, although the closet was half size with room to hang shirts for example but not a long dress.
The bedroom duvet and pillows are filled with goose down but upon request you can ask for hypo allergenic pillows.
Bathroom: The bathroom was my favorite room with every amenity available including heated bathroom floors, a no-fog mirror, a waterfall shower option, hairdryer, Japanese style toilet, bathrobes and the softest slippers, amenity kits and even dental floss!
Bathrobes and slippers: In the bathroom two bathrobes are provided together with the comfiest soft towel slippers.
Wi-Fi: Wi-Fi was amazing, much faster and more reliable than most other hotel Wi-Fi options I experienced in Quebec City.
Extras
Water: Turn down service provides two waters, tea bags, the next day's forecast and they even put on some relaxing music.
Coffee/tea: The minibar includes a Nespresso coffee machine, teas and a fridge filled with beverage options.
Power plugs: Multiple power plugs are available in each room and several plugs conveniently near the desk in the living space.
Pool: There is no pool.
Dining
Dine at Chez Muffy in a renovated maritime warehouse from 1822. The original wooden beams and welcoming décor mix a myriad of colorful patterned fabrics around cast iron stairs. Relax downstairs or upstairs with views of the Saint Lawrence River. Enjoy farm-to-fork dining with impeccable service. Breakfast was spectacular with both buffet options (including eggs and quiche) and additional items to order for $25. Order the eggs benedict over tender duck confit.
Fitness: Located in the spa there is a 24-hour LeGYM fitness center. There you can find free weights, stationary bikes, ellipticals and Finnish saunas.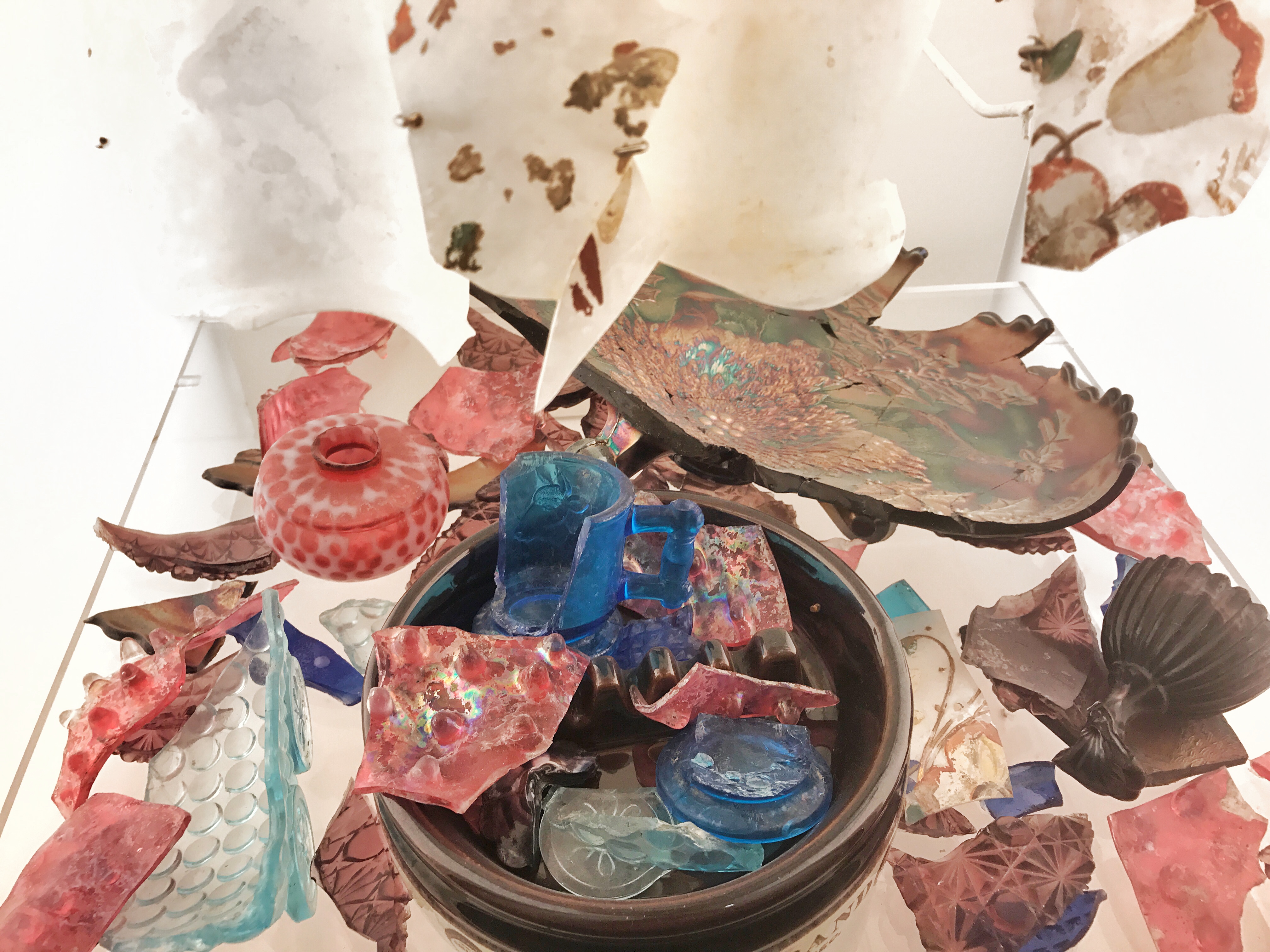 The Verdict
During a conference trip I stayed here instead of in the Chateau Frontenac or at a business only hotel and loved how it felt like a home away from home. The hallways are welcoming like the entranceway to an apartment rather than a cookie cutter hotel room. The interior design mixes colorful modern patterns with unique artifacts. Even if on sleepy mornings I felt like I couldn't get out of the comfy bed, I still wanted to spring up as I could not wait for breakfast and which fresh smoothie flavor or new dish I would try! I highly recommend staying here for vacation goers, history buffs, couples, families (with dogs too), and business travelers alike!
Rooms: 95 rooms on 6 floors
Style: Stunning elegance
Atmosphere: Luxurious home away from home
Check in: 4pm
Check out: 12pm
Hotel amenities:
– Staff Guided historical tours
– Heated floors
– Business center and meeting rooms
– L'Auditorium private screening room
– Laundry and dry-cleaning services
– Pet-friendly rooms and pet-sitting (fee applies)
– Valet Parking, electric car-charging and car wash
PIN IT: