Chateau Mcely, less than an hour drive into the Czech Republic countryside, brings together the best of old world charm and modern luxury for the perfect escape from Prague. The eco-friendly "green castle" energy comes from renewable sources. It was remodeled in 2006 and it is one of the only five-star hotels to be classified with the European Union's Eco Label. This Chateau, which means castle in French, has 24 rooms, each decorated to a different design theme like Mark Twain or Southern Seas. A day trip visit is also worthwhile just to enjoy the culinary experience at the Piano Nobile Restaurant! Thank you to Czech Tourism and Chateau Mcely for providing a complimentary stay, but as always, all opinions are my own.
Geography
Getting there: Take a scenic 55-minute drive from Prague into the countryside to the small village of Mcely. It is a quick and easy drive half on the highway, then on country roads as you get closer.
Location: Mcely is a very small village with about 400 residents on the edge of the St George Forest. Visit nearby attractions like the Bohemian Paradise's Prachov Rocks, pictured above (a 40-minute drive), or Kutna Hora's UNESCO centre (a 50-minute drive) or Loučeň (a 10-minute drive).
Check-in: Upon check-in you are provided a refreshing cold towelette and a rejuvenating non-alcoholic natural tea drink. Employees were so welcoming and happy to answer my questions about my stay and the local attractions to visit.
Room Details
The Room: I stayed in the Southern Seas suite which has a separate living room area and separate bedroom. Enter each room using a metal key but turn on the lights and electricity with the attached modern keycard. Each fabric and piece of furniture is perfectly selected to match the high ceilings and castle atmosphere with fun modern touches like a turquoise seat or a sparkling little tray for jewelry.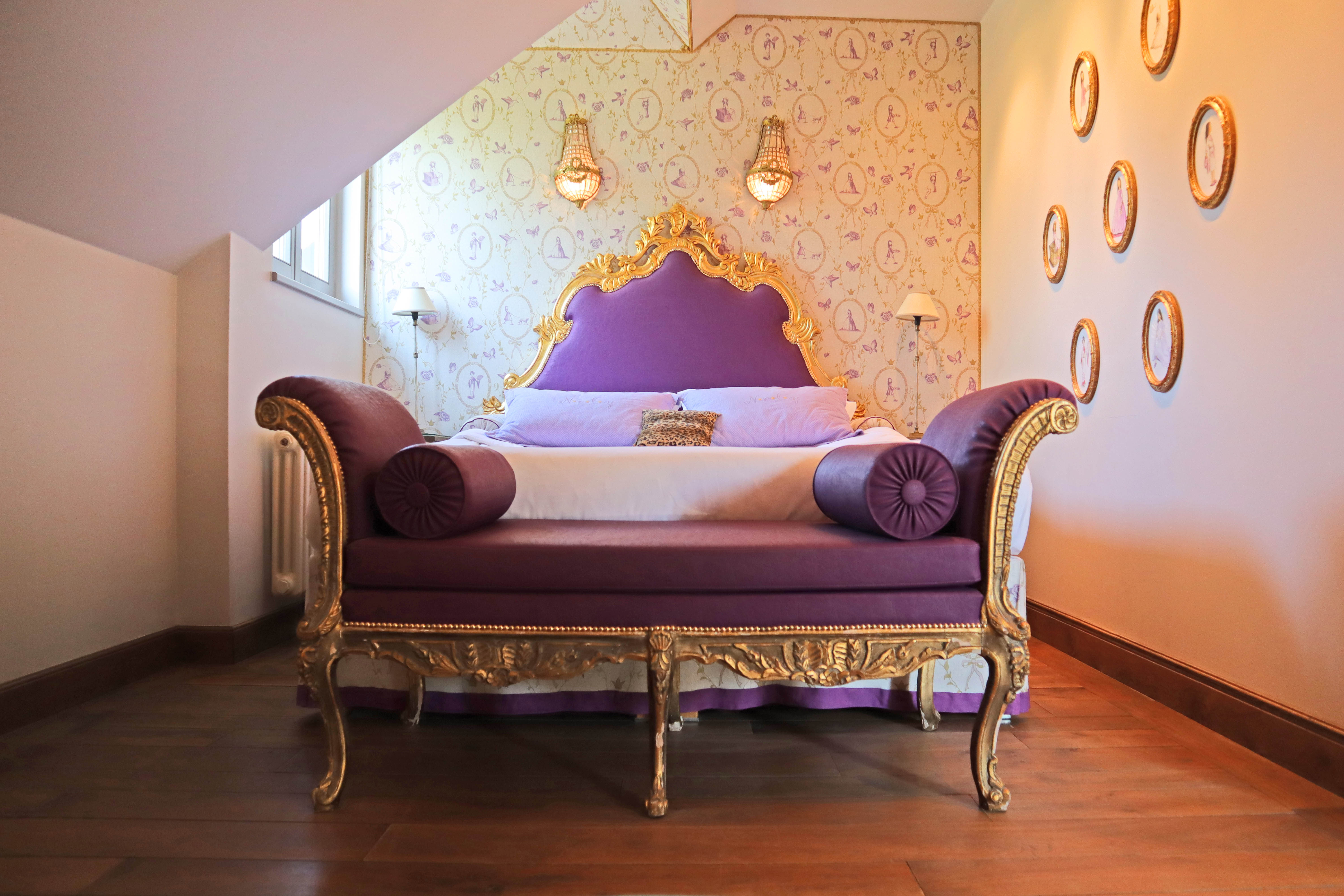 Little girls will love the Princess Nely room (pictured above) and package based on the original Nely storybook! This room has adorable glass butterfly details, a purple mirror and cute illustrated cabinet details, all fit for a princess. If you need more space and your own spiral staircase check in to the Presidential Suite Agape in the chateau's tower, which has two bedrooms, two bathrooms and a fully-equipped kitchen.
Bathroom: The bathrooms utilize gorgeous white tiles, tilted mirrors and beautiful silver finished shower heads that look like vintage telephones. The shower faucet can be handheld or placed above your head and though it is a small shower head, it has very strong water pressure. Mcely Bouquet is the custom line of pure, natural, organic skincare products intended to provide healing energy. Turn-down service includes a relaxing face balm with soothing herbal aroma for "restful sleep and sweet dreams" served in a cute ceramic flower on your bedside.
Bathrobes and slippers: There are two types of bathrobes, one lighter robe for your spa visit and a plush soft towel option, pictured above, for cozy nights in. The Chateau Mcely branded slippers are unlike any slippers I have seen before; they come in a deep burgundy velvet material that feels so soft on your feet!
Wi-Fi: Wi-Fi is very fast and available almost everywhere inside and outside of the Chateau!
Extras
Water: In addition to two waters in the mini bar area, turn-down service provides additional waters on the bedside tables.
Coffee/tea: Every room comes complete with every beverage or snack option you can possibly request including a Nespresso machine with multiple hot drink flavors available. It has a dresser or closet stocked with a mini-bar of snacks, cookies, waters, and a fridge full of soft and alcoholic beverages.
Power plugs: There are plenty of power plugs. Don't forget to bring a converter if you do not have European appliances.
Pool: Dive into the prettiest little oval-shaped swimming "lake" pool with two stair entrances and natural plants surrounding it. The pool shines a beautiful blue in the sunlight even though it is not treated with chemicals. On a hot day it is a perfect place to relax before or after an herbal aromatherapy massage at the spa!
Dining
Maurer's Grand Restaurant Guide repeated named the Piano Nobile Restaurant one of the top 10 best restaurants in the Czech Republic. The restaurant is open daily by reservation. The breakfast spread beautifully displays a large selection of cheeses, breads, yogurts and scrambled eggs and you can also order eggs as you prefer them prepared.
For lunch or dinner, you cannot go wrong starting with the daily salad or soup. After lunch, from 3:30 to 6pm enjoy light snacks like a salad or pasta dish at the Piano Nobile Bar on the garden patio overlooking the manicured lawn. Ask for wine recommendations as well since they carry a variety of local and international wines.
For dinner, try the signature cod fish or the delicious steak – my favorite. One of the best aspects of the dining experience must be the beautifully designed seamless indoor-outdoor dining space! The water glasses are decorated in the prettiest white details and each plate has flower impressions.
Fitness: Swim in the natural lake swimming pool. Walk the grounds or enjoy the multi-purpose sports court and open-air fitness trail.
The Verdict
I absolutely loved my stay at Chateau Mcely, only about an hour's drive from Prague and would recommend it especially for couples looking for a retreat to connect with nature, relax and enjoy amazing culinary and spa experiences. Families with little girls will especially enjoy the Nely room, which has all the princess vibes to satisfy the castle dreams of women of all ages!
Rooms: 24 rooms
Style: peaceful castle retreat
Atmosphere: grand romance
Check-in: 2pm
Check-out: 11am
Hotel amenities:
-One of the top 10 restaurants in the Czech Republic
-Sauna and Jacuzzi access during the Winter season
-Mcely bouquet custom skincare line
-Large English park with sports court and bikes to borrow
-Library and access to a rooftop observatory and telescope to view the stars
PIN IT: