When you picture the cool side of NYC you see in movies, you're picturing the Lower East Side full of a myriad of restaurants, vibrant street art, shopping and a bustling nightlife. If you want to stay in a "hip" luxury hotel with rotating art installations, where you don't even have to leave to go to one of my favorite rooftops, Mr. Purple, then stay at the Hotel Indigo Lower East Side. Request a room even higher than the rooftop bar to enjoy a quiet respite with floor to ceiling window views of the Empire State Building or the One World Trade Center. This hotel stay was provided for free to media, but as always all opinions are my own.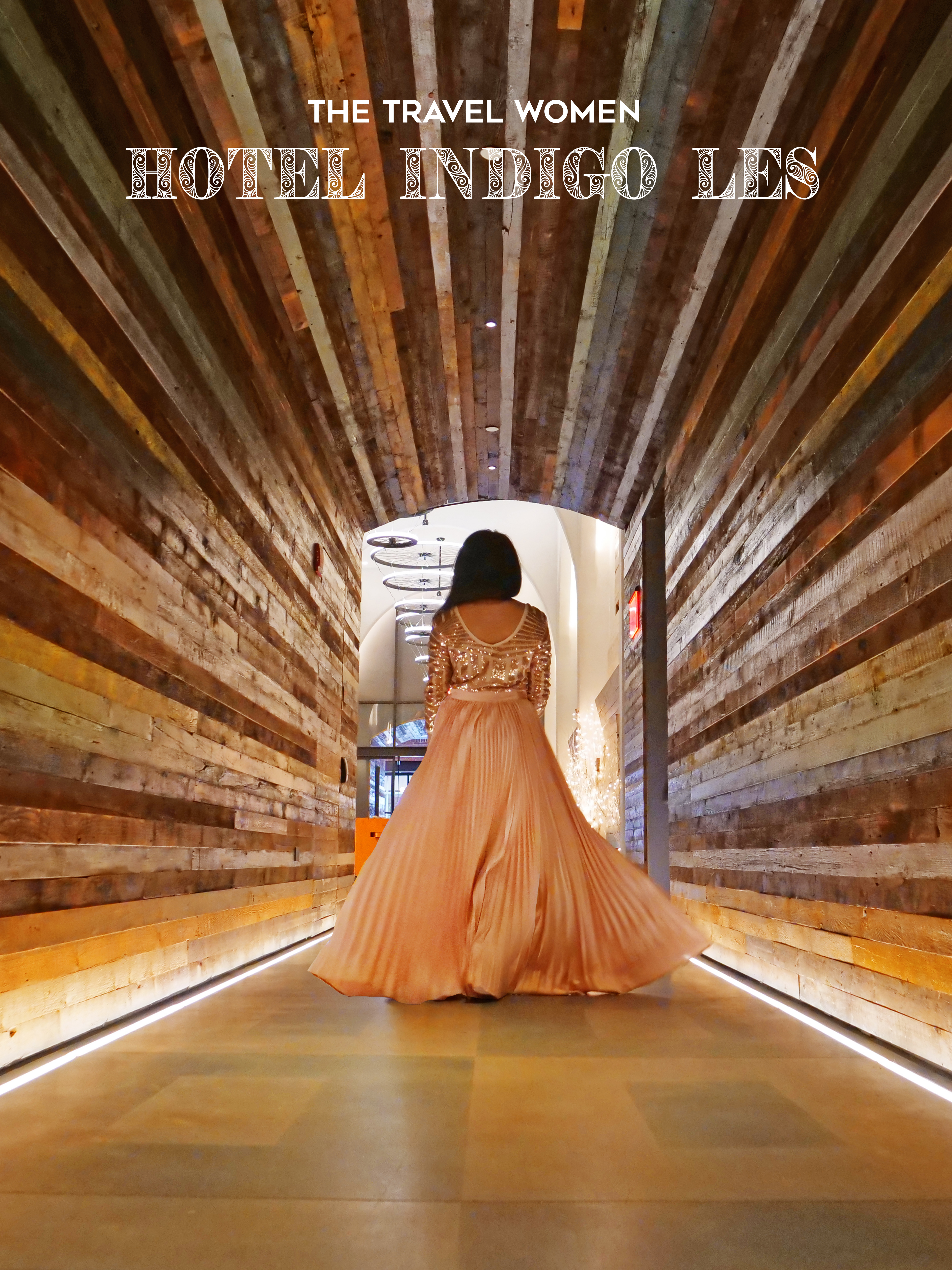 Geography:
Getting there: It is only one block from the F subway stop at the 2nd Avenue Station and a 7 minute walk to the J and M subways at Delancey St Station. It is a 30-minute walk to many top attractions like the Flatiron building and a quick 20 minute car ride away from the Empire State Building or Times Square.
Location: The saying NYC never sleeps must have been coined in this area as this is a great spot for nightlife. The Lower East Side's narrow streets are packed with so many trendy bars, restaurants and museums that with limited time to visit, you honestly don't even need to leave the neighborhood to get a feel for the entire city! You can do breakfast bagels at Russ & Daughters before a pastrami sandwich for lunch at the famous Katz's Delicatessen and then do dinner at Freeman's down the secret alleyway of graffiti (included in my secret spots video below). You can visit the Tenement Museum or the New Museum or check out neighboring areas of the East Village, Chinatown and Soho.
Check in: The guys opening the doors were super helpful and friendly and even volunteered to open the doors a few times for me to get the perfect Instagram Instastory! Checking in was quick and easy. I even locked my key in the room once while taking photos and they happily checked my ID and information to help me get a new key.

Room Details:
The Room: The room is decorated with retro touches like a graffiti cocktail shaker that summarizes the entire fun trendy vibe! My favorite part of my Grand Deluxe King room were the floor to ceiling windows and views of the city that never sleeps. Despite the location and rooftop's reputation my room on the 23rd floor was very quiet, you couldn't hear Manhattan's usual lullaby of NYC sirens or honking at all. There were also blackout curtains available to block out lights from the surrounding buildings. I also loved the dimmable light bulbs on either side of the bed that could light the entire room or serve as a night light before going to sleep.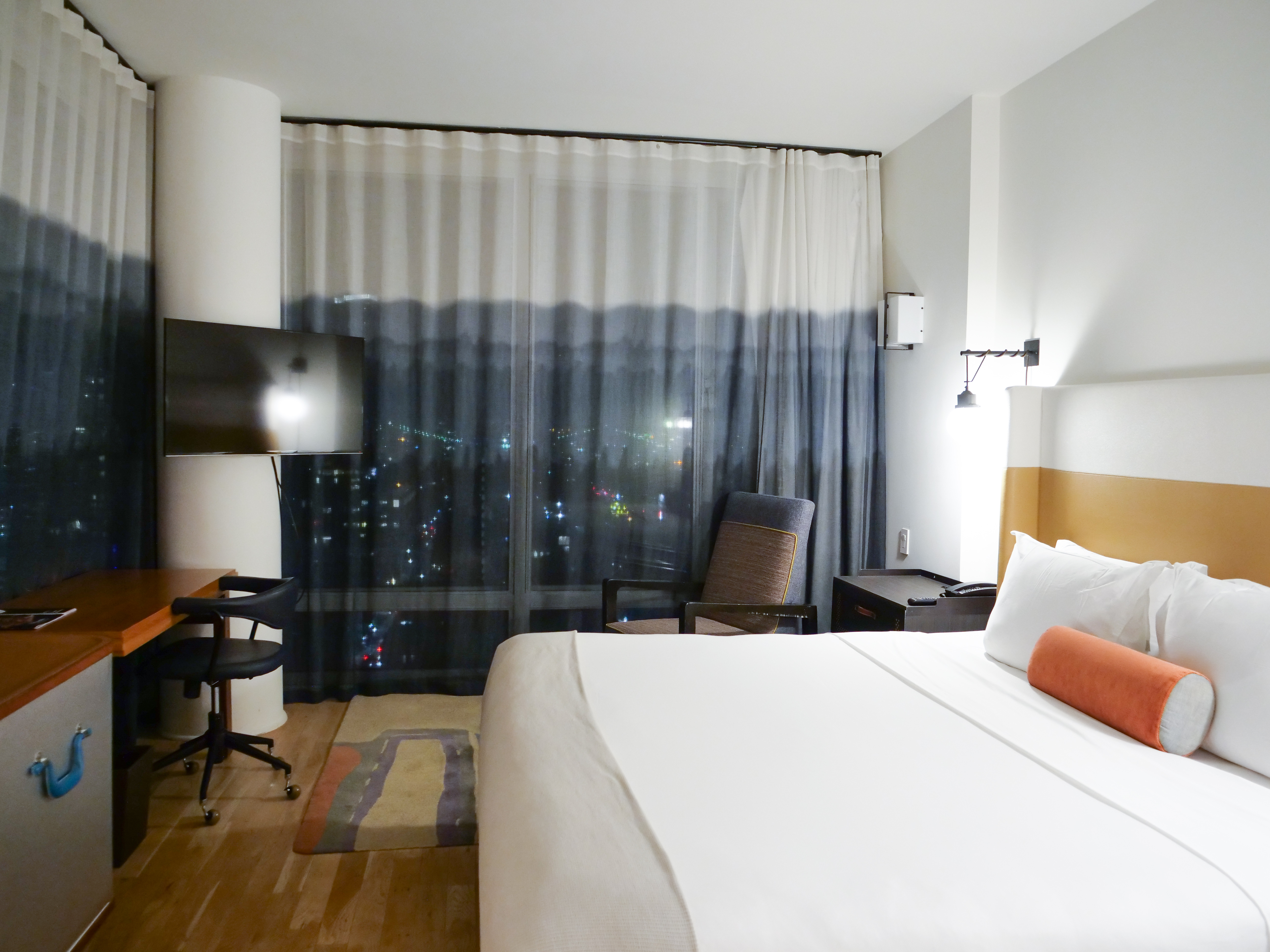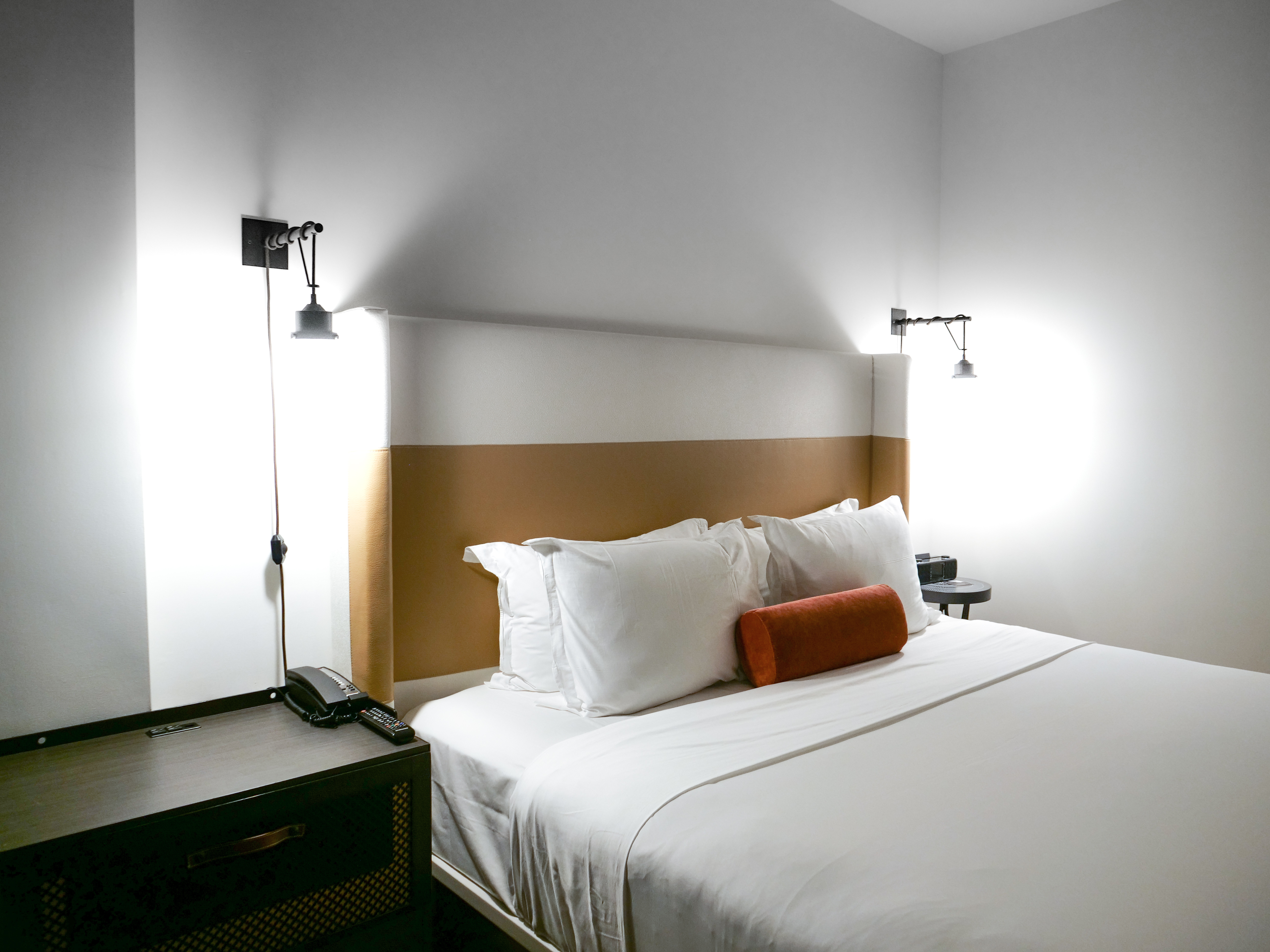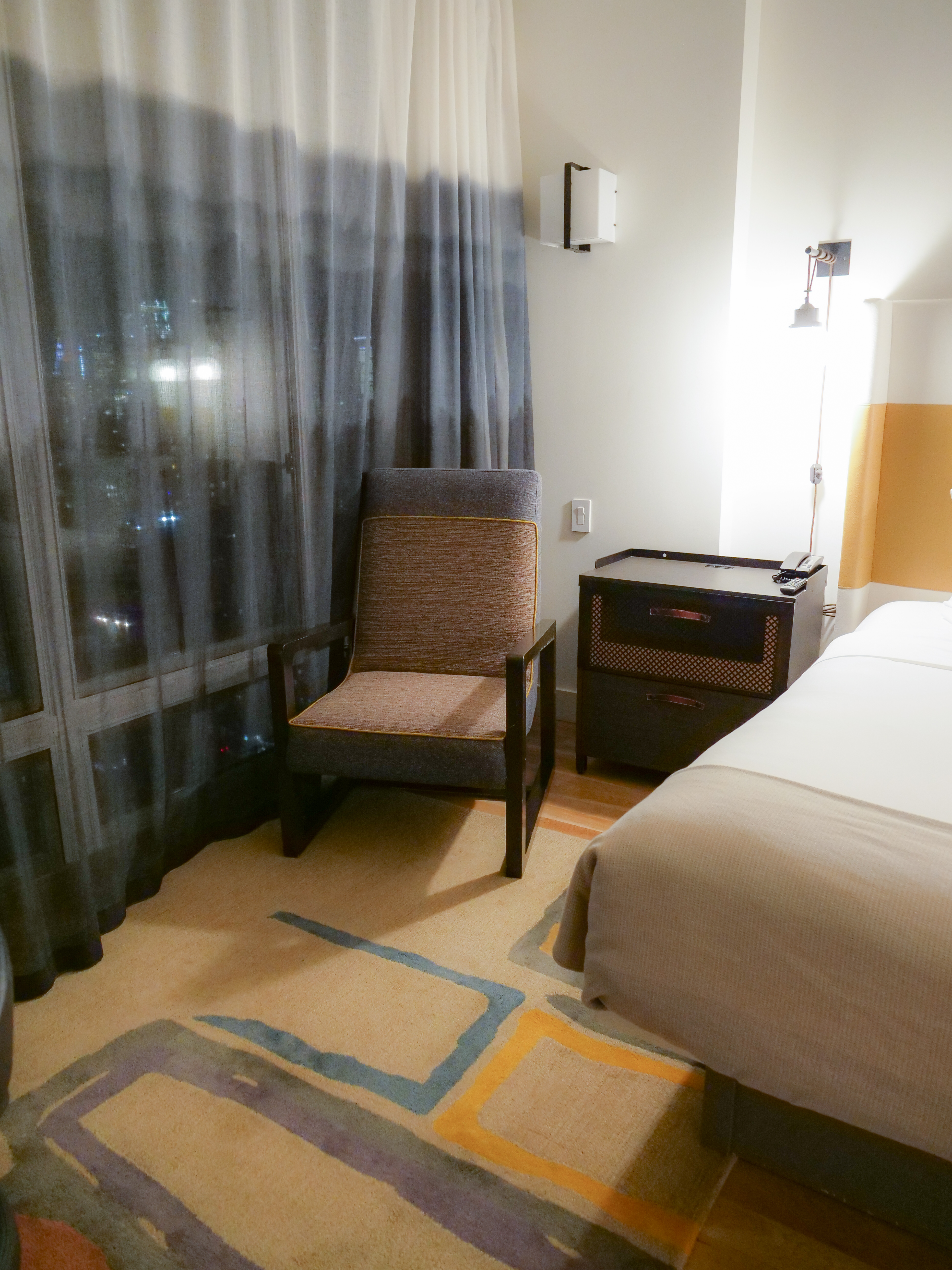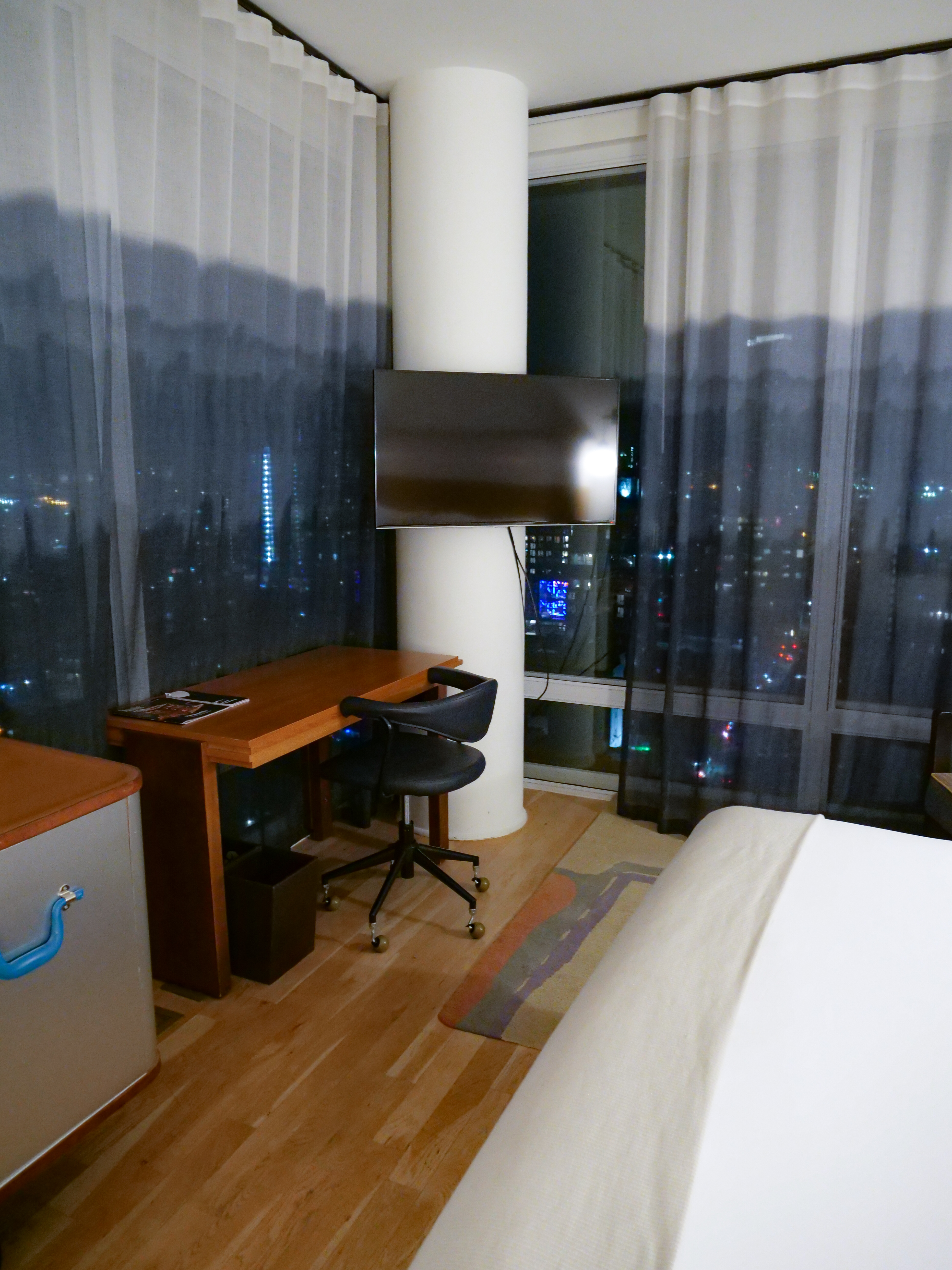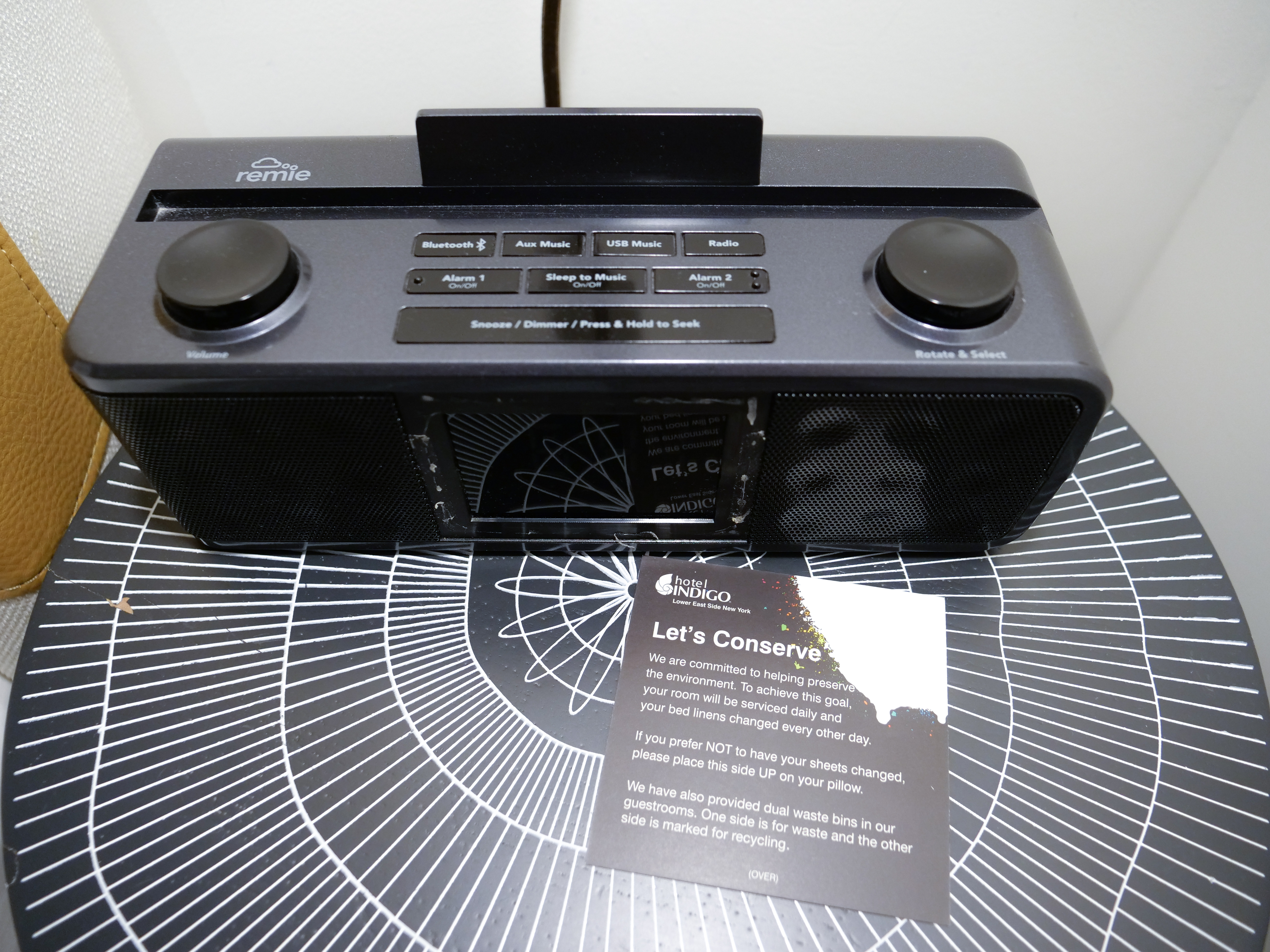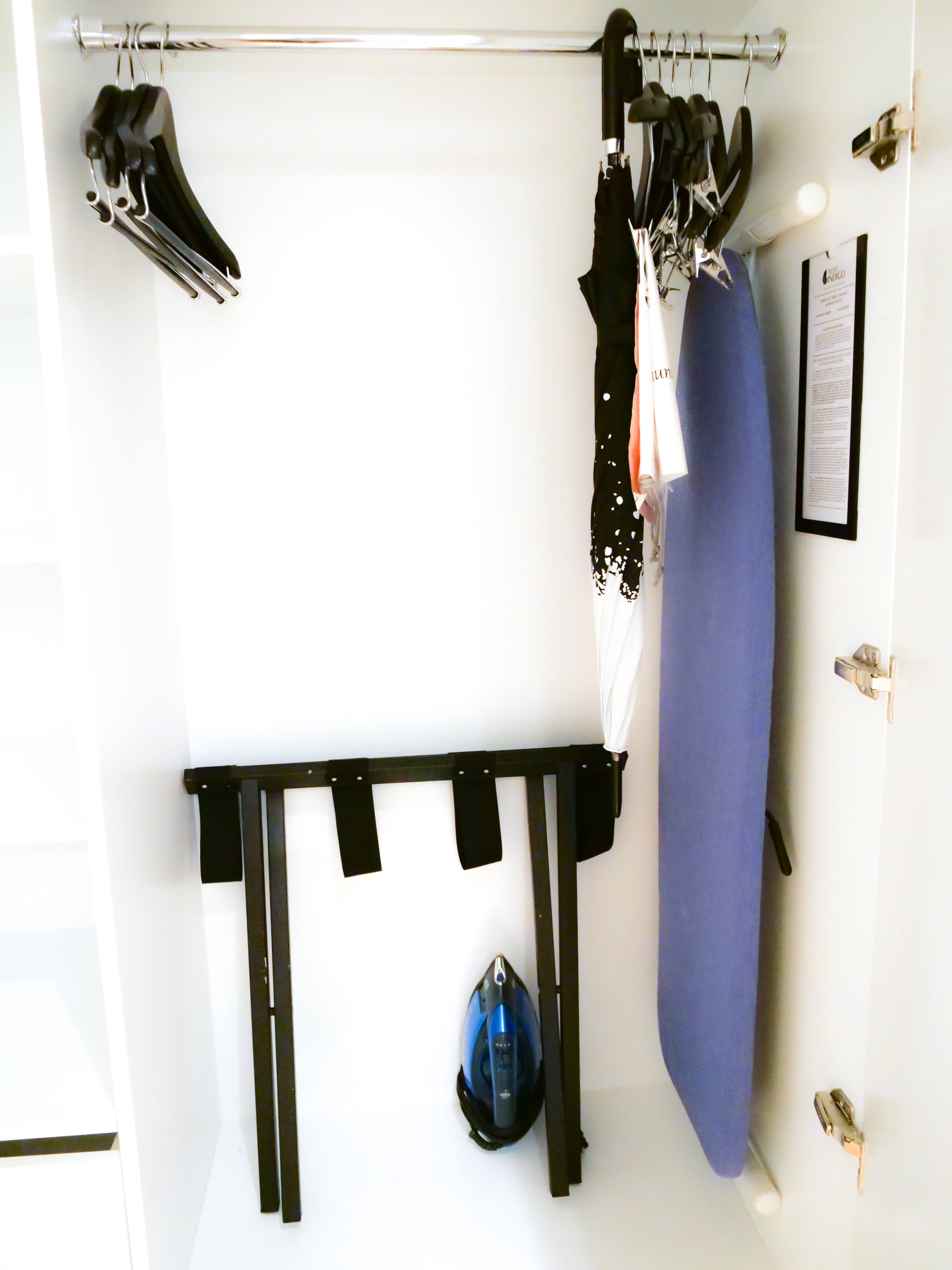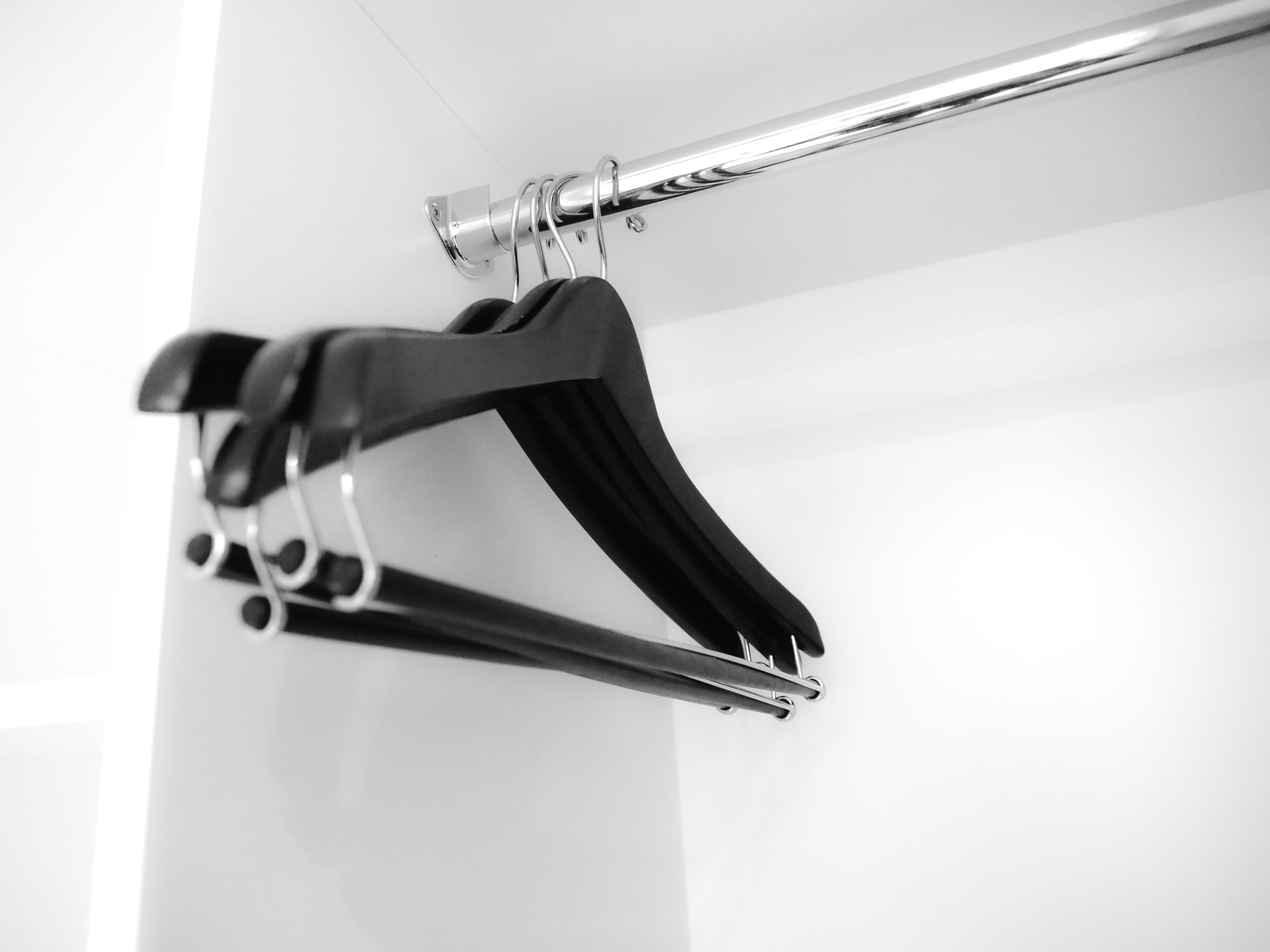 Bathroom: The bathroom was tiled with eclectic white, blue, and orange patterned tiles and highlights of orange like the tissue box. The CO Bigelow amenities were a great touch. They provide a hairdryer, iron, ironing board, bathrobe, and slippers. The shower included a rain waterfall shower head.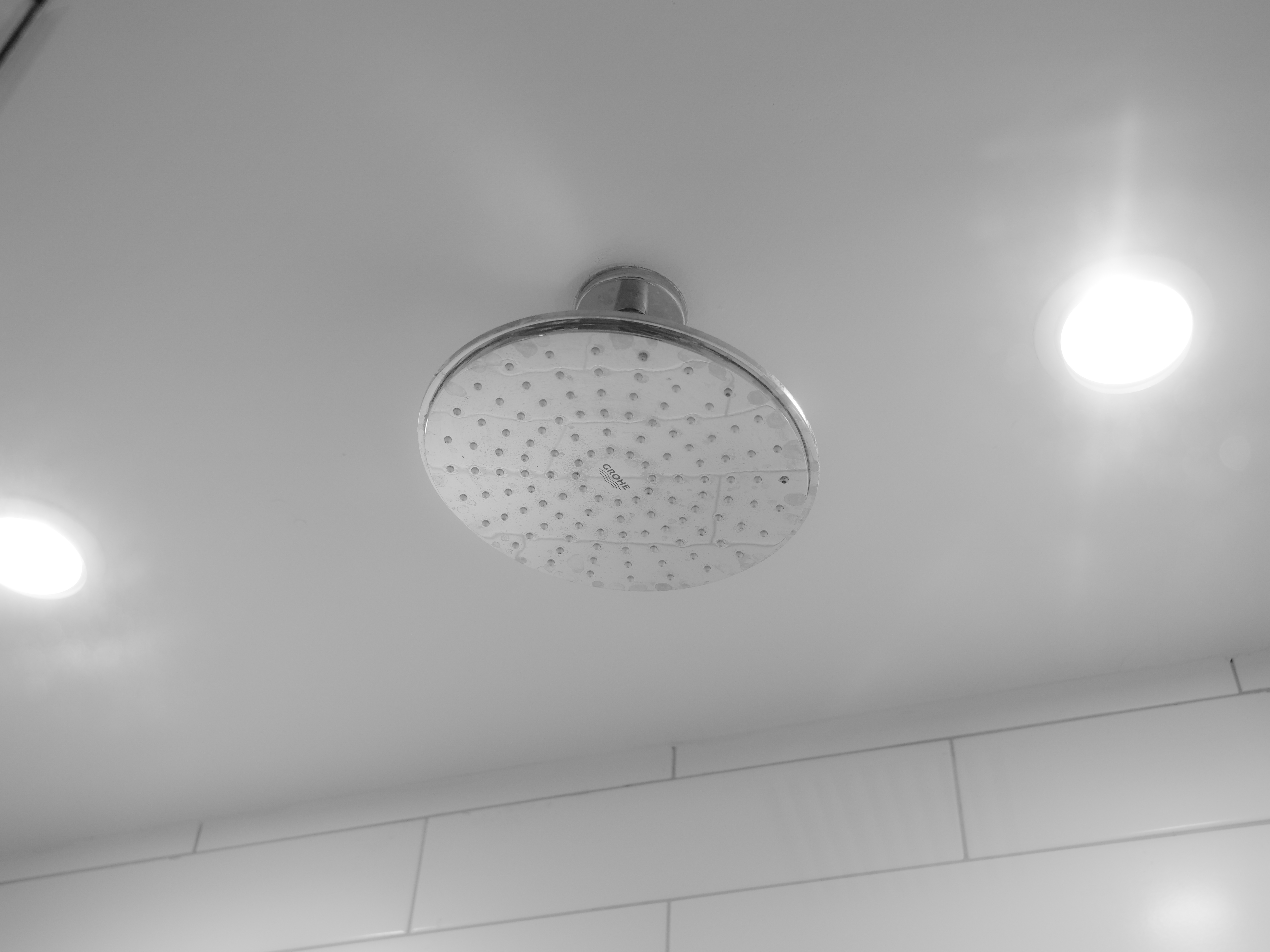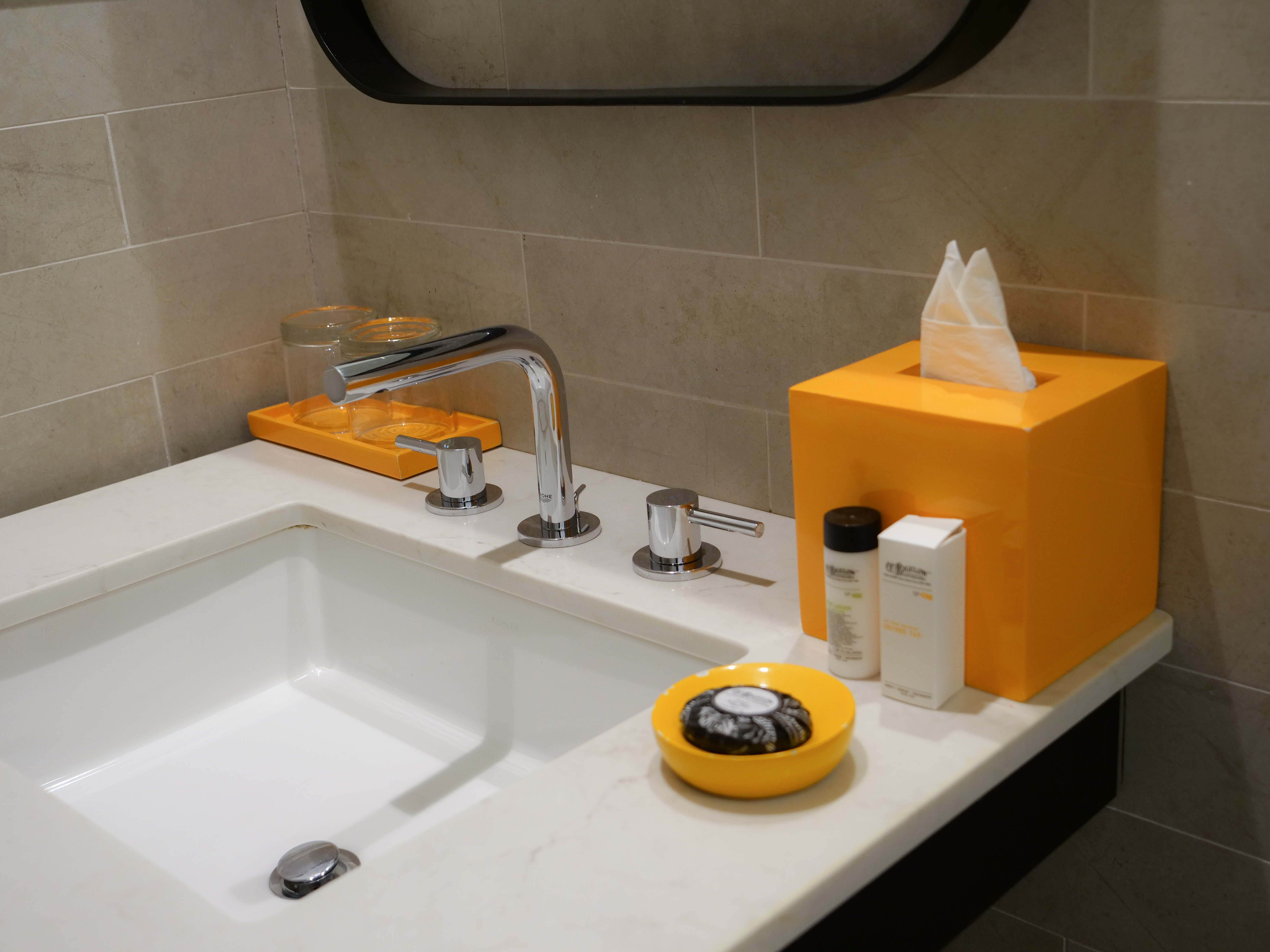 Wi-Fi: Wi-Fi was easy and fast.
Dining and Mr Purple Rooftop pool bar:
There is a small lobby bar and cafe counter on the 14th floor where there's an amazing co-working style area with outlets and computers. One floor up you can dine at the rooftop bar and restaurant Mr. Purple, a favorite spot of mine in all of NYC. Many do not realize there are two terrace rooftop areas. Many congregate around the larger side with a pool, but I also love the smaller one for more space, which is a bit quieter to talk with friends.
Extras:
Coffee/tea: The Keurig coffee machine is hiding inside a draw in the rolling bar cart and a mini-fridge behind a cute silver door with blue handle.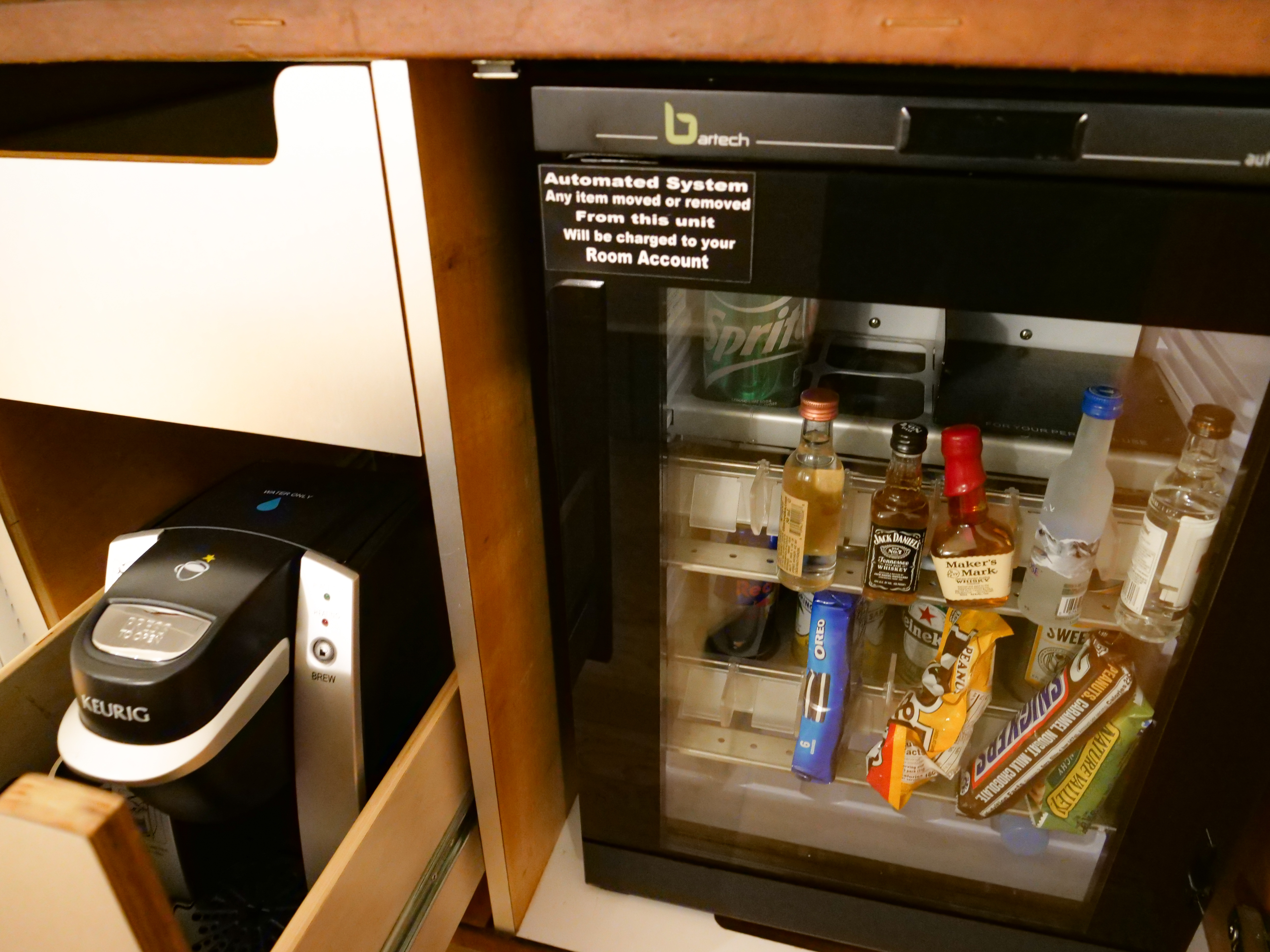 Power Plugs: There are several plugs available and even a worldwide adapter in the cart's top drawer for international guests with different appliance plugs.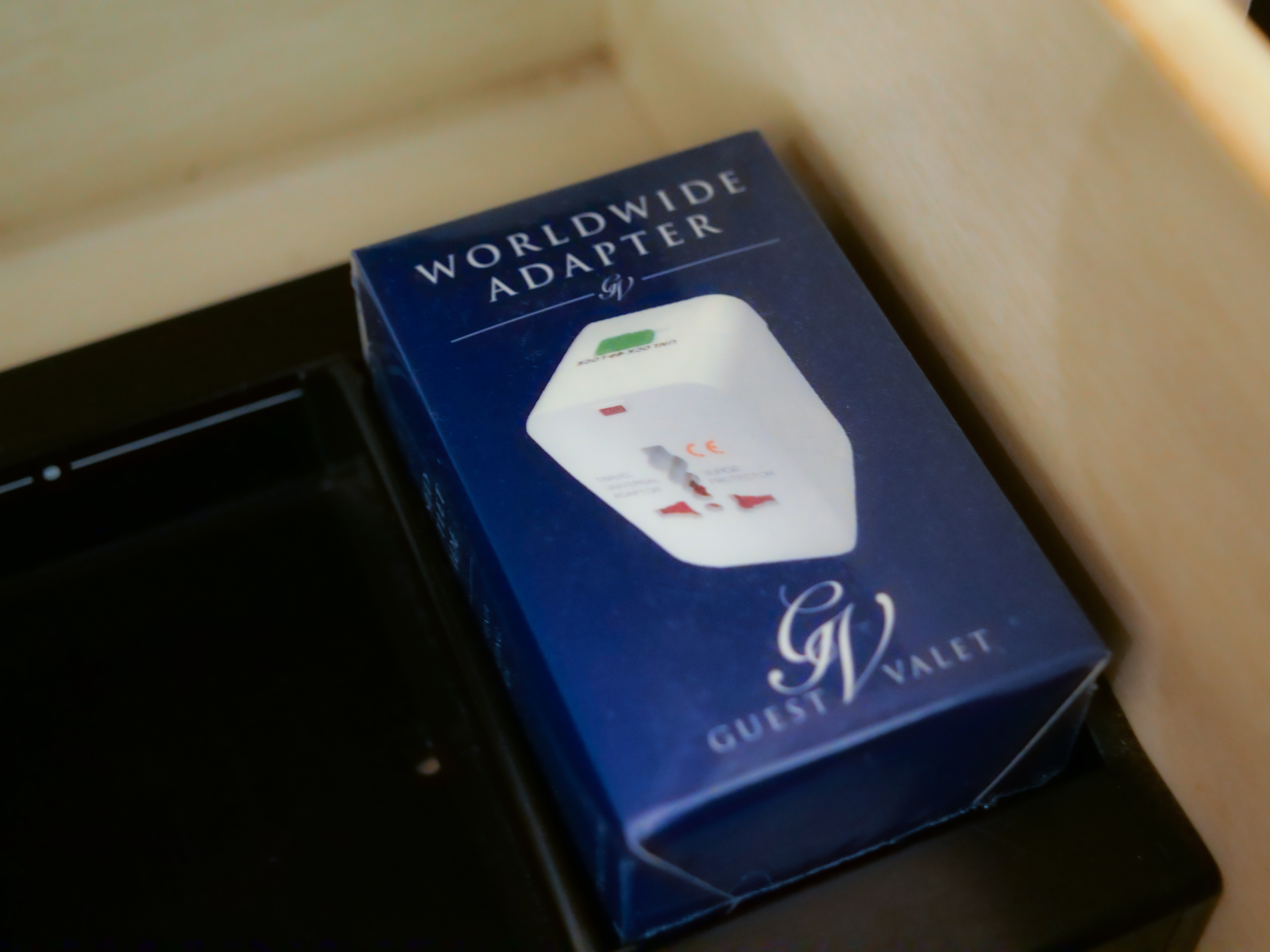 Pool: Mr. Purple is one of the best pool rooftop bars and views in NYC. The heated rooftop pool is exclusively available to hotel guests.
Fitness: There is a 24-hour fitness center on the 3rd floor with cardio equipment, weight machines and free-weights.
The Verdict:
I highly recommend this hotel for visitors looking for breathing room farther from the touristy spots like Times Square but still in the thick of the bustling neighborhood of the Lower East Side. If you love rooftops and pools, this has one of the best rooftop pools and views in all of NYC at Mr. Purple. From endless brunch spots to top shopping options and every nightlife style available you do not need to leave the area! Even with its reputation the soundproof rooms and blackout curtains will ensure a good nights' sleep whenever you want to rest between all the available activities! This hotel truly has something for everyone and is a top spot I would recommend and happily stay in again!
Rooms: 294 rooms
Style: Trendy retro art
Atmosphere: Fun party pad
Check in: 3PM
Check out: 12PM
Hotel amenities:
Rooftop bar and pool
24 hour business center and meeting room
Free cribs/infant beds
Air conditioning and climate control
Hypo-allergenic bedding
Dog friendly for a fee
PIN IT: