Whitney Tressel is a travel photographer and activist who is currently traveling the USA in a 1985 Toyota camper van. Some of her clients include Google, National Geographic, The Wall Street Journal, Esquire, Samsung and WeWork. Learn where this full time nomad and travel photographer picked up her love of travel and her tips for photographers starting out. Follow her on Instagram @whitneytravels to follow her latest adventures!
1. Why do you travel?
I suppose nowadays I travel because I can't not. It's addictive! Travel has been a part of my life since I could form memories, and ever since I traveled internationally for the first time in 2006, I really haven't stopped. I love the mode of travelling: Driving is my meditation, flying is sometimes just as fun as where I'm landing, and observing the world by train is like a good massage. My favorite part of travel though is when the in-person experience of a place completely debunks my preconceived ideas of it. It's humbling and enlightening—makes me feel alive.
2. When did you start traveling?
I started traveling the United States as a child, mostly because my dad was a football coach and my mom, siblings, and I would support him at both home and away games when we could. As a young adult, I must have been inspired by my Gram, as she often traveled to far-flung spots like Japan and Panama to visit her former exchange students. She'd bring us grandkids back the most exotic souvenirs and stories. I studied abroad in Granada, Spain as a college student, found it insatiable, and fortunately was able to study abroad again, in Dubrovnik, Croatia.
3. What do you think of when you think of a woman traveler?
I think brave. I think smart. Accomplished, curious, and wise. Like a lot of things, travel is newer for women in the big scheme of things. Gloria Steinem writes about how "the road is a male province" in her latest book, My Life On The Road, and that struck a chord with me. I truly hope to help change that narrative, both on a qualitative personal level and quantifiably by encouraging women they too can travel, with or without someone. Travel is our privilege too. After all, women are half the sky.
4. What was your favorite travel experience?
This is not fair! In general though, my favorite travel experiences are when I say 'yes' to something that is uncomfortable. Not uncomfortable as in unsafe, but uncomfortable in the sense of breaking routine or trying something different. For example, accepting a dinner invitation to join a non-English speaking Muslim family for Sunday paella, going dancing with Andalusians until sunrise in the caves of Albaicin, and hiking part of the treacherous Angel's Landing of Zion National Park, solo, in solidarity with strangers. When traveling, both externally and internally, I practice the mantra: If it feels uncomfortable, that means you're probably doing something right.
5. Which place do you want to go next and why?
I've been living in a camper (Penny Lane!) since May 2017, and am headed to Monument Valley next. It's tied with the Grand Tetons for my favorite place in America. I'll then spend some more time in northern New Mexico, Georgia O'Keeffe land, followed by Ozarks National Forest and the Mississippi Delta.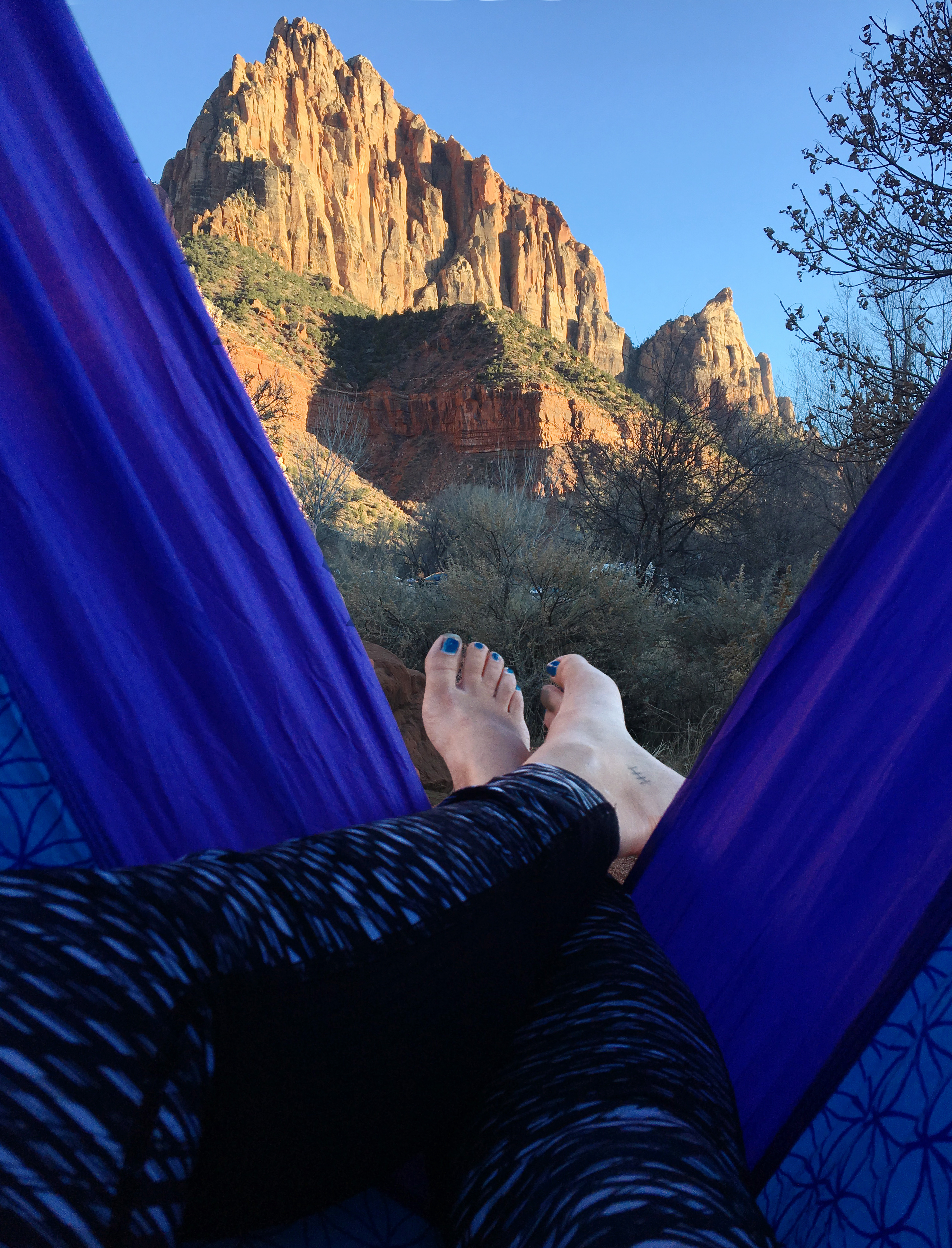 6. Who do you prefer traveling with?
Oh my gosh, everyone! Shared experiences are amazing. I've experienced trips with dear friends, family, boyfriends, colleagues, students, large groups, couples, pets, and of course solo. Every type of partner-in-crime, even a lifelike truck camper, creates a certain dynamic to the adventure. It's all so curious.
7. Why do you enjoy photographing/writing about travel?
Photographing, filming, and writing are the skills that get me to do what I love most of all, travel, and most times get paid for it. I thought that photography was my main passion back when I majored in it in college, but after living abroad for several months and then traveling for a living several years thereafter, I realized travel was actually my passion and photography gave me a means to do so. I also strongly believe in storytelling. I think it's important to document our time in whatever way you see fit. Creative expression is paramount, and everyone, not just artists and journalists, have the ability to create and share.
8. Do you have any advice for women interested in becoming travel photographers?
There's a lot of us. Don't feel discouraged by that. Don't compare yourself to other women travel photographers because there is room for all of our voices and visions. Work with each other to build each other up. If you're interested in being a travel photographer for reasons that fuel you (perhaps storytelling, social change, the beauty of nature, adventure, exploration… ) I know you'll make it happen. On the other hand, if you're in it for fame or to make a ton of money or get steady flow of random free trips and products, that may not sustain you in the long run. "Hardwood grows slow", Jewel Kilcher says. Be patient with your career and set your intention.
9. How many times have you traveled across country and what are your tips for others planning a cross-country road trip?
Right now I'm in the middle of my third technical cross-country trip. My first formal NYC-to-LA was for Esquire when I produced a 29-page September issue feature covering 15 states in 10 days, with a team photographing and filming influential men in their respective states. My second was for Budget Travel when I traveled from LA-to-Charleston SC completely by word of mouth: what I experienced on that solo trip was completely dictated by strangers' recommendations whom I met face-to-face along the way. My third cross-country trip is happening as I type. I bought a 1985 Toyota Dolphin in May 2017 and am living, working, and traveling solo in it for an open-ended amount of time. So far, Penny Lane and I have been to 27 states together (I had already been to 49 before this adventure, ah elusive Alaska!), but for me it is more about the quality of time in a place more so than checking something off a bucket list. For planning your cross-country trip: research, research, research, but… always leave space in your itinerary for both serendipity and setbacks, for that is the nature of the road.
10. What is it like to live and travel in a camper van?
Where do I start! Right now I'm dry camping on free BLM land in Utah with many layers of clothes, typing on a strategically charged laptop under solar powered Luci lamps. It's peaceful, but if you get too far into your own head, it can be scary. Solo camper life is not as glamorous as it looks on platforms like Instagram, but it's better than it seems in a sense because this lifestyle has depth. No day is the same? More like no hour is the same. Living on the road requires patience, flexibility, and resilience. But it yields daily excitement, jaw-dropping views, intense introspection, and pure thrill. It's such a special way to live!
11. Tell us more about your work covering the Women's march and how you recommend others get involved?
I registered as a volunteer for the Women's March #PowerToThePolls anniversary rally this past January 2018 in Las Vegas, and denoted my top skills being photography, film, writing, social media, and content production. The Women's March social media lead wrote me directly, and I ended up producing video clips during the event for use on their Twitter. I hope to be involved in their swing state tour this year pre-November midterm elections, but regardless will help on a personal level by keeping informed, engaging in empathic conversations, and encouraging voter registration as I make my way across our country. You can get involved by reading up on issues, voting in the midterm elections too, and spreading the word on Women's March initiatives.
12. Tell us more about your series of collages to celebrate the resilience of sexual assault survivors? 
This is a new series for me, definitely a work in progress including personal processing. As a sexual violence survivor myself, it can be such a grim and sensitive topic that, while the perpetual harassment and assault needs to end, it's important we celebrate the resilience of those who have survived such offensive and power-hungry words and actions. I believe art heals, and collage and mixed media certainly help me process. I have one to share so far, but keep an eye on my Instagram and I'll be posting more as I continue to create.
13. What is your favorite travel souvenir?
I'm not a big things person, I like to keep a light load when possible. If it's not too cheesy to say: My photographs are probably my favorite souvenirs. I'm a terrible at keeping a journal, therefore my date and location embedded images are my timelines and descriptions. I do also love grabbing miscellany to remember moments by: stickers, matchbooks, business cards, bottle caps and corks. I have two big binders full of randomness from this solo Penny Lane journey, time will tell what will come of the mess!
PIN IT: