The birthplace of steelpan, calypso, soca and angostura rum is the magical twin-island state of Trinidad and Tobago! I was born and raised in Trinidad and Tobago ("T&T"), and even though I have lived in and travelled to many countries across the globe, T&T will always have my heart. Trini-bagonians are very proud and I can't blame them as this country has so much to offer in terms of natural beauty, delicious dishes and incredible festivities. T&T is a diverse land with a melody of African, Indian, Asian and European influences that even come together to form one of the most amazing street festivals in the world – Carnival.
Trinidad and Tobago have two very distinctive tones combined to give you a taste of everything Caribbean from their pristine beaches to lush scenery along the coastline and mountain tops to historical findings and bustling nightlife. Trinidad's capital city of Port-of-Spain, has a lively and cosmopolitan atmosphere which is surrounded by a marvelous landscape of countless natural treasures, perfect for adventure seekers. A 20-minute plane ride away is the laid-back isle of Tobago. Its transparent blue waters crash onto the crystal sands of its many beaches, where you can spend the day relaxing and sipping on rum punches or participate in all the fun water sporting activities like scuba diving, sailing and kitesurfing.
The best time of year to visit is during the dry season from December to April, especially around Carnival in February/March as well as the summer months when locals living abroad return to visit. Book your ticket to Trinidad for Carnival and then spend the following week relaxing your tired dancing feet in the cool waters of Tobago's gorgeous beaches.
Read:
Miguel Street by V.S. Naipaul
Green Days by the River – Michael Anthony
Listen:
T&T has its ingenious music types from cross cultural backgrounds such as Calypso, Soca, Chutney, and Parang. If you are visiting for Carnival, download a "DJ Private Ryan Carnival Mix".
Calypso music:
Jean and Dinah – Mighty Sparrow
Congo Man- Mighty Sparrow
Hot Hot Hot – Arrow/Buster Poindexter
Soca music:
Its Carnival – Destra Garcia & Machel Montano
Big Truck – Machel Montano & Xtatic
Differentology – Bunji Garlin
Party Done – Angela Hunte & Machel Montano
Workout – KES & Nailah Blackman
How to get there:
There are direct flights from Toronto, Miami, New York, Houston, Panama, London as well as neighboring islands and countries within the Caribbean region via Caribbean Airlines, American Airlines, JetBlue, Air Canada, Liat, or British Airways.
The Public Transportation is not ideally designed for new-comers with its limited signage and online information for bus routes. The better option for zipping around the islands are to rent a car or have a taxi on standby. Uber has also recently opened with reliable routes within Port-of-Spain.
Official language
The country's official language is English, despite the country's name having strong Spanish Roots and its close proximity to South America.
Currency 
Trinidad and Tobago has its own currency named the "Trinidad and Tobago Dollar" – TTD. It is pegged to the USD currently around 1 USD: 6.8 TTD
What to do
Trinidad – Carnival
T&T is recognized as having the second largest Carnival after Rio! This ultimate festival is jam-packed with stunning costumes, vibrant soca music (aka soul of calypso) and non-stop positive vibes flowing throughout the city. The energy generated during this carnival season disseminates itself throughout the calendar year to make "Trinibagonians" or "Trinis" some of the happiest people on earth. It is one of the most incredible events you will ever attend and you will probably want to do it again and again!
Trinidad – Asa Wright Nature Centre, Arima Valley
The magic and the tranquility of Asa Wright Nature resort up in the hills of Trinidad's Northern Range makes for the perfect spot in nature to admire T&T's colourful birds (400 species) and beautiful flora (over 2000 species of plants). The ideal time to visit is during dry season to take advantage of all the nature walks and hikes. However, the wet season can show you a different side of this vast tropical rainforest as the grounds are covered in mist with bustling life all around.
Trinidad – Maracas Beach
One of the best scenic drives in Trinidad takes you along the lush mountain cliffs with sneak peeks of the dark blue and tempting waters thousands of feet below to the island's most popular beach. On your way there, you can stop off the infamous "Maracas Lookout" to taste some local treats like local mango chow. As you bend the last corner, you will discover the beautiful Maracas Bay's white sandy and blue waters, where you can either play some cricket or football with the locals or rent a chair and just sit back, relax and enjoy the warm Caribbean sun.
Trinidad – Hummingbird Sanctuary Yerette
Nestled deep into Trinidad's Northern Range, is the Yerette Hummingbird Sanctuary. Theo and Gloria have converted their home into a magical paradise. There are hundreds of hummingbirds zipping around their garden and sipping on sweet juice from the dozens of feeders surrounding their home. It is an amazing experience with the backdrop of the green mountains and you can just sit down and admire the fascinating fearless beauties.
Trinidad – Sundara Yacht Charters DDI
"Down De Islands" commonly referred to as DDI is collection of small islands, located off the north-west coast of Trinidad near to Venezuela, where a few locals have their lovely vacation homes situated right along the water. One of the best ways to experience DDI is to rent a charter boat with Sundara Yacht Charters for a fun and exciting day trip. It is a custom-built, state of the art 43-foot catamaran with lots of deck space, lounging areas both shaded and un-shaded including two tanning nets. You can laze around all day in the boat's comfy nets at the front or swim around in some fun noodles!
Trinidad – Caroni Bird Sanctuary
The Caroni Bird Sanctuary is best visited at sunset where you can admire flocks of T&T's national bird, Scarlet Ibis, majestically fly over and into the lush swamplands to take shelter for the night. You visit the sanctuary via boat with tour guides whom are knowledgeable on all the area's wildlife such as snakes, crabs, anteaters etc. The Caroni Bird Sanctuary tour is a peaceful and educational excursion that allows you to appreciate the island's genuine beauty.
Tobago – Pigeon Point Heritage Park & Nylon Pool
A trip to the Nylon Pool on one of Tobago's bright glass bottom boats is quite the experience. You can catch the boat at Pigeon Point Heritage Park and head off on the glass bottom boat to Nylon Pool. As you arrive, you will feel like you are in the middle of the Caribbean Sea with its crystal clear shallow waters and gorgeous white sands. It is a natural wonder of Tobago and an absolutely splendid site to visit if you are interested in lounging in the water for the day.
Tobago – Being with Horses
Being-with-Horses offers is one of the best ways to explore Tobago as you can horse-back ride with a qualified instructor who will show you the local wildlife, mangroves and take you swimming with the horses at Buccoo Bay. Being with Horses was formed as an initiative to assist the NGO "Healing with Horses" to give therapeutic services to hundreds of differently abled individuals using Equine Nature Therapy. It is a great experience and great cause.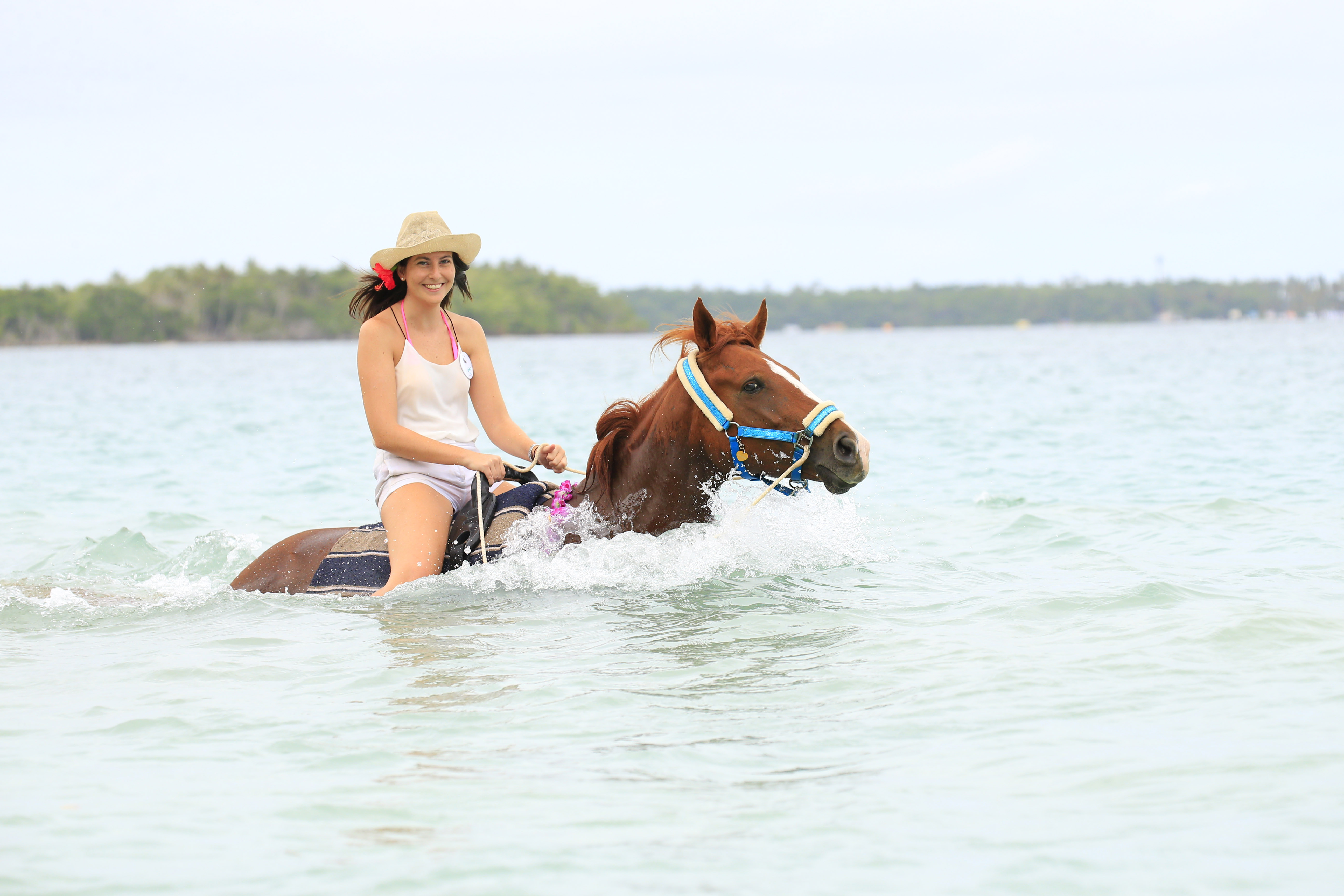 Tobago – Little Tobago and Scuba Diving in Speyside
If you love snorkeling or diving, Speyside is a wonderful spot to discover the depths of the Tobago waters, which have some breathtaking reef life and vibrant fish. You can book a tour with the Tobago Dive Experience that has a five star PADI facility offering daily dives and a customized range of scuba diving training.
What to eat  
Top Local dishes include:
Roti – chicken, beef, shrimp, goat, conch
Doubles – street food that is perfect for breakfast or midnight snack. At the Piarco Airport check out the D'Local Food Court full of vendors selling doubles.
Shark and Bake – Ricard's at Maracas Beach is a popular place to find one of these fish sandwiches.
Crab and Dumpling – Tobago's Miss Trims at Store Bay has some of the best Crab and Dumpling
El Pecos is a self-service lunch spot where you can find all the local delicacies like macaroni pie, callaloo, stew beef, fried fish, potato salad etc.
Top Restaurants
Trinidad: Veni Mange
Trinidad's local gem with an amazing menu of local creole delicacies in a cozy open-air located right in the heart of the bustling capital city. It is an old wooden house that has been tastefully decorated with artwork for sale (mainly from Haiti). Veni Mange is authentic Trini cuisine giving locals and travelers a taste of that real island flavor and laid-back vibe.
Trinidad: BUZO Osteria Italiana
Located uptown Port of Spain, Buzo is a modern, chic restaurant with authentic Italian cuisine with its contemporary interiors, stylish lounge music and romantic lightening giving it that fresh yet welcoming touch. It is known for its selection of stylish cocktails, mouthwatering appetizers and delicious pizzas, all made with the freshest ingredients.
Trinidad: Chaud Cafe
The atmosphere at Chaud is welcoming, cozy and delightful. It is the ideal alfresco styled spot for a romantic date or for a group of friends/ family looking for a fine dining experience. Chaud café has an array of delightful tapas items and delectable wines!
Tobago: Fishpot
A Charming restaurant situated in Mt. Irvine that has a rustic setting serving scrumptious local dishes such as the rum liver pate and lobster.  It is an al-fresco styled family owned restaurant with welcoming staff, lovely service and excellent wine list.
Tobago: La Cantina
A trendy and popular restaurant located in Crown Point offers a casual and fun atmosphere with tasty wood-fired pizzas made by authentic Italian chefs. The menu of pizzas is delightful especially as all the veggies and fruits used to decorate the pizza are natural and tasty.
Where to stay
1. Trinidad: Hyatt
The most luxurious hotel on the island as it is an oasis located right on the waterfront along the bustling city landscape of Port of Spain. Hyatt offers superb customer service and has an exquisite infinity pool where you can sip on cocktails and admire the sunset.
2. Trinidad: Hilton
Hilton has some of the most breathtaking views of Port of Spain – the Queens Park Savannah and the city's surrounding lush landscape. Hilton has several stylish restaurants including Luce (a sushi bar) and chic bars. Its central location allows travelers easy access to all of Trinidad's key sightseeing spots, even the infamous Maracas beach (only 30 minutes away).
3. Trinidad: GingerbreadHouse
A family run bed and breakfast situated right in the heart of modern parts of the capital city. It is small, but quaint colonial styled house with beautifully decorated rooms and a stylish swimming pool. It is a sanctuary with relaxation found in an area that makes you close to some of the city's main attractions.
4. Tobago: Stone Haven
Stone Haven's 14 luxurious villas are perched high up in a private sanctuary on a hill with beautifully landscaped tropical gardens and are furnished in an authentic traditional Caribbean style. Each villa sleeps 6 with a large kitchen, terrace and stunning infinity pool overlooking the Mt Irvine bay.
5. Tobago: Bluewaters Inn
Blue Waters is a hidden treasure located on the Northern side of the island and is a perfect spot for diving. The dive shop is meters away from the hotel and they offer trips to Little Tobago to see all the best diving spots. The hotel's infinity pool is ideal for relaxation with a fantastic view of the beach.
6. Tobago: Castara Retreats
One of the most relaxing spots in Tobago where you feel like you are one with nature in your cabin-esque villa outfitted with hard wooden floors and each having its own fabulous view of Castara Bay. Porridge and Jeanelle are the perfect hosts ensuring you can unwind and be serenaded by the singing of the birds, the crashing of the waves and even the chatter of the village down below.
Recommended tour operators
There has recently been a surge in tour companies. RoamTT, founded in 2016, offers excursions through the country to ensure visitors have a true local and fun experience.
Souvenirs to buy
Number one on the list is of course the Country's famous Rums – top choices include Fernandes Black label, Angostura 1919 and Angostura Royal Oak
Angostura aromatic bitters (essential ingredient in many popular drinks)
Artisan chocolates from the finest cocoa in the world (Cocobel / Cocoa Republic / Ortinola Great house chocolates)
Have you ever been, anything else you recommend seeing or doing in Trinidad and Tobago?
Gabrielle is a guest blogger, for more from her follow her blog thetrinitraveller.com, Instagram and Facebook.
PIN IT: