Spring in NYC is fleeting, the cherry blossoms peak season often only lasts one to two weeks in April or May, but it is my favorite time to explore New York. There are Sakura Matsuri Cherry Blossom Festivals that I do not recommend as they can be claustrophobically crowded, but instead visit the parks and other areas I mention early in the morning. From the most popular flower displays at the NYBG Orchid Show, Macy's Flower show and the Brooklyn Botanical Gardens to the secret hidden gems that are not crowded like First Street Garden and Hunter's Park South. Watch on to see the most beautiful spring video with flowers blooming all over NYC.

1. New York Botanical Garden in The Bronx:
The NYBG's Cherry Valley and grounds have a number of pretty flowering trees. One of my favorite shows has to be their annual Orchid Show. I wrote an entire blog post about it and interviewed the Senior Curator of Orchids in my video.
2. Brooklyn Botanic Gardens Cherry Blossom Festival:
The Brooklyn Botanic Garden Cherry Blossom might be the most famous place to celebrate springtime, but it can get very crowded especially on the weekends. If you do not want to travel too far outside Manhattan than make sure to visit something closer like the Macy's Flower Show.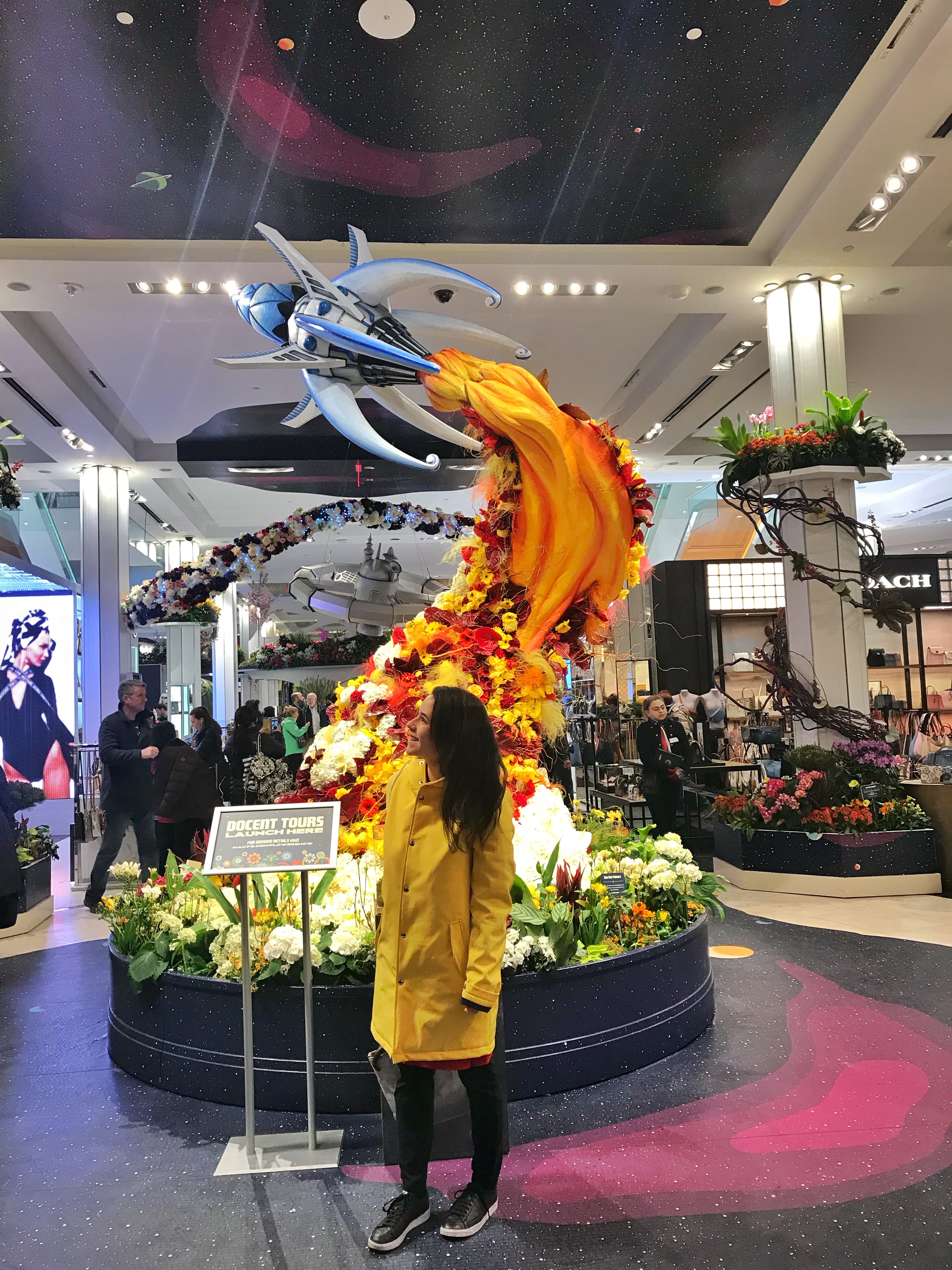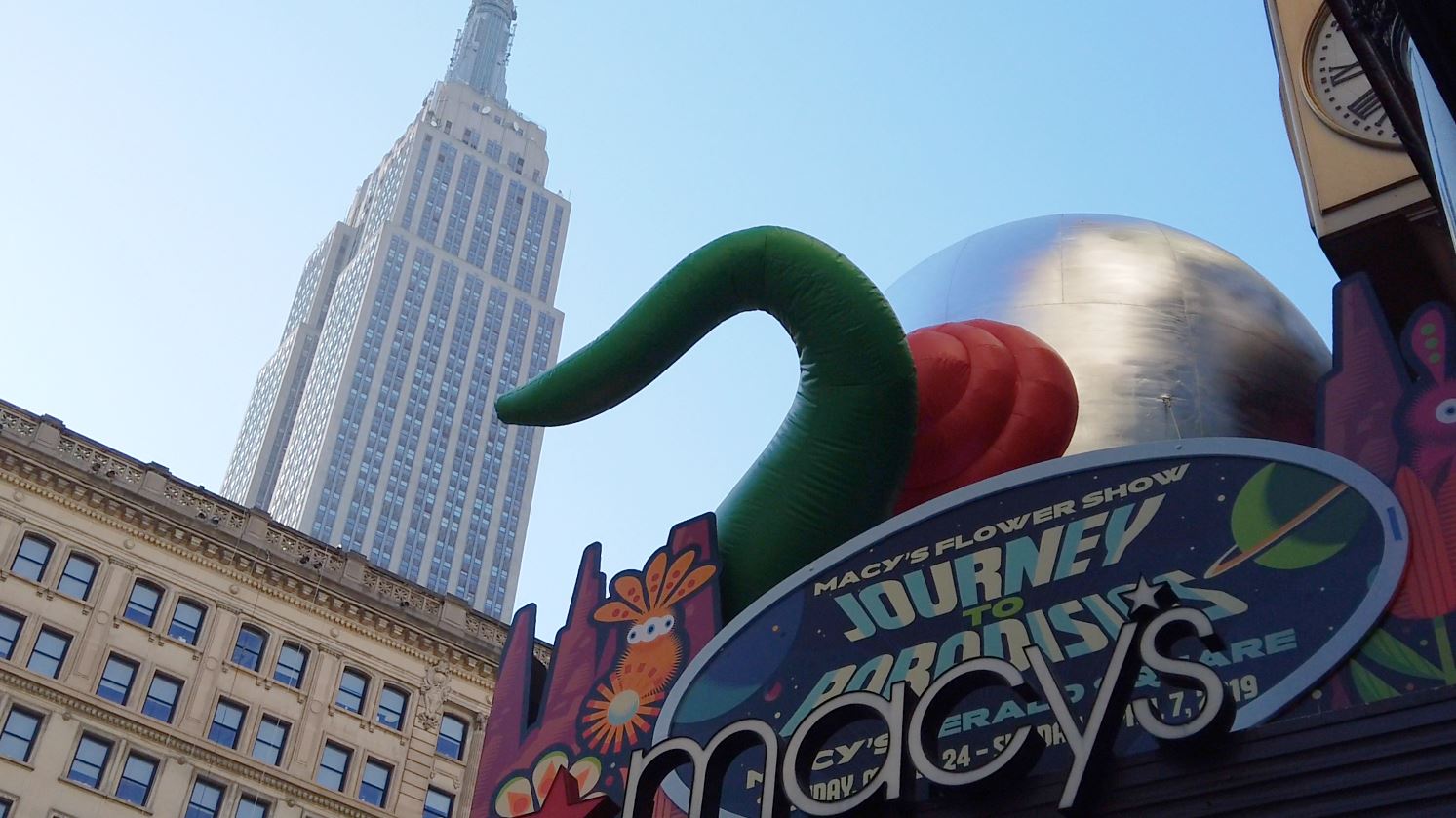 3. Macy's Flower Show in Midtown Manhattan:
For over 70 years Macy's Herald Square in NYC transforms its department store into a lavish garden showcasing millions of live flowers and trees from around the world. There are 3 participating cities: NYC, Chicago and San Francisco. This year's theme is out of this world: it's called Journey to Paradisios, Operation: Inspiration.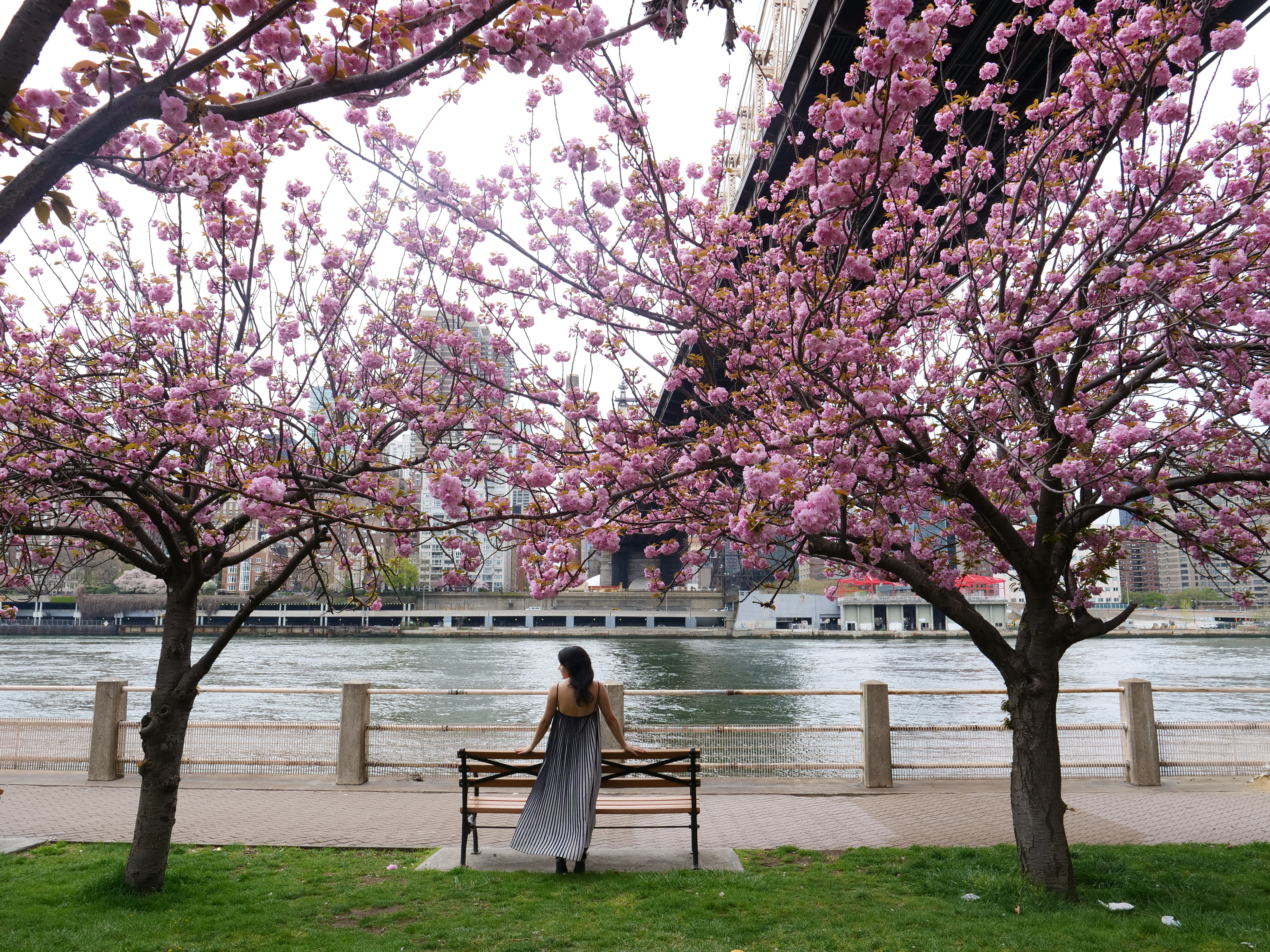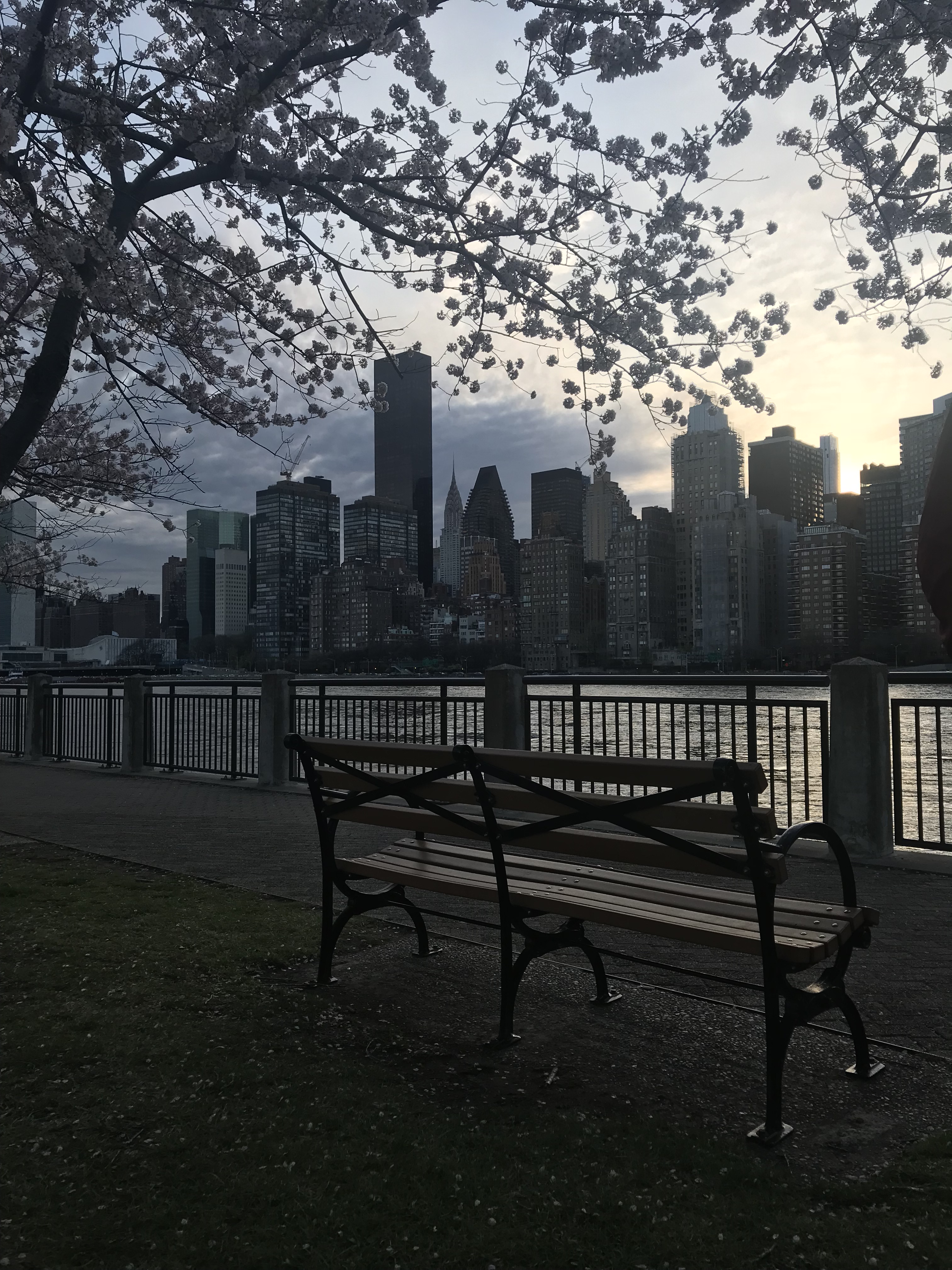 4. Roosevelt Island cherry blossoms:
Roosevelt Island is a short tramride away, included in an unlimited MetroCard swipe and the island's coast is lined with cherry blossom trees. Visit early to avoid crowds and be warned that their Cherry Blossom Festival is so popular it can cause human traffic jams like this one.
5. Central Park:
Central Park is a huge area full of flowers and trees blooming in spring. The most popular cherry blossom trees are along the bridle path at 90th Street and Cherry Hill near Bethesda Terrace.
6. Flushing Meadows Corona Park, Queens:
Flushing Meadows Corona Park hosts a Sakura Matsuri annual festival. Enjoy the largest park in Queens, the site of two twentieth century World's Fairs in 1939 and 1964. The Unisphere is a 120-foot-tall globe statue in the center of a circle of cherry blossom trees.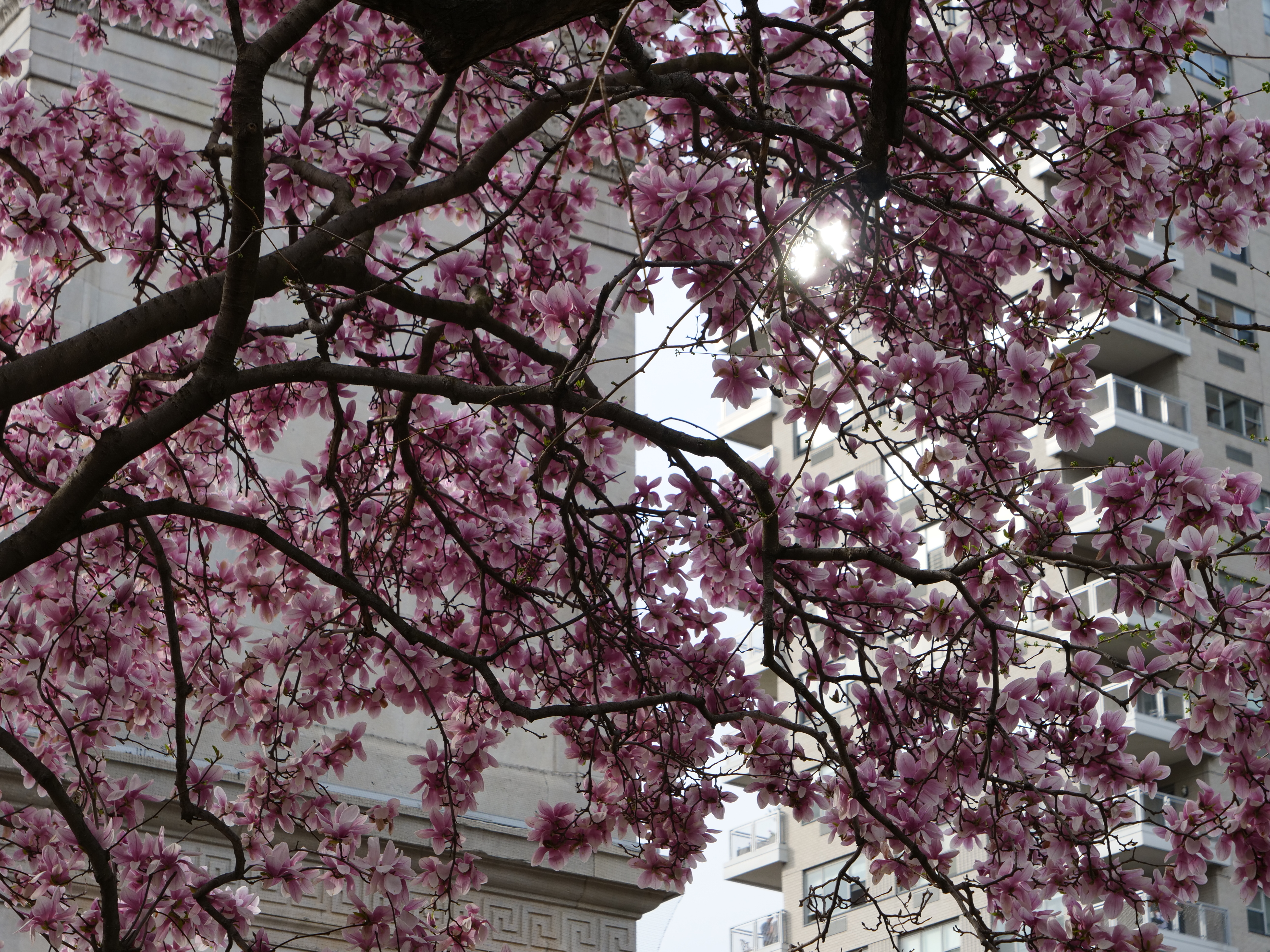 7. Washington Square Park:
Washington Square Arch is one of the first place tourists, locals and NYU students flock on the first few warm days of spring. It can get crowded where people are almost waiting in "line" to take photos with the magnolia trees next to the famous marble arch, but the energy in this park and talented performers is contagious.
8. Union Square:
Union Square's Greenmarket blooms early and late in the spring season with vendors always selling fresh blooms and seasonal farm-to-table treats.
9. Flatiron Building:
The Flatiron building is flanked by large flower pots and Madison Square Park, which are lovely for people-watching and spring peeping.
10. Birreria, Eataly Rooftop:
After taking photos of the Flatiron Building behind the tulips or daffodils, enjoy a spritz or wine at Eataly. Eataly's rooftop Birreria features rotating seasonal menus and interior decorations to match. In spring it is flooded with fake flower decorations to perfectly set the spring mood.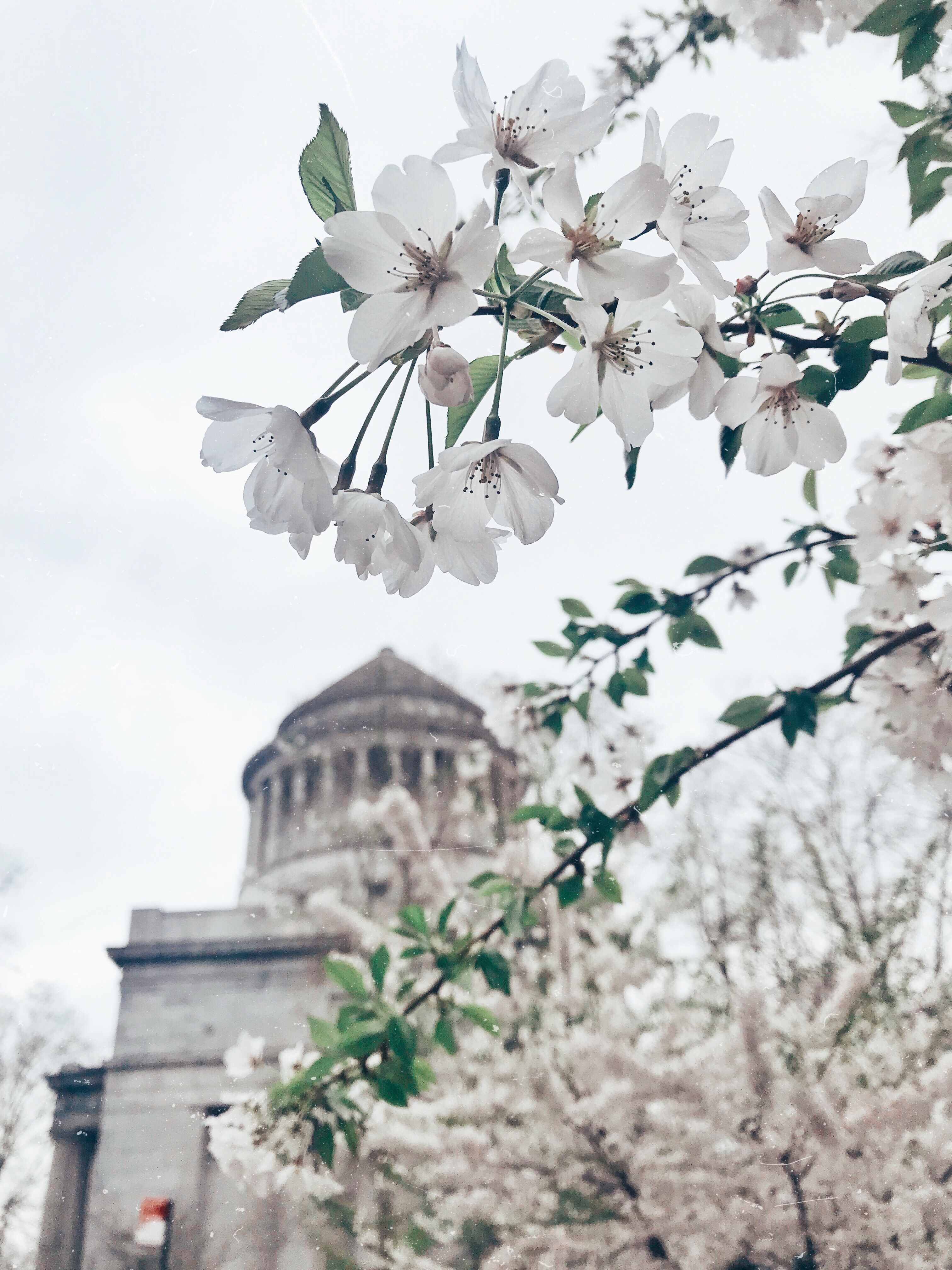 11. Riverside Park Cherry Walk and Sakura Park in Morningside Heights:
Riverside Park's small Sakura Park is located above the Upper West Side in Morningside Heights, Harlem. Sakura Park is across from The General Grant National Memorial at the corner of West 122nd Street and Riverside Drive. Visit to see some of the same cherry blossom trees from the 1912 batch of two thousand cherry trees from Japan planted around Riverside Park and around Washington DC's Tidal Basin. The Committee of Japanese Residents of New York gave Cherry Blossom Trees to the park to celebrate the 100th anniversary of Robert Fulton's steam-power demonstration on the Hudson and the 300th anniversary of Henry Hudson's discovery of the Hudson River. The International House also includes a garden with a traditional Japanese stone lantern dedicated to the Park in 1960. This particular stone lanter, or ishi toro, is in the kasuga-toro style with a lotus flower base, animal reliefs and six volutes capstone.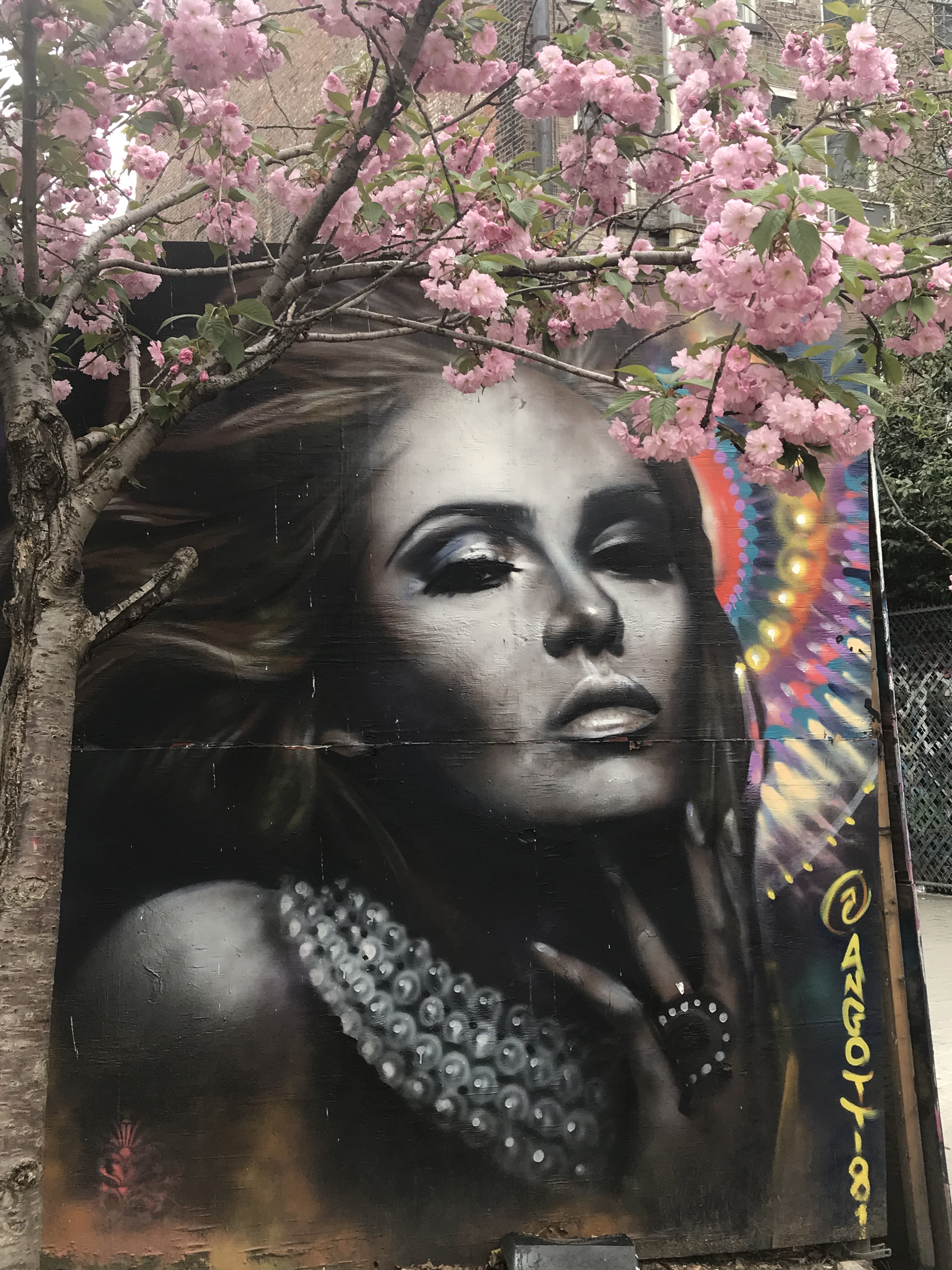 12. First Street Garden:
This secret garden is a favorite amongst locals for its series of murals of "women who have changed the world" from Dorothy Day to Sojourner Truth. The closest subway station is the F train's Second Street station. The garden is open Friday afternoons from 4-6pm and Saturdays and Sundays from noon to 4pm.
13. Hunter's Point South Park, Long Island City, Queens:
Hunter's Point and Gantry Plaza is one of my favorite park areas with a view of the Manhattan skyline. Gantry Plaza State Park is a 12-acre riverside space with epic views of the Empire State Building, Chrysler Building and United Nations. It is named after the restored gantries or industrial monuments once used to load rail carfloats and barges. It is also well known for its large PepsiCola sign. Hunter's Point South Park is not well known for its flowering trees, but it has a large park area with cherry blossoms around most of the circumference at the corner of Borden Ave and Center Blvd.
Which places are your favorite to celebrate spring in NYC? Comment below!
Read next: NYC Subway Secrets and Top things to do in NYC
PIN IT: